Installation for Bilbao, 1997/2017
Jenny Holzer: Thing Indescribable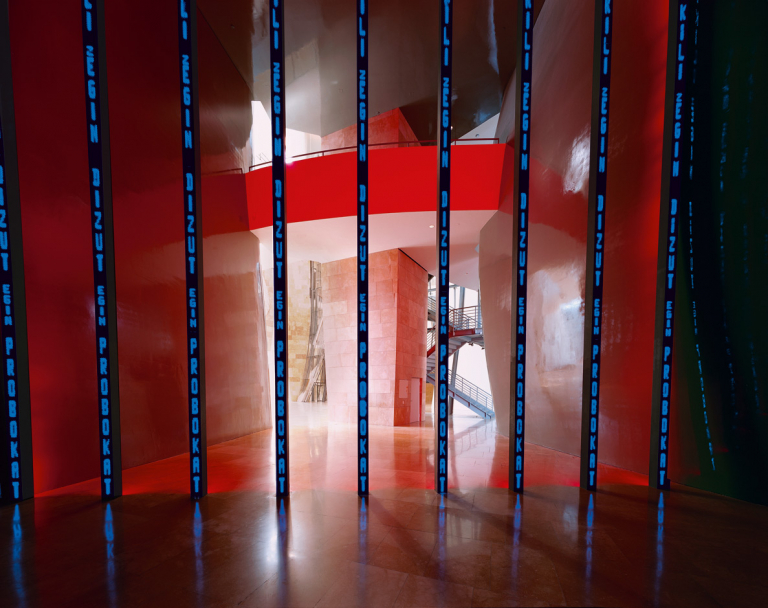 Jenny Holzer
Installation for Bilbao
, 1997/2017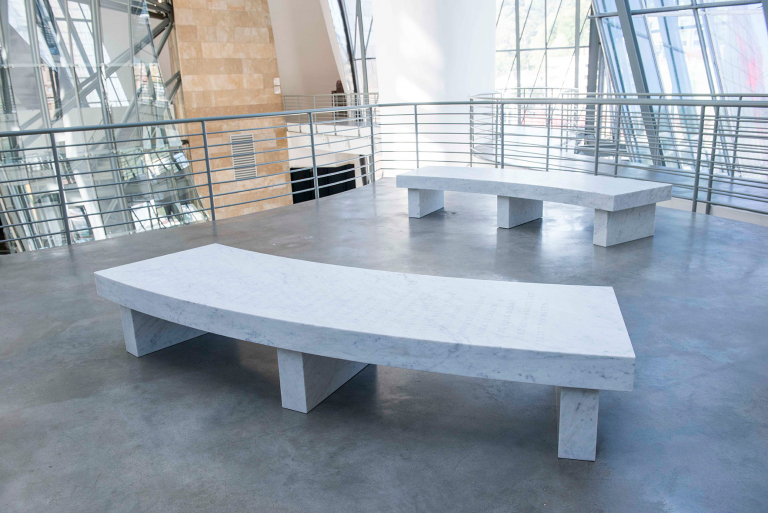 "A great feature of the electronic signs is their capacity to move content. I love that because motion is much like the spoken word: you can emphasize phrases; you can roll and pause, the kinetic equivalent to inflection. It's a real plus to have that programming capacity. I write my text by saying the words out loud, or I write and then say words, to test them. Having text move is an extension of that process." - Jenny Holzer
For more than forty years, Jenny Holzer (b. 1950, Ohio) has presented her astringent ideas, arguments, and sorrows in public places and international exhibitions. Her medium, whether formulated as a T-shirt, a plaque, or an LED sign, is writing, and the public dimension is integral to the delivery of her work. Starting in the 1970s with the New York City posters, and continuing through her recent light projections on landscape and architecture, her practice has rivaled ignorance and violence with humor, kindness, and courage.
At every stage of her career, Holzer's art has sparked dialogue around the concerns of the day, whether political conflict, war, social justice, or gender equality. Her feminist perspective continues to inspire the ongoing fight for human rights, and her texts resonate with a new generation of activists and advocates. Now as always, Holzer's art invites public engagement and opens a space for debate.
Since the 1980s, Holzer has used contemporary technologies on a dramatic new scale, transforming language through light, color, and movement. LED installations—including her Installation for Bilbao (1997), on view in Gallery 101—brought her words from the street to the inside of the museum. Light projections on buildings and other landmarks took text back outside and into the city. For Holzer, electronic signs and light projections are ways to bring spaces to life through the power of language.
Installation for Bilbao (1997), is a permanent, site-specific work, created in dialogue with the irregular shape of the Guggenheim Museum Bilbao's Gallery 101. The work consists of nine 12-meter-tall vertical, illuminated, electronic displays. The text is drawn from Holzer's Arno (1996), which treats living with the death of one who was loved. The series began as a response to the profound scale of loss surrounding the AIDS epidemic. Since 2017, this site-specific work has been complemented by Arno Pair (2010), a set of curved Carrara White marble benches gifted to the museum by the artist, engraved with phrases written in Basque.
Both works, Installation for Bilbao and Arno Pair, speak to large-scale tragedy and mourning. Messages written on the benches and displayed on the electronic signs, such as I SAY YOUR NAME, I SMELL YOU ON MY CLOTHES, and I KEEP YOUR CLOTHES, speak to universal themes of intimacy, death, grief, and loss.
Begin by experiencing the work Installation for Bilbao. Stand before the piece. Walk around it, take a look from the outer area, read the text, and pay attention to the lights and their reflections.
What does the work suggest to you? What do you notice when you are standing close to the work? How do you feel? Why do you think this piece arouses these responses? Does it remind you of anything in particular? What do you think is it about?
Now go to the far end of the gallery. What do you feel now? Are there any differences between the way you felt before? Where do you find yourself more comfortable? Why?
Installation for Bilbao is a site-specific work of art: it can only exist in the site it was made for. It is a form of art that thoughtfully considers the exhibition space and location context, both central concern of artists who explore this medium. What role does the Gallery 101 play in Holzer's installation? How would your perception change if the installation were in a different space? Why do you think the artist wants us to walk through and around the work? Her idea was that the work would bring the viewers closer to the building. Do you think she is successful? Justify your answer.
How do you think the artist created the work? Have you seen these materials somewhere else? Where? How would you define them? Why do you think Electronic LED signs interested her as a material? What do the different colors of the lights suggest to you?
Write a poem based on Holzer's artwork.
First read the text Arno from "Installation for Bilbao":
I WALK IN
I SEE YOU
I WATCH YOU
I SCAN YOU
I WAIT FOR YOU
I TICKLE YOU
I TEASE YOU
I SEARCH YOU
I BREATHE YOU
I TALK
I SMILE
I TOUCH YOUR HAIR
YOU ARE THE ONE
YOU ARE THE ONE WHO DID THIS TO ME
YOU ARE MY OWN
I SHOW YOU
I FEEL YOU
I ASK YOU
I DON'T ASK
I DON'T WAIT
I WON'T ASK YOU
I CAN'T TELL YOU
I LIE
I AM CRYING HARD
THERE WAS BLOOD
NO ONE TOLD ME
NO ONE KNEW
MY MOTHER KNOWS
I FORGET YOUR NAME
I DON'T THINK
I BURY MY HEAD
I BURY YOUR HEAD
I BURY YOU
MY FEVER
MY SKIN
I CANNOT BREATHE
I CANNOT EAT
I CANNOT WALK
I AM LOSING TIME
I AM LOSING GROUND
I CANNOT STAND IT
I CRY
I CRY OUT
I BITE
I BITE YOUR LIP
I BREATHE YOUR BREATH
I PULSE
I PRAY
I PRAY ALOUD
I SMELL YOU ON MY SKIN
I SAY THE WORD
I SAY YOUR NAME
I COVER YOU
I SHELTER YOU
I RUN FROM YOU
I SLEEP BESIDE YOU
I SMELL YOU ON MY CLOTHES
I KEEP YOUR CLOTHES
– Choose seven phrases that inspire you the most out of Jenny Holzer's art piece and write a short text or a poem using them.
– Reflect on the reason why you picked those.
– In class, and with list of Holzer's phrases, mark the ones chosen by the students.
– How many classmates chose the same ones?
– Why do you think this happened?
– Were the phrases a reflection of Holzer's piece?
– Share your text with the rest of the students. Do they have a common feel?
Create your own site-specific LED text installation
A site-specific piece is a form of art that is made for a particular space, and as such can't be moved or displayed in another. It involves experiencing the exhibition space, which is often central to the artist's goal with the work.
Start your process by thinking where would you like to have your installation displayed. Using graph paper, photographs of the site, and/or a three-dimensional foam core model, develop a plan for a work. How many LED signs would you have? Where would you position them? What is the main idea you would like to convey? Be sure to consider not only the architecture, but also the usage and history of the space. Once you design your instillation you can think about the text.
Following Holzer's method to create text for your display, think of how the space you selected makes you feel? Do you feel happy or sad when you are there? How can you put these feelings into words? Write a few phrases conveying your thoughts. Using the text you created, and inspired by the work of Jenny Holzer, create your own installation.
With an iPad or iPhone app like Banner Free create a LED text effects. When your text is ready, go to the app and select font and color according to the feelings you are trying to express.
Display your project in school for everybody to see. You may display just the drawing created to plan the artwork, or create a physical montage of it with cardboard and paint.
Vocabulary
Conceptual artists: artist who believe that the concept or idea involved in a work of art takes precedence over traditional aesthetic, technical, and material concerns.
Public art: art in any media that has been planned and executed with the intention of being staged in the physical public domain, usually outside and accessible to all.
Site-specific: artwork created to exist in a specific place. The artist takes the location and surrounding context into account while planning and creating the artwork.
Installation: is an artistic genre of three-dimensional works that often are site-specific and designed to transform the perception of a space. In some cases, viewers can interact with, or physically move through the work.
Links
https://www.guggenheim-bilbao.eus/en/the-collection/works
https://www.guggenheim-bilbao.eus/en/the-collection/works
https://www.tate.org.uk/whats-on/tate-modern/exhibition/artist-rooms-jenny-holzer
https://projects.jennyholzer.com/
https://www.macba.cat/es/jenny-holzer