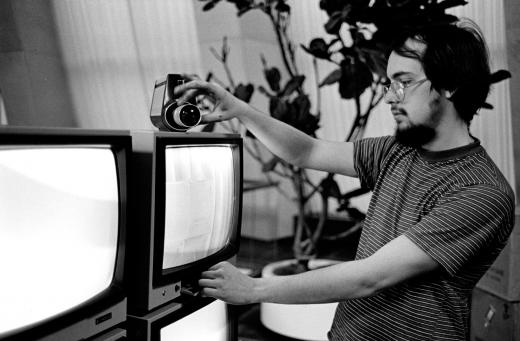 DID YOU KNOW THAT...?
As part of the didaktika project, the Museum designs educational spaces and special activities that complement each exhibition.
The educational space in the exhibition provides information on Bill Viola, one of the world's most prominent video artists, whose career spans more than 40 years and whose works are on display in the galleries. Viola has played a crucial role in the origin, evolution, and relevance of audiovisual technologies as a medium for artistic expression. Included is an overview of the essential features that define his career. It examines his early years as an artist after he discovered the possibilities of video at Syracuse University (New York), along with his experimentation with images and music, and follows the development of one major work as captured in the pages and drawings of his Notebook for Going Forth By Day (2002).
Viola's Start with Video
Bill Viola spent four years engaged in learning and experimentation in the College of Visual and Performing Arts at Syracuse University in New York (1969–1973). There he discovered the latest in portable video equipment and was encouraged by his professor Jack Nelson to develop his singular vision. Nelson directed the new "Experimental Studios" program, which Viola joined in 1971, signaling a shift in his artistic education. Additionally, Viola gained technical experience when he worked with other student colleagues to build and found a cable television system and color studio in the university's student center, the Synapse Video Center. Another of Nelson's students whom Bill met was David Ross, who was appointed curator of the first video department in the country at the Everson Museum of Art (Syracuse) in 1971. Viola was employed by Ross in this museum between 1972 and 1974 and gained much experience as assistant to other artists who worked in the early forms of video art, such as Peter Campus and Nam June Paik. Viola had his own show at the Everson Museum in 1975. From 1974–76 Viola worked as the technical production director in the video art studio art/tapes/22 in Florence and was the artist-in-residence at WNET/Thirteen Television Laboratory in New York (1976–81), where he worked with the most innovative television broadcasting technology for the first time.
Viola's Creative Methodology
"Generally speaking, I always work from emotion and intuition, and I often don't even understand what I'm doing until it takes shape on paper; I tend to write it down or make a drawing. That's when the work begins to reveal its mysteries to me."
Bill Viola's habit of registering everything that sparks his interest dates back to his student days at Syracuse University. He uses three different kinds of albums to organize his ideas: his journals, where he jots down excerpts from readings, personal experiences, and ideas on possible creations; his project notebooks, which focus on a specific artistic project and the different possible ways he can approach it; and his production notebooks, in which he writes detailed explanations of each of the elements of a specific work (the location or set, the timeline, the lighting needs, actors, if any). Based on this documentation, Kira Perov, executive producer of his works and executive director of the Bill Viola Studio, arranges, together with a producer, the elements needed to produce and create the final piece, while the artist is in charge of conveying to the actors and technicians involved in the recording process what he needs to capture in each video.
Art and spirituality
While still a student, Bill Viola began to take an interest in the mysticism of the Western and Eastern traditions and to study texts and poetry from medieval Christian texts of San Juan de la Cruz to Zen philosophy and Islamic Sufism. Convinced that art should help us search for a deeper understanding of our own existence, Viola uses video as a means of expression to inquire into the essential questions that have always concerned human beings: life, death, birth, and suffering. With his works, he creates "an enveloping emotional experience like that of a church", in his own words. In fact, throughout his career he has deliberately displayed some of his works in current or former places of worship. The Messenger, was created in 1996 for Durham Cathedral (UK); Ocean without a Shore, was unveiled at the Chiesa di San Gallo during the 2007 Venice Biennale; and Martyrs (Earth, Air, Fire, Water) and Mary, were installed in 2014 and 2016, respectively, in Saint Paul's Cathedral, London. All of these pieces offer a profound reflection on life, death, and rebirth, recurring themes throughout his artistic career.
Music
Music is an essential part of the life and works of Bill Viola. In 1973, after graduating from Syracuse University, where he also studied electronic music, he participated in a workshop on New Music taught by David Tudor. A pianist and pioneering composer of experimental music, through whom Viola also discovered the innovative music of John Cage, Tudor invited Viola to contribute to his Rainforest project along with other emerging composers, were later known as the Composers Inside Electronics who presented their own works in festivals such as the Festival d'Automne in Paris.
Viola's experience with recording the sounds of nature, and the explorations of the sounds of architectural spaces, assisted in the development of the ambient sound that is so familiar now in his video works. Also, the fact that he had been a rock drummer as a student, taught him good rhythm skills which he used when editing his videotapes and installations.
Viola's relationship to music expanded as he accepted invitations to visually interpret such different compositions as Déserts (Deserts), the last masterpiece by the father of electronic music, Edgard Varèse, developed in collaboration with the German orchestra, Ensemble Modern in 1994; three songs by the US industrial rock group Nine Inch Nails for their world tour in 2000; and Richard Wagner's opera Tristan und Isolde. Viola's four-hour video that runs for the entire opera, was created in 2004/05 upon the invitation of Gerard Mortier for his first season after being appointed general manager of the National Opera of Paris. He invited stage director Peter Sellars, orchestra conductor Esa-Pekka Salonen, and Bill Viola (with executive producer Kira Perov) to collaborate on a new production of this opera, whose world premiere as a fully staged production was hold in 2005 in Paris. This new production was co-commissioned by the Los Angeles Philharmonic (where it had is first showing as a "project"), and the Lincoln Center for the Performing Arts, New York.