Bill Viola: A Retrospective
06.30.2017 - 11.09.2017
Bill Viola (b. New York, 1951) is one of the leading artists of our time who is widely recognized as a pioneer in the development of video art, a medium he discovered in the early 1970s while enrolled in the "Experimental Studios" program at Syracuse University, New York. Even in his early video works it is evident that Viola's life's focus would be the search for self-knowledge as he became more influenced by his readings of Eastern and Western mystics and spiritual texts. His work developed in parallel with the advancements of video technology, and he used each new tool to explore the human condition of birth, death, transformation, rebirth, and transfiguration—pivotal subjects in his body of work that spans 40 years.
Bill Viola: A Retrospective is a thematic and chronological survey of the artist's career that begins with his early single-channel videotapes, including such iconic works as The Reflecting Pool (1977–79) and the compilation album Four Songs (1976). These highly poetic creations address some of the most important themes in Viola's output: the notion of time and its deconstruction, investigations into human existence, and experimentation with the recordings and manipulation of ambient and natural sounds.
Viola welcomed the 1980s with works like Chott el-Djerid (A Portrait in Light and Heat) (1979), where his camera captured the shimmering desert landscape using telephoto lenses to record mirages, revealing images normally beyond our perception. This period, in which Kira Perov (his wife and long time collaborator) began to work with Viola, was marked with projects for broadcast television, but it was also a phase of transition from his earlier work into the development of whole room installations that immerse the viewer in images and sound. He began adding physical elements which he continued during the 1990s, his studies of perception and spiritual issues materializing in the form of sculptural objects, as can be seen in the stripped down monitors in Heaven and Earth (1992), and large works such as Slowly Turning Narrative (1992) with its huge rotating screen.
With the arrival of the new millennium and the advent of high-definition flat screens, Viola began producing small and medium-format pieces in a series he titled the Passions, a study of the emotions in slow motion, such as Surrender, or that depict the passage of time and generations, as in Catherine's Room, and Four Hands (all 2001). These intimate works were followed by the monumental installation Going Forth By Day (2002), in which five huge wall projections share a single space, inviting viewers to literally step into the light and reflect on their own lives and our human existence. The theme of transcendence is present in his video for the Wagnerian opera Tristan und Isolde (2004–05), expressed in the two installations derived from the larger work, Tristan's Ascension (The Sound of a Mountain Under a Waterfall), and Fire Woman (both 2005).
Over the last decade, through a wide variety of media and formats, Viola has continued in his work to depict the fundamental experience of life. This is eloquently illustrated by his use of water in works such as The Innocents (2007), Three Women (2008), and The Dreamers (2013)—and his journey through the cycle of life, which begins in this exhibition with Heaven and Earth (1992) and literally "rewinds" in the final work Inverted Birth (2014).
The Exhibition
Four Songs, 1976
Videotape collection
Color, mono sound; 33:00 minutes total
Junkyard Levitation, 3:11 minutes
Songs of Innocence, 9:34 minutes
The Space Between the Teeth, 9:10 minutes
Truth Through Mass Individuation, 10:13 minutes
Technical assistance Bobby Bielecki
Produced in association with WNET/Thirteen Television Laboratory, New York; portions produced at Synapse, Syracuse University, Syracuse, NY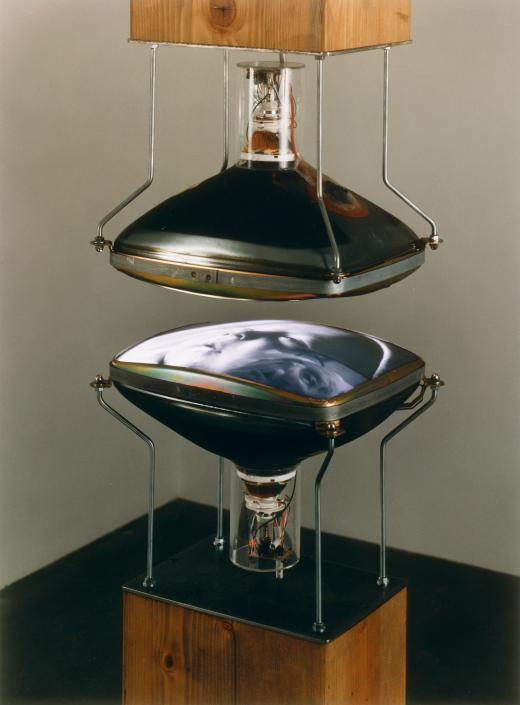 Heaven and Earth, 1992
Video installation
In a small alcove, a wood column extends from the floor and ceiling, with a gap in the center formed by two exposed monitors facing each other two inches apart, mounted to upper and lower columns respectively, a black-and-white video image on each monitor
Room dimensions: 9 ft 6 in. x 16 ft x 18 ft (2.9 x 4.9 x 5.5 m)
Continuously running
Slowly Turning Narrative, 1992
Video/sound installation Central rotating screen, mirrored on one side; two channels of video projections at opposite ends of space, one color, one black and white, in large, dark room; amplified mono sound, one speaker; amplified mono sound, five speakers
Projected image size: 9 ft x 12 ft (2.75 x 3.65 m)
Room dimensions: 14 x 20 x 41 ft (4.3 x 6.1 x 12.5 m)
Continuously running
The Greeting, 1995 , 1995
Video/sound installation
Color video projection on large vertical screen mounted on wall in darkened space; amplified stereo sound
Projected image size: 9 ft 3 in. x 7 ft 11 in. (2.8 x 2.4 m)
Room dimensions: 14 x 22 x 25 ft (4.3 x 6.7 x 7.6 m)
10:22 minutes
Performers: Angela Black, Suzanne Peters, Bonnie Snyder
, 1995
Video/sound installation
Two channels of color video projections from opposite sides of a large dark gallery through nine large scrims suspended from ceiling; two channels of amplified mono sound, four speakers
Scrim size: 8 ft 2 in. x 10 ft 10 in. (2.4 x 3.3 m) each Room dimensions: 11 ft 6 in. x 24 ft 4 in. x 37 ft 10 in. (3.5 x 7.4 x 11.5 m)
30:00 minutes
Performers: Lora Stone, Gary Murphy
Going Forth By Day, 2002
Video/sound installation
A projected image cycle in five parts
Five high-definition color video channels projected onto walls in dark room; two channels of stereo sound for four panels; one panel with four channels of spatial quadraphonic sound
Room dimensions: 17 x 30 x 64 ft (5.2 x 9.15 x 19.5 m)
34:30 minutes
Artists
Viola, Bill
Bill Viola was born in New York in 1951 and graduated from Syracuse University in 1973. A seminal figure in the field of video art, he has been creating installations, video/films, sound environments, flat panel video pieces and works for...
Discover the artist
Perov, Kira
Kira Perov is executive director of Bill Viola Studio. She has worked closely with Bill Viola—her husband and partner—since 1979, managing, creatively guiding and assisting with the production of all of his videotapes and installations as well as...
Did you
know that...?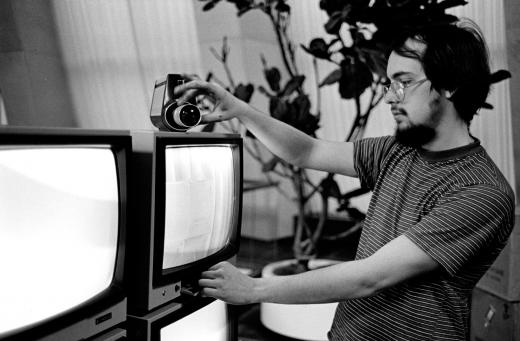 DID YOU KNOW THAT...?
As part of the didaktika project, the Museum designs educational spaces and special activities that complement each exhibition. The educational space in the exhibition provides information on Bill Viola, one of the world's most prominent video artists, whose career spans more than 40 years and whose works are on display in the galleries.