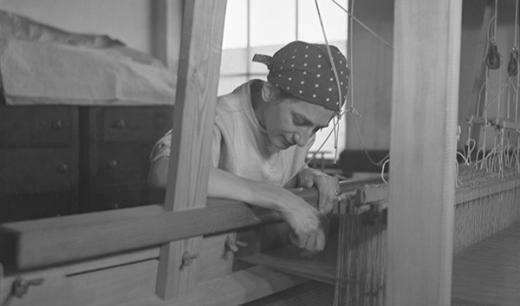 Anni Albers. Art as Exploration
The Didaktika project helps visitors to explore certain key ideas of the exhibitions through educational spaces, special activities and, this online section which presents the outstanding educational approach and strong artistic convictions of Anni Albers (Berlin, 1899 – Orange, Connecticut, USA, 1994).
The Bauhaus school (Weimar, Dessau and Berlin, Germany) and Black Mountain College (North Carolina, USA) were central to Albers' life. Anni Albers went briefly to the Kunstgewerbeschule where she discovered the production of textiles, and that encounter was explored much further at the Bauhaus. Later, at Black Mountain, Albers was able to broaden her investigations and develop an oeuvre that renovated the traditional concept of textile art, situating it beyond the sphere of craft practices.
Albers was guided throughout her practice by her thirst for discovery and her constant curiosity for experimentation with techniques and materials. These qualities were further enhanced by her numerous travels, including highly inspirational trips to Latin American countries like Chile, Mexico and Peru.
Anni Albers in her weaving studio at Black Mountain College, 1937
Photograph by Helen M. Post
Courtesy of the Western Regional Archives, State Archives of North Carolina