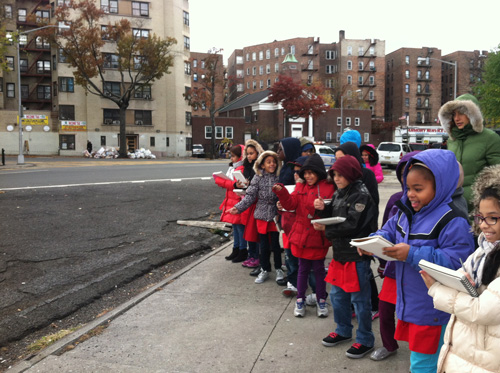 CULTURAL EXCHANGES
In Learning Through Art, each school year a cultural exchange is organized between two classes from two primary schools, one in the Basque Country and another in New York.
This year, participants from Karmengo Ama primary school in Trintxerpe-Pasaia (Gipuzkoa), and from PS 86 in New York's Bronx borough, exchanged for six weeks emails containing information and photographs of their art projects, also explaining the aspects that are typical or common in their respective environments.
The New York class worked with the artist Molly O'Brien: essential in their project was the direct observation of reality and the environment. Their main references were Gabriel Orozco's installation at the Solomon R. Guggenheim Museum and the huge sculptures located in the Bronx.
For her part, the project of artist Maider López at the Karmengo Ama had the objective to foster cooperation as a way of working focused on helping the pupils learn to share and help. Each group was enormously excited at the thought of meeting the other one. The New York group learned words in Basque and Spanish, while the Basque class discovered the different origins of the families of the North American pupils. Among other competencies, the exchange fosters the use of English and the ability to communicate and describe.