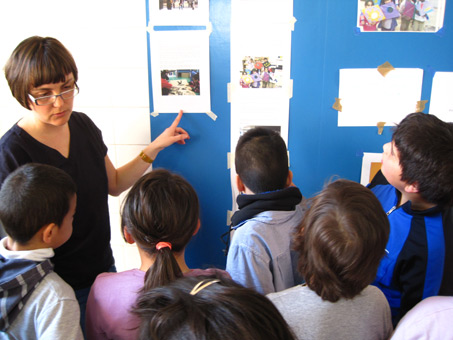 CULTURAL EXCHANGES
Two Primary Education classes, one from Ingeniero José Orbegozo Gorostidi PS in Bilbao and another from PS 88 in Queens (New York), worked simultaneously on a common project for 8 months. The workshops were run by two local artists, Naia del Castillo and Susan Mayr, in Bilbao and New York respectively.
The two classes exchanged emails, information, and photographs over the Internet, thereby comparing landscapes, creative processes, lifestyles, and characteristic aspects of each place. The aim was to provide students with enriching experiences beyond their immediate environment, so that they could find out about the world outside their neighborhood. Project topics were directly related to the Science and Language and Literature curriculum.
Based on the descriptions they received in writing, the students painted landscapes and buildings from the other country which they only knew through the eyes of their exchange partners.