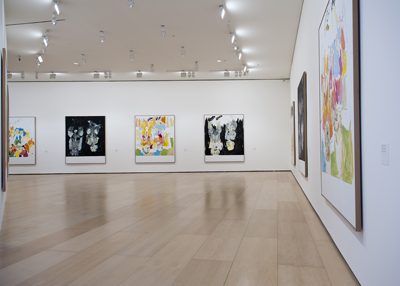 Mrs. Lenin and the Nightingale
"An object painted upside down is suitable for painting because it is unsuitable as an object." 1
Georg Baselitz Mrs. Lenin and the Nightingale, 2008
Sixteen paintings. Oil on canvas, 300 x 250 cm each.
Guggenheim Bilbao Museoa
The early artworks of Georg Baselitz (b. Deutschbaselitz, Germany, 1938) responded to the spiritual, cultural, and social aftereffects of the war in his home country, and showed a generation of German artists in the 1950s and 1960s how to come to terms with their national identity after World War II. Trained in the controlled socialist realism style of Communist East Berlin, he first encountered abstract art when he moved to West Berlin in 1958. Ultimately, Baselitz rejected both styles, and turned back, through time, to German Expressionist art from the beginning of the 20th century, which had been brutally suppressed by the Nazis. Baselitz is profoundly interested in history, and in his work the human figure returns to a central position in painting. However, his figures often suggest a deep unease. He has often said that, in the wake of the Holocaust and World War II, society needs to deal with the concept of ugliness.
At the end of the 1960s, Baselitz began painting his motifs upside down, reorienting the subject in order to reexamine it in a way that subverted traditional compositional rules. The artist explained: "An object painted upside down is suitable for painting because it is unsuitable as an object. I have no notion about the solidity of the depiction. I don't correct the rightness of the depiction. My relationship to the object is arbitrary. The painting is methodically organized by an aggressive, dissonant reversal of the ornamentation."2 It is a strategy to distance the viewer; a strategy that, according the artist, "liberates" the densely layered subject matter, obtaining abstraction while maintaining figuration.
Mrs. Lenin and the Nightingale (2008), a series of sixteen large-format paintings, is based on the repetition of the same compositional structure: two upside-down male figures sitting next to each other, with their penises exposed and their hands resting solemnly on their legs. The compositional motif originates from the renowned portrait The Artist's Parents II (Die Eltern des Künstlers II, 1924) by Otto Dix (b. Untermhaus, Germany, 1891; d. Singen, Germany, 1969). As in many of his works, Baselitz refers here to a specific art-historical precedent, reinterpreting it in his own way: in this case, replacing the figures in the original composition with two dictators, Vladimir Ilyich Lenin and Joseph Stalin, in an entirely fictitious meeting. With subversive humor tempering a vast anger, Baselitz satirizes a duo who, together, in the first half of the 20th century, turned the world upside down and were responsible for the loss of millions of human lives. Lenin, the creator of the world's first Communist state, is portrayed as "Mrs. Lenin," wearing a skirt and high-heeled shoes, as a reference to his use of disguise to elude the police during his exile in Europe. Stalin, known for his singing voice and interest in poetry, is "the nightingale." Each of the sixteen paintings in the series bears an individual title comprising a pun or an enigmatic phrase. None of these titles refer directly to the dictators portrayed, but they refer to modern and contemporary artists with whom Baselitz subjectively feels an affinity.
Art historian Norman Rosenthal notes: "These titles…are very like love messages carved onto trees—a kind of self-inflicted, alienating minor vandalism in the private garden that is the world of Mrs Lenin and Stalin the Nightingale." 3 These whimsical titles are Baselitz's mischievous nod as well as a complex reflection about the history of 20th-century art. His paintings become a mirror for reflections, at very different levels, relating to various historical and aesthetic perspectives. The paintings divide into two groups, painted in succession. As it were, night follows day: the first eight were painted on a white ground with broad, bright-colored brushstrokes; the other eight were painted on a dry, black ground with mostly feathery, blue-black strokes, lightly applied, sometimes with light touches of color.
1. Georg Baselitz, "The Upside-Down Object" (1981), in Detlev Gretenkort, ed., Georg Baselitz: Collected Writings and Interviews (London: Ridinghouse, 2010), p. 60; first published in English and Dutch in '60–'80: Attitudes/Concepts/Images (Amsterdam: Stedelijk Museum and Van Gennep, 1982), pp. 88, 234.
2. Ibid.
3. Norman Rosenthal, "Norman Rosenthal on Georg Baselitz at White Cube," Saatchi Online, March 12, 2009.
Preguntas
Ask students to look carefully at Baselitz's artwork. Take a few moments to observe every detail of the paintings. What do they notice? What images do they recognize? What are the characters in these scenes doing?
Baselitz paints the figures directly upside down. Why might an artist decide to paint in this manner? What do students think about this way of painting?
Ask students to imagine stepping into one of the paintings. What might they see, hear, smell, or sense? How does it feel to be in this place? Do they like to be there? Why, or why not?
Ask students to imagine how the artist might have painted this work. What kinds of tools might he have used, if any at all? How might he have moved his body? Was it a quick process or a slow one? What do they find in the painting that makes them say that?
The sixteen paintings are best seen together, as one work, as they were painted in succession. Analyze the title of this work and some of the subtitles. What do students think they mean? What new ideas do the titles give them? Do they think the title adequately represents the group of paintings? Why, or why not? If they could change the titles, what names might they suggest?