Currently on view (La Salve Bridge)
Red Arches / Arku gorriak
2007
Compact laminate sheets, aluminum, galvanized steel, PVC film, clear Plexiglas, LEDs, and metal halide projectors
Modified structure: 57.5 x 27.85 x 2.17 m
When he conceived this sculpture, Daniel Buren decided to make the structure of the La Salve Bridge less brutal, but more visible. With this in mind, he designed a vertical piece perpendicular to the bridge, out of which he cut three circles located at equal distances from each other. This work was inaugurated on the occasion of the museum's Tenth Anniversary. It creates a central circle around the road, in addition to two semicircles that are also reflected on the water and in the air. The surface is red in color, while the outer edges of the piece and the inside of the arches are vertically striped in black and white. The borders are made of a translucent material that makes it possible to add plays of light at night. The artist took into account the different properties of the context in order to create this work. The first of these is the fact that the site is located at the immediate entrance to the city center, a function that is effectively performed by the central circle. The second is the presence of the museum, with an architecture that combines curved and vertical shapes. The outer edges of the structure produce verticality, while the circles provide curves. The third is the presence of titanium, which produces a mirror-like effect. The red color was therefore chosen to contrast with the green of the bridge, and to add an additional colored reflection on the titanium. The fourth is the presence of the estuary, which reflects Buren's work and can seemingly lengthen it. The fifth and final element are the cars traveling across the bridge, which produce a horizontal play of light. The artist installed vertical plays of light on the inner and outer edges in order to create a dialog with those caused by the cars.
Original title
Red Arches / Arku gorriak
Medium/Materials
Compact laminate sheets, aluminum, galvanized steel, PVC film, clear Plexiglas, LEDs, and metal halide projectors
Dimensions
Modified structure: 57.5 x 27.85 x 2.17 m
Credit line
Guggenheim Bilbao Museoa
Virtual Tour
We invite you to enjoy a virtual tour of these works. This tour includes all the works and informative texts present in the exhibition.
Enter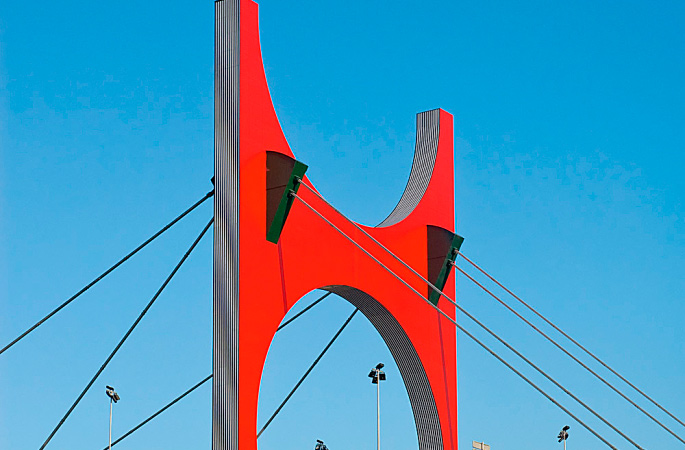 Arcos rojos/Arku gorriak, by Daniel Buren
Cristina de Middel, photographer, and Marta Blàvia, member of the Museum's curatorial team, unravel the keys to Daniel Buren's colossal sculpture Arcos rojos/Arku gorriak (2007), a bright, ingenious intervention on a pre-existing bridge leading to the city of Bilbao.