Buren, Daniel
Boulogne-Billancourt, France, 1938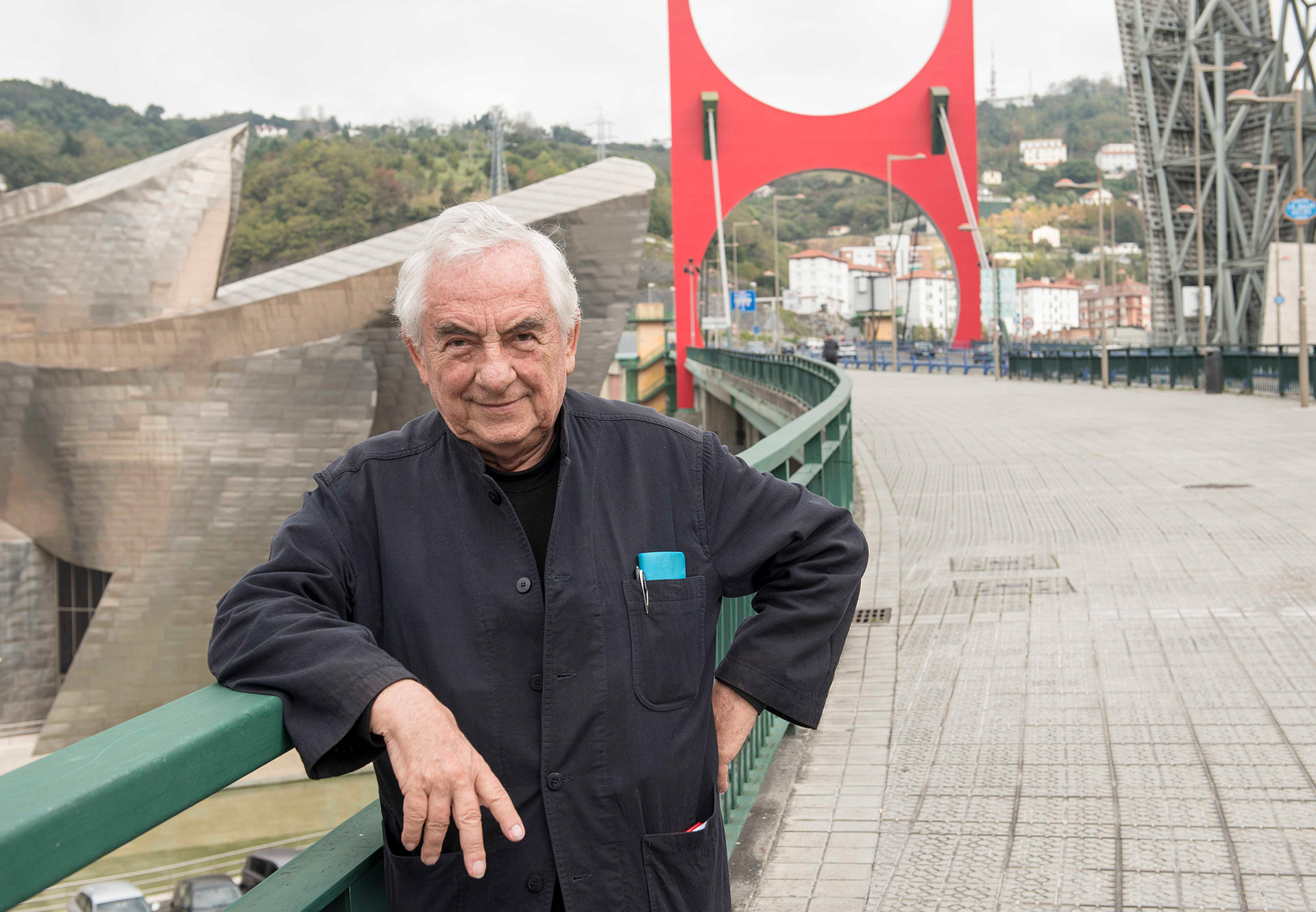 57
Studies at the École des Métiers d'Art in Paris, where he explores several different disciplines, including sculpture and painting.
59
Records a film in Mexico.
60
After a brief spell at the École Nationale Supérieure des Beaux-Arts in Paris, decides to devote himself exclusively to painting.
60
Begins to work with the vertical stripes that come to characterize all his art production.
The stripes are a uniform 8.7 centimeters in width and are applied to a variety of materials.
Receives an award at the IV Biennale de Parisand the Lefranc Prize.
65
Begins to work with the vertical stripes that come to characterize all his art production.
67
Together with artists Olivier Mosset, Michel Parmentier, and Niele Toroni, participates in a series of exhibitions dedicated to reducing painting to the most elemental physical and
visual elements through the systematic repetition of motifs. All take place in Paris between January and September: Manifestation no. 1 at the Salon de la Jeune Peinture, Manifestation no. 3 at the Musée des Arts Décoratifs, and Manifestation no. 4 at the 5ème Biennale de Paris, Musée d'Art Moderne de la Ville de Paris. (Manifestation no. 2 is to be held at the Salon de la Jeune Peinture also, but the artists take down their paintings on the opening day.)
68
Presents his work at Galleria Apollinaire in Milan.
Invited by Guido Le Noci, director of Galleria Apollinaire, to take part in Prospect 68 in Düsseldorf.
69
Participates in Prospect 69 in Düsseldorf and without being invited to the exhibition When Attitude Becomes Form, creates Affichages sauvages at the Kunsthalle Bern.
The solo exhibition Interruption is presented at Galerie Yvon Lambert in Paris.
70
Begins creating in situ works featuring vertical stripes in various urban spaces in France and Switzerland. Lacking the required permits to install his work, the artist runs into a number of legal problems, including arrest, in the following years.
71
Invited to participate in Guggenheim International Exhibition, 1971 at the Solomon R. Guggenheim Museum in New York. Once his vast striped banner is installed in the center of the museum's rotunda, however, some of the participating artists complain that it obstructs the view of their works in the show, and the banner is removed from display.
Exhibits at Städtiches Museum Mönchengladbach (dir. Johannes Cladders), Germany.
72
Takes part in Documenta 5 in Kassel, Germany, and Pintura affissa at Incontri Internazionali d'Arte in Rome.
73
The Museum of Modern Art in Oxford presents an exhibition of Buren's work.
Has an exhibition entitled Within and Beyond the Frame at John Weber Gallery in New York.
75
Creates his first Cabane éclatée, works created in situ in which the relationship with the setting plays an important part.
77
Takes part in Documenta 6 in Kassel, Germany.
80
The Nouveau Musée, Institut d'Art Contemporain in Villeurbanne, France, presents an exhibition of Buren's work.
82
Takes part in Documenta 7 in Kassel, Germany.
85
Creates the in situ permanent work Les deux plateaux at the Palais Royal in Paris.
Presents his work La rencontre des sites at the Nouvelle Biennale de Paris.
86
Represents France at the XLII Biennale di Venezia, where he is awarded the Leone d'Oro for best pavilion.
Begins work on the in situ work Diagonale pour des bambous at Parc de la Villette in Paris; work on the installation will be completed the following year
87
Creates the in situ work Frieze Paint, commissioned by Refco in New York.
Also begins work on the permanent works Ipotesi su alcuni indizi—Part II at the Museo di Capodimonte in Naples, Italy (completed in 1997), and Das Cafe at the Von der Heydt-Museum in Wuppertal, Germany (completed in 1990).
91
CAPC, Musée d'Art Contemporain de Bordeaux presents the exhibition Dominant-dominé.
Creates the in situ work Double rythme at the Kongresshalle in Saarbrücken, Germany.
93
Creates the in situ permanent work Poser/déposer/exposer at the Café Richelieu at the Musée du Louvre.
94
Creates two in situ works in Lyon: Sens dessus-dessous at Parc des Célestins and Déplacement-jaillissement: D'une fontaine les autres at Place des Terreaux. Begins work on Diagonale pour des pilasters—Losanges pour des couleurs, a work in the Deutsch Telekom building in Bonn, Germany (completed in 1995).
96
Creates the permanent work 25 porticos: La couleur et ses reflets on Odaiba, an island in Tokyo Bay.
98
Creates the in situ permanent work Passage sous-bois at Kimpo National Park in South Korea.
Begins work on the in situ permanent work Trois points de vue pour un dialogue—Œuvre en hommage au Cardinal Decourtray in Jerusalem (completed in 2000).
99
Exhibits at the Neues Museum Weserburg Bremen in Bremen, Germany.
00
Two relevant exhibitions: The Musée d'Art Moderne Lille Métropole in Lille, France, holds a retrospective exhibition of Buren's paintings, entitled Une traversée: Peintures, 1964–1999and The Institut d'Art Contemporain, Villeurbanne, France, exhibits a series of cabins.
01
Exhibits at the Kunsthaus Bregenz in Bregenz, Austria.
Takes part in the Fourth Shenzhen Contemporary Sculpture Exhibition at the He Xiangning Art Museum in Shenzhen, China.
Creates the in situ work White and Green Fence at the Farm, a private sculpture park on Kaipara Harbour in Auckland, New Zealand.
02
The Musée National d'Art Moderne, Centre Georges Pompidou in Paris presents the solo exhibition Le musée qui n'existait pas.
03
Has an exhibition at the Toyota Municipal Museum of Art in Toyota, Japan, and the museum acquires the work The Colors Suspended: 3 Exploded Cabins.
04
Creates the in situ permanent work Le jardin imaginaire at Sint-Donatuspark in Louvain, Belgium.
05
The exhibition The Eye of the Storm: Works in situ by Daniel Buren is inaugurated at the Solomon R. Guggenheim Museum in New York.
06
Chosen by the Guggenheim Museum Bilbao to create a large-scale work, Arcos rojos/Arku gorriak at the Puente la Salve to celebrate the museum's tenth anniversary.
Exhibits at the Espai d'Art Contemporani de Castelló in Castelló, Spain.
The Museum of Modern Art in Oxford presents the exhibition Intervention II.
Takes part in the Biennale Architettura di Venezia, creating a project in collaboration with architect Patrick Bouchain, designer Francis Lacloche, and the architects' collective Exyzt.
Earns the Praemium Imperiale on painting in Tokyo.
07
The newly renovated Musée Fabre in Montpellier, France, reopens with a permanent work by Buren entitled La portée.
Exhibits at Lisson Gallery in London.
08
Installs the in situ work La coupure at the Musée Picasso in Paris.
09
Inaugurates the permanent work Bleus sur Jaune at the Place de la Justice, Brussels.
10
Participates in a round table discussion entitled Une Soirée avec Monet organized by the Musée de l'Orangerie in Paris, and gives a lecture entitled La maintenance des œuvres crées pour l'espace public at the École supérieure d'Art d'Avignon in Avignon, France.
Creates the site-specific permanent installation Danza tra triangoli e losanghe per tre colori at the Museo d'Arte Contemporanea di Roma (MACRO). Creates a number of site-specific works for: Meilleure ville, meilleure vie, an exhibition for the French pavilion at the Shanghai World's Fair, China; the program Art Parcours at the 41st edition of Art Basel, Basel; L'Espace de l'Art Concret in Mouans-Sartoux, France; Stommeln synagogue in Germany; Galeria Hilario Galguera in Mexico City; the Musée d'Art Moderne Grand-Duc Jean in Luxembourg; the Monnaie de Paris in Paris; and for the Festival Circa 2010 in Auch, France.
11
The exhibition Allegro Vivace is inaugurated at the Staatliche Kunsthalle in Baden-Baden, Germany. His work is also shown at Madison Gallery, La Jolla, California: The Gallery at Hermès, New York; and at Galería Hilario Galguera, Mexico City. The Centre Pompidou-Metz, Metz, France, in cooperation with the Musée d'Art Moderne Grand-Duc Jean, Luxembourg, invites Buren to create a site-specific work for its Galerie 3. Participates in the symposium Expanded Conceptualism with a talk entitled A few years around 1968, and gives a lecture called À propos de quelques travaux de 1965 à aujourd'hui at the Théâtre National de Bordeaux en Aquitaine, Bordeaux.
12
On the occasion of Monumenta 2012, Buren transforms the Grand Palais in Paris with his temporary installation Excentrique(s).
His works are shown at Thomas Solomon in Los Angeles (USA) and Galerie Kamel Mennour in Paris.
13
Bortolami and Petzel Gallery, both in New York, show the series Works in Situ & Situated Works.
14
Participates in group exhibitions at the Centre Pompidou in Paris; Galerie Buchholz in Berlin; and the Museum Dhondt-Dhaenens Biennial on Painting in Deurle, Belgium.
Creates stage design for Benjamin Millepied's Daphnis et Chloé at the Opéra national de Paris.
Develops work for Catch as catch can: Works in situ, BALTIC Centre for Contemporary Art in Gateshead, UK.
The exhibition Défini, Fini, Infini: Travaux in situ at MAMO, Cité Radieuse in Marseille, France, presents seven works by Buren never shown before.
Comme un jeu d'enfant/Travaux in situ opens at the Musée d'art moderne et contemporain de Strasbourg, France. Then, the exhibition travels to MADRE Museum in Naples (Italy) and Macro Espacio para la Cultura y las Artes (MECA) in Aguascalientes, Mexico.
Develops De un patio a otro-trabajos in situ, 2014, a series of interventions at the Cabañas Institute, a UNESCO World Heritage site in Guadalajara, Mexico.
15
Develops Les Flèches, travail in situ et en mouvement, an intervention for the Musée de Picardie in Amiens, France.
Takes part in the 12th Havana Biennial.
Presents works at the galleries Kamel Mennour in Paris, Bortolami in Miami (USA), and Nara Roesler in Rio de Janeiro (Brazil).
16
Exhibitions by Buren open at Buchmann Box in Berlin, Xavier Hufkens in Brussels, and Nahmad Contemporary in New York.
Participates in the group exhibitions Par tibi, Roma, nihil in the Palatine Hill, Rome, and FORTY, staged by MoMA PS1 in New York.
Observatory of light-Work in situ is installed at the Fondation Louis Vuitton in Paris in dialogue with Frank Gehry's building.
Participates with intervention in the exhibition A Fresco at BOZAR – Centre for Fine Arts in Brussels.
17
Lisson Gallery in London, Bortolami in New York and Galeria Nara Roesler in São Paulo, Brazil, host exhibitions of the French artist.
His work is shown in Colombia for the first time at the Museo de Arte Moderno de Bogotá (MAMBO).
18
Creates the performance and installation Voile/Toile – Toile/Voile for the Walker Art Center in Minneapolis, USA. Presents the series Tondi, situated works at the Bortolami Gallery in New York. Creates an intervention for the Art Institute of Chicago, USA.
His installations are shown at the Kunstsammlungen Chemnitz, Germany.