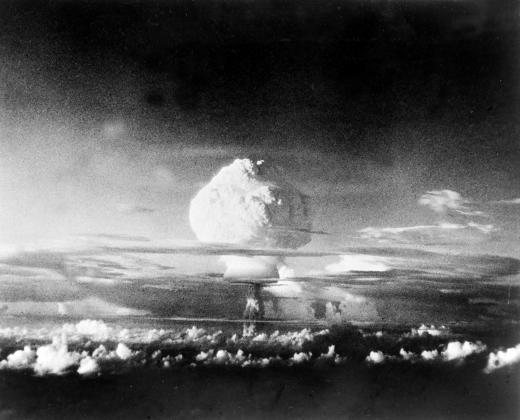 HISTORICAL CONTEXT: THE WORLD AFTER THE SECOND WORLD WAR
After the end of the Second World War in 1945, the world was divided into two opposing blocks: the Western block, led by the United States who defended a democratic political system, a capitalist economy, and liberal ideology; and the Communist block, headed by the Soviet Union who encouraged a political, social, and economic system based on collective property. The profound differences between these two blocks became increasingly irreconcilable after the war, and in 1947, a new world conflict arose: the Cold War (1947–1991) between the United States and the Soviet Union.
The nuclear weapons potential of the United States and the USSR prevented military confrontation, at least directly, and averted a nuclear Holocaust. As a result, the conflict was played out at a political, economic, and cultural level, and through propaganda.
The Hydrogen Bomb, 1952. A picture of the thermo-nuclear device tested by the U.S. at the Elugelab test island in the Marshall Islands. Photo: Popperfoto. Getty Images