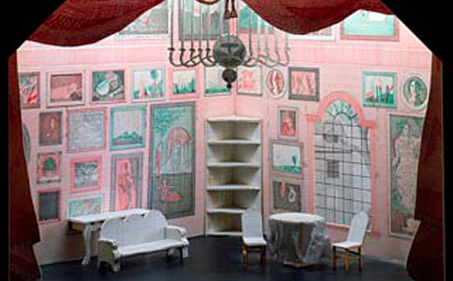 STAGE DESIGNS
Stage design is an important and less-known part of Hockney's artistic output. He created his first opera design in 1975 for Igor Stravinsky's The Rake's Progress (1951)—see image of one of the original models (ink and photography on cardboard). Afterward, theater became a great influence on his art and aesthetic approach. In his designs, Hockney employs a variety of mediums, such as prints, collage, or painting, which he also applies onto their three-dimensional versions. He often creates models—initially small ones, like the ones shown here. His stage designs for New York's Metropolitan Opera's triple bill of Erik Satie's Parade (1916–17), Francis Poulenc's Les mamelles de Tirésias (1947), and Maurice Ravel's L'enfant et les sortilèges (1917–25) as well as a Stravinsky triple bill in 1981—Le sacré du printemps (1913), Le rossignol (1914), Oedipus Rex (1927)—later reappeared in his Los Angeles home, which he painted in the same bright dark red and blue colors. Afterwards, he created designs for Richard Wagner's Tristan und Isolde (1857–59) in 1987, Giacomo Puccini's Turandot (1921–24) in 1992 and 1993, and Richard Strauss's Die Frau ohne Schatten (1918) in 1993 and 1996.
The bright, bold colors and large-scale of the stage designs announce his return some years later to the Yorkshire landscape, featured in the exhibition.
The Arrival of the Spring in Woldgate, East Yorkshire, in 2011 (twenty-eleven) (2011), a 52-part work consisting of 51 iPad drawings and an oil painting on 32 canvases, can be considered as an evolution of his theatrical vision, as this monumental work also assumes a cinematic quality.