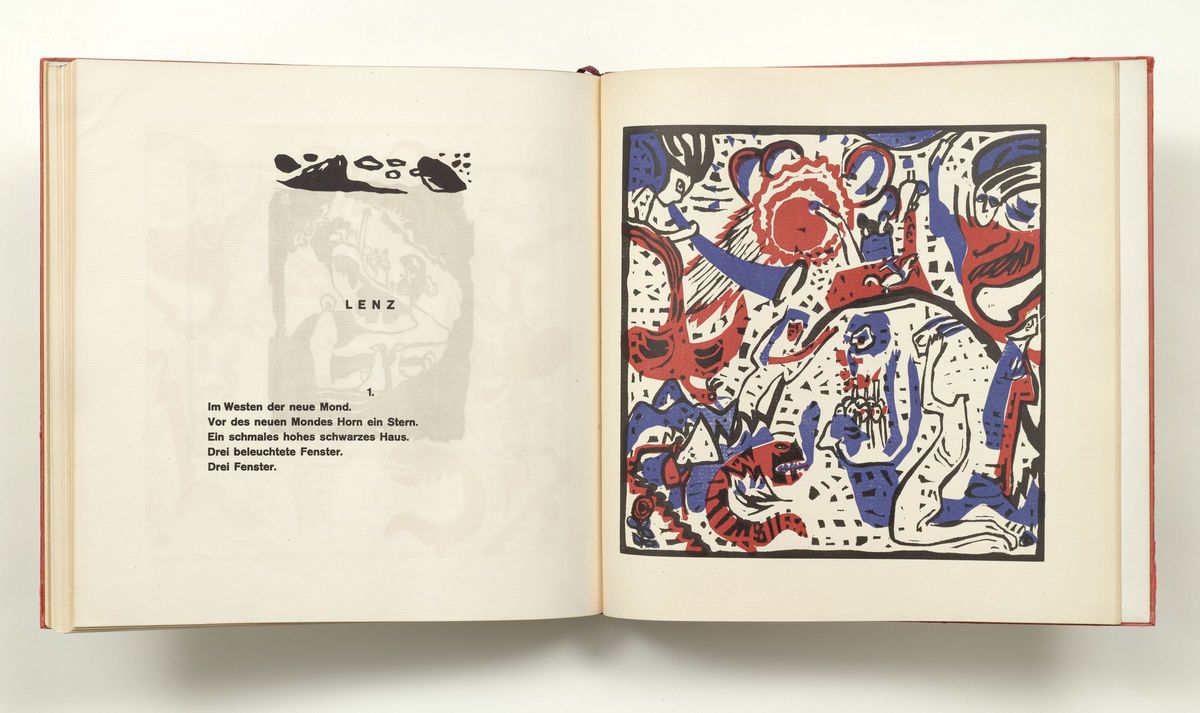 INFLUENTIAL WRITINGS
As part of the Didaktika project, the Museum designs educational areas and organizes activities to complement its exhibitions. Tools and resources are provided both in the galleries and online to increase viewers' understanding and comprehension of the artists and works on display.

In this didactic online section you will discover certain people, places, and events that proved influential in the life and practice of Vasily Kandinsky. From his foundational years in Russia through his later, productive periods in Germany and France, Kandinsky demonstrated an intellectual curiosity and pursuit of avant-gardism. His experimental drawings, investigations of the relationship between color and sound, teaching and theoretical writings, along with a glossary of key terms, are all here to discover. See how, taken together, these inflection points contributed to his pioneering role in the development of abstract, or nonrepresentational, art in the early 20th century in Europe.
INFLUENTIAL WRITINGS
Kandinsky had an inquisitive and theoretical mind and, besides painting, wrote numerous essays exploring how various colors and shapes correspond to different feelings. Über das Geistige in der Kunst (On the Spiritual in Art, 1912) was his seminal publication on the subject, followed by Punkt und Linie zu Fläche. Beitrag zur Analyse der malerischen Elemente (Point and Line to Plane: A Contribution to the Analysis of Pictorial Elements, 1926). In the first, Kandinsky examined the capacity of color to communicate innermost psychological and spiritual concerns; in the second, he explored the inner effects of forces on lines and points in the construction of a painting.
In 1913 he published Klänge (Sounds), a book composed of 56 woodcuts, prose poems, and typography. It was, in his own words, a "musical album." These and other writings demonstrate Kandinsky's capacity for new forms of expression and his persistent state of discovery.
CONNECTIONS BETWEEN SOUND AND PAINTING
The beginning of the 20th century saw a profound change in music. Austrian-born composer Arnold Schönberg was foremost among those who investigated new ways of creating music, casting aside traditional rules. He was the creator of the twelve-tone system and in 1911 published his revolutionary Theory of Harmony, proposing atonal practice as the future path in composition.
Schoenberg and Kandinsky, who met during the latter's period in Munich, shared an interest in experimentation and had a long-standing friendship and correspondence. They both searched to create new modes of expression. Kandinsky's practice was profoundly influenced by his study and experience of music. He believed that painting should aspire to be as abstract as music, eliciting an emotional response without representing a recognizable subject.
Have you ever heard the term synesthesia? Related to human senses of hearing and sight, synesthesia describes how some people are capable of identifying colors while listening to music or vice versa. Kandinsky was keenly interested in the phenomenon and even developed a synesthetic color chart based on the instruments of the orchestra.
THEATRICAL COLLABORATIONS
Kandinsky's interests expanded into theater. He conceived four "color-tone dramas" between 1909 and 1914: The Yellow Sound, The Green Sound, Black and White, and Violet. Conceptually based on the psychological and physiological responses to color, they were never produced in his lifetime.
Another time, Kandinsky designed watercolor sketches for the set of a theatrical version of Pictures at an Exhibition (1874), a composition for piano by Russian musician Modest Mussorgsky. The show was presented in 1928 at the Friedrich Theater in Dessau; in 2012, it was re-created as part of a multimedia performance based on Mussorgsky at the Solomon R. Guggenheim Museum in New York.