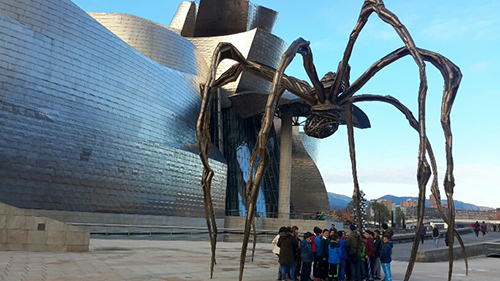 CULTURAL EXCHANGES
In Learning Through Art, every school year a cultural exchange is organized between two classes from two primary schools, one in the Basque Country and another in New York.
For six weeks this year, participants from the ES Kueto in Sestao, Bizkaia, and PS 88, in Ridgewood, Queens County, New York, exchanged emails with information and photographs of their art projects, and of typical or common aspects in their respective environments.
The New York class worked with the artist Joanna Warren, learning to paint places that hold a special meaning for the pupils using acrylics and watercolors. On the other hand, the project by the artist Jorge Rubio at the Kueto school in Sestao portrayed its immediate environment by means of works with portable computer material: a digital tablet.
Each of the groups was enormously curious to learn more about the other class and to compare the Guggenheim Museums in both cities. The New York group learnt words in Basque and Spanish, while the Basque class discovered the different origins of the families of the North American pupils. Among other skills, this exchange fosters the use of English and the ability to communicate and describe.