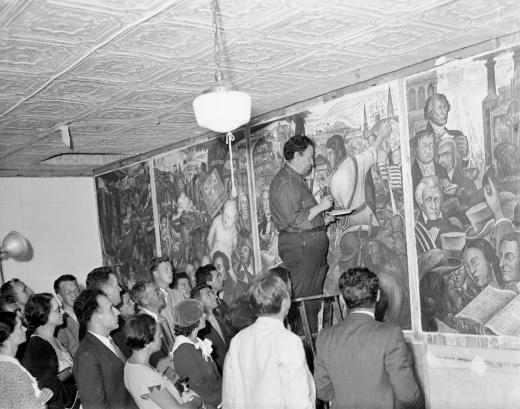 WHAT IS DIDAKTIKA?
Didaktika allows visitors to further explore the content of exhibitions through educational spaces and special activities.
On this occasion, the focus is on the crucial role of the United States government during the mid-20th century in supporting its culture and art. A number of federal projects promoted the rise of Abstract Expressionism, partly to satisfy the political interests of a government concerned with the possible expansion of the Soviet Union's communist ideology.
Furthermore, as a result of the Second World War, the creative spotlight moved from Paris to New York, since many artists migrated there from the Old World and brought with them the new art that they showed in galleries and exhibitions, and shared through teaching.
The exhibition offers additional content in its wall texts, audio guides, and express tours.
Mexican artist Diego Rivera demonstrating painting techniques to students in New York City (New Workers' Art School), August 1933. Photo: Bettmann. Getty Images