Alberto Giacometti. A Retrospective
10.19.2018 - 02.24.2019
This exhibition surveys four decades of production by Alberto Giacometti (b. 1901; d. 1966), one of the most influential artists of the 20th century. More than 200 sculptures, paintings, and drawings make up a show that offers a unique perspective on the artist's work, highlighting the extraordinary holdings of artworks and archive material gathered by Giacometti's wife, Annette, now in the Fondation Giacometti in Paris.
Giacometti was born in Switzerland to a family of artists. He was introduced to painting and sculpture by his father, the renowned Neo-Impressionist painter Giovanni Giacometti. Three heads done of him by the young Giacometti are seen on display here. In 1922 Alberto Giacometti moved to Paris to continue his artistic training, and four years later he set up what was to remain his studio until the end of his life, a rented space of just 23 square meters on the Rue Hippolyte-Maindron, close to Montparnasse. In that tiny narrow room, Giacometti created a very personal vision of the world about him.
The human figure is a fundamental theme in this artist's oeuvre. Over the years, he produced works inspired by the people around him, especially his brother Diego, his wife Annette, and his friends and lovers. The artist said: "For me, sculpture, painting, and drawing have always been means of understanding my own vision of the outside world, and above all the face and the whole of the human being. Or to put it more simply, of my fellow creatures, and especially of those who for one reason or another are closest to me."
Giacometti's ideas on how to approach the human figure were to become crucial questions of contemporary art for the following generations of artists.
Alberto Giacometti
Alberto Giacometti, 1951
Photograph by Gordon Parks
Fondation Giacometti, Paris
© The Gordon Parks Foundation
Artist
Giacometti, Alberto
Did you
know that...?
ALBERTO GIACOMETTI AND HIS STUDIOS
Didaktika is a project that complements every exhibition with special educational areas and activities, offering tools and resources to help viewers understand and appreciate the art on display.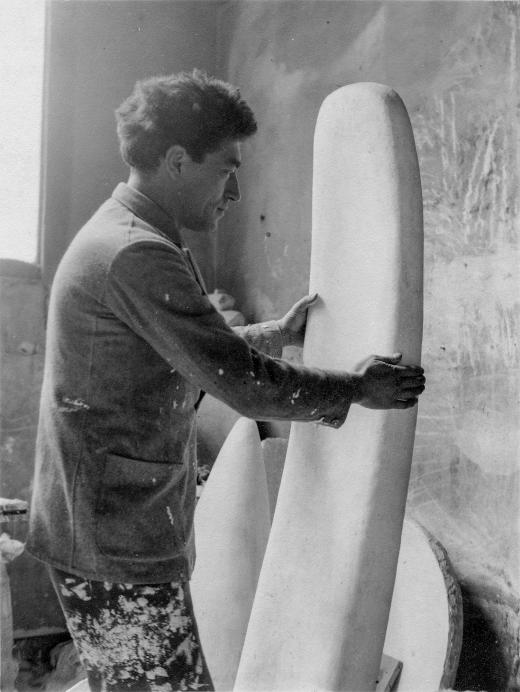 GIACOMETTI'S STUDIO IN PARIS
In December 1926, Alberto Giacometti occupied what was to become his studio until the end of his life. It was a rented 23 m2 space on the Rue Hippolyte-Maindron, near Montparnasse.
GIACOMETTI'S STUDIO IN STAMPA
Alberto's father, Giovanni Giacometti, was a reputed Swiss Neo-Impressionist painter and engraver. He transformed the old stable adjoining the family home in Val Bregaglia into a studio that was shared by his son during his childhood and adolescence.