Gego. Measuring Infinity
11.07.2023 - 02.04.2024
The Guggenheim Museum Bilbao presents Gego. Measuring Infinity, a major retrospective offering a fully integrated view of the work by German-Venezuelan artist Gertrud Goldschmidt (b. 1912, Hamburg; d. 1994, Caracas), also known as Gego, and her distinctive approach to the language of abstraction. Arranged chronologically and thematically, the exhibition examines the artist's formal and conceptual contributions through her organic forms, linear structures, and modular abstractions.
Nearly 150 works from the early 1950s through the early 1990s are featured including sculptures, drawings, prints, textiles, and artist's books, alongside photographic images of installations and public artworks, sketches, publications, and letters. Situating Gego's practice in the artistic contexts of Latin America that transpired over the course of her lengthy career, the survey also considers her intersections with—and departures from—key transnational art movements such as Geometric Abstraction and Kinetic Art.
Born into a German Jewish family, Gego first trained as an architect and engineer at the Technische Hochschule Stuttgart (now Universität Stuttgart). Fleeing Nazi persecution in 1939, she immigrated to Venezuela, where she settled permanently, and in 1953 embarked on an artistic career that would span more than four decades. In two- and three-dimensional works across a variety of mediums, the artist explored the relationship between line, space, and volume. Her engagements in the related fields of architecture, design, and education complemented those investigations.
Gego is one of the most significant artists to emerge from Latin America during the second half of the 20th century, and her career traced a markedly individual artistic path, which defied categorization. She put forth radical ideas through her investigations of structural systems: transparency, tension, fragility, spatial relations, and the optical effects of motion are all methodically addressed in her singular body of work. This historical retrospective demonstrates the breadth of Gego's multidisciplinary practice, advancing a deeper understanding and appreciation of the artist and her oeuvre in a global context.
The museum is thankful to Fundación Gego and its directors, Tomás Gunz and Barbara Gunz, as well as the foundation's staff and Board, for their tremendous support and collaboration towards this exhibition.
Galleries: 105
Curator: Geaninne Gutiérrez-Guimarães
Venues: Museu de Arte de São Paulo Assis Chateaubriand–MASP; Museo Jumex, Mexico City; Solomon R. Guggenheim Museum, New York; Guggenheim Museum Bilbao
The exhibition is organized by the Guggenheim Museum Bilbao in collaboration with the Solomon R. Guggenheim Museum, New York; Museo Jumex, Mexico City; and Museu de Arte de São Paulo Assis Chateaubriand–MASP. The exhibition was developed by Julieta González, Artistic Director, Instituto Inhotim, Brumadinho, Brazil; Geaninne Gutiérrez-Guimarães, Associate Curator, Guggenheim Museum Bilbao, and Solomon R. Guggenheim Museum and Foundation, New York; and Pablo León de la Barra, Curator at Large, Latin America, Solomon R. Guggenheim Museum and Foundation, New York; in collaboration with Tanya Barson, former Chief Curator, Museu d'Art Contemporani de Barcelona, and Michael Wellen, Senior Curator, International Art, Tate Modern, London.
Gego installing Reticulárea at the Museo de Bellas Artes, Caracas, 1969
Photo: Juan Santana
© Fundación Gego

Did you
know that...?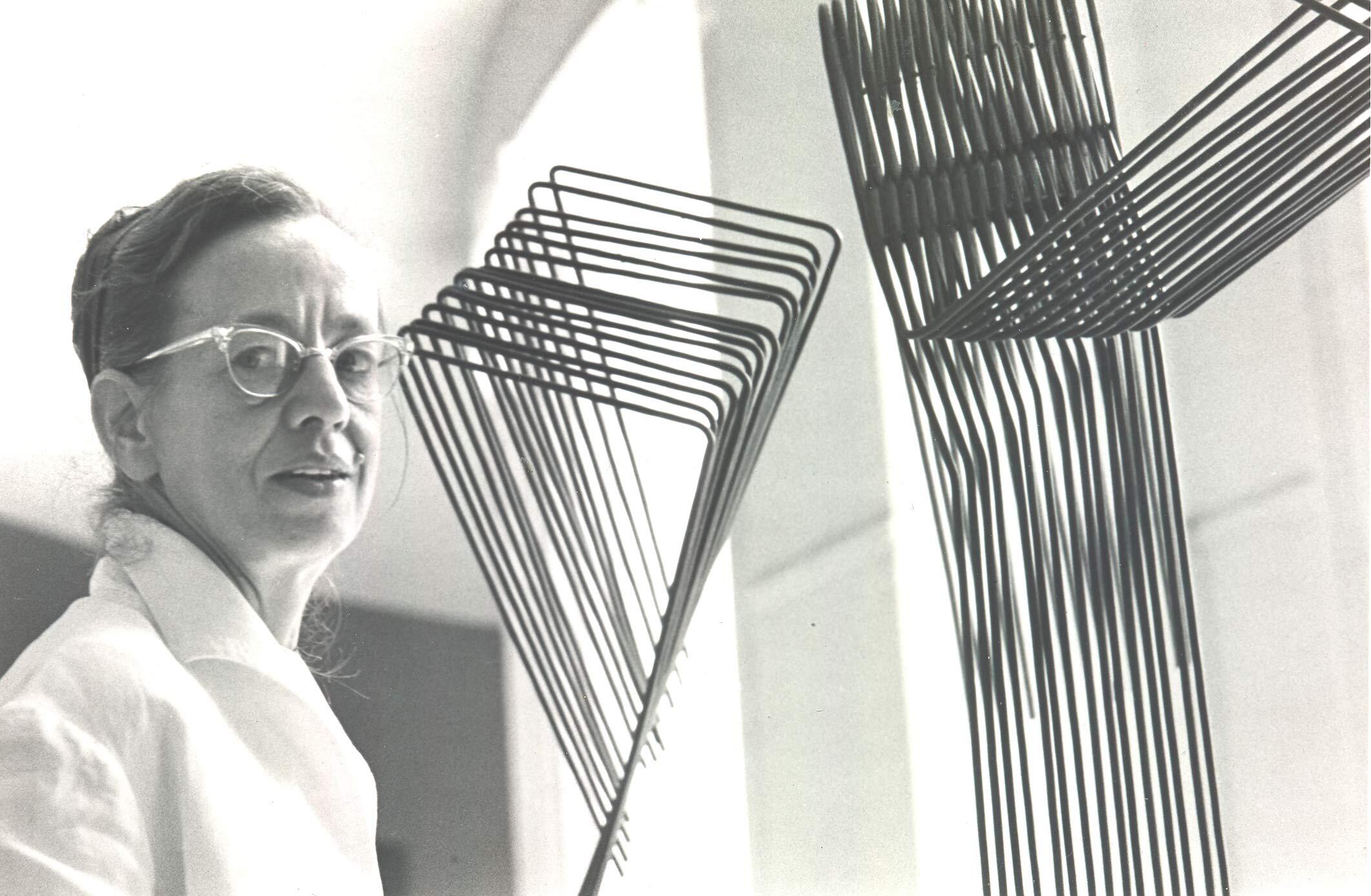 In Focus Gego
As part of the Didaktika initiative, the Museum designs educational spaces, online content, and special activities to complement the exhibitions, offering tools and resources to enhance the public's appreciation of the works exhibited.
Gego's Biography
1912    Gertrud Goldschmidt (Gego) is born in Hamburg on August 1, in a liberal, Jewish family.
1932    Studies at the Technische Hochschule in Stuttgart.
Geglossary
Reticulárea (1969–82) A monumental installation of vertically- and horizontally-suspended metal wires that hang from the ceiling and the walls, creating a constellation of lines and geometric figures that fill the space.