Pello Irazu: Panorama
03.10.2017 - 06.25.2017
Pello Irazu is a key figure on the contemporary art scene. He began making a name for himself in the 1980s, participating in the renewal of Basque and Spanish sculpture, and over the following three decades, he created a highly consistent body of work.
Alternating between broad-spectrum sculpture—from small three-dimensional creations to hybrid objects and large installations—and photography, drawing, and mural painting, Irazu's art explores the problems that arise in the multiple relations between our bodies, objects, images, and spaces.
Pello Irazu. Panorama features over one hundred works, including some of the most significant milestones and masterpieces of Irazu's career, articulated around a physical and conceptual device that the artist designed specifically for this show. The exhibition begins with photographs of his early ephemeral explorations from the mid-1980s. These works contain the seed of his first steel piece, whose physical presence is later called into question by the paint that partially covers it. During this early stage, Irazu established some of the guidelines that would accompany him throughout his career, such as limiting the size of a work according to his own physical possibilities—thus making it a condenser of a performative act—or reformulating the legacy of sculptor Jorge Oteiza and the trends derived from Minimalism.
In the late 1980s Irazu begun to re-examine both the function of the wall and the viewer's perception of it by painting directly on the wall and arranging objects and images in different ways within space.
In the 1990s, while living in New York, the artist began to work with industrial materials such as plywood and plastic. These became a springboard to expressive evolutions riddled with constant allusions to the domestic space. Irazu deconstructed objects to reassemble them in a disjointed manner, producing a sense of defamiliarization with regard to the meaning of everyday objects and materials. In his drawings and paintings from this period, the artist employed scraps of found paper (usually printed) and altered them with paint and adhesive tape, materials Irazu used to weave new referential plots.
After returning to Bilbao, in the year 2000 Irazu's production entered a new phase. His works began questioning the signs around him, using forms that were suggestive to spectators yet far removed from their habitual points of reference to create mixed feelings of familiarity, ambiguity, and strangeness. Irazu appropriates space, combining mural painting with three-dimensional materials and working on the blurred boundaries that have traditionally separated different artistic genres.
Pello Irazu
The Land that Sleeps (La tierra que duerme), 1986
Steel and oil paint
66 x 120 x 39 cm
Museo Nacional Centro de Arte Reina Sofía, Madrid. Long-term loan Collection Soledad Lorenzo, 2014
© VEGAP, Bilbao, 2017
Artist
Irazu, Pello
Andoain, Spain, 1963
1963 Born on 26 October in Andoain, Gipuzkoa (Basque Country). 1981 Enrolls at the Faculty of Fine Arts of the University of the Basque Country/Euskal Herriko Unibertsitatea, where he graduates with a minor in sculpture in 1986. 1982 Receives a...
Discover the artist
Did you
know that...?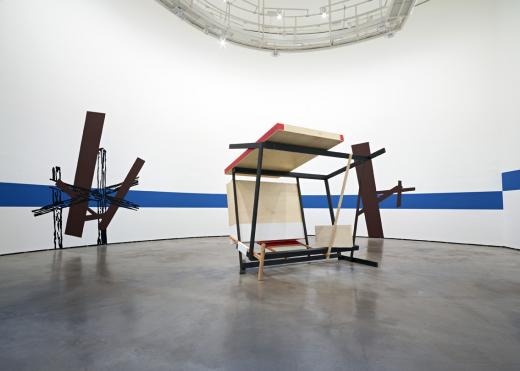 DID YOU KNOW THAT...?
Life Forms 304 (2003), by Pello Irazu, currently on display in Gallery 105 as part of Pello Irazu: Panorama, is a site-specific installation commissioned by the Guggenheim Bilbao Museum. The title is in part related to the site the work was designed for, namely, Gallery 304 in the Museum.