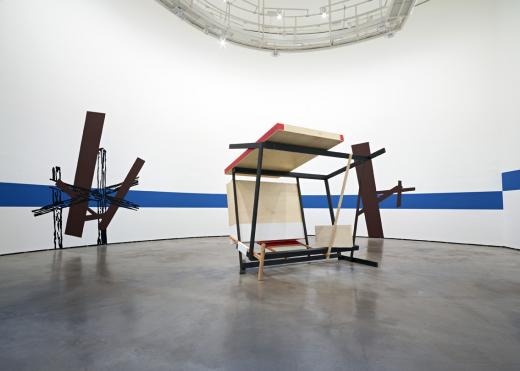 DID YOU KNOW THAT...?
Life Forms 304 (2003), by Pello Irazu, currently on display in Gallery 105 as part of Pello Irazu: Panorama, is a site-specific installation commissioned by the Guggenheim Bilbao Museum. The title is in part related to the site the work was designed for, namely, Gallery 304 in the Museum.
Life Forms 304 comprises a mural painting in dialogue with the surrounding architecture, covering the entire wall with a blue stripe—a sort of intermittent walkway, interrupted by strokes in black. The mural surrounds a sculptural object in steel, plywood, wood, and adhesive tape, with a myriad angles, tensions, and forces in careful balance. Irazu rejects the idea of space as a container of objects, thinking of it as an element between the viewer and the work of art. In line with this idea, the work of art is informed not only by the central object but by the space surrounding and delimiting it.
For more information on the artist and his creative process, CLICK HERE to watch an extract of an interview produced in 2012 on the occasion of the first presentation at the Museum ofLife Forms 304.
Formas de vida 304, en su ubicación actual, en la sala 105, integrada en la exposición Pello Irazu. Panorama