Ono, Yoko
Tokyo (Japan), 1933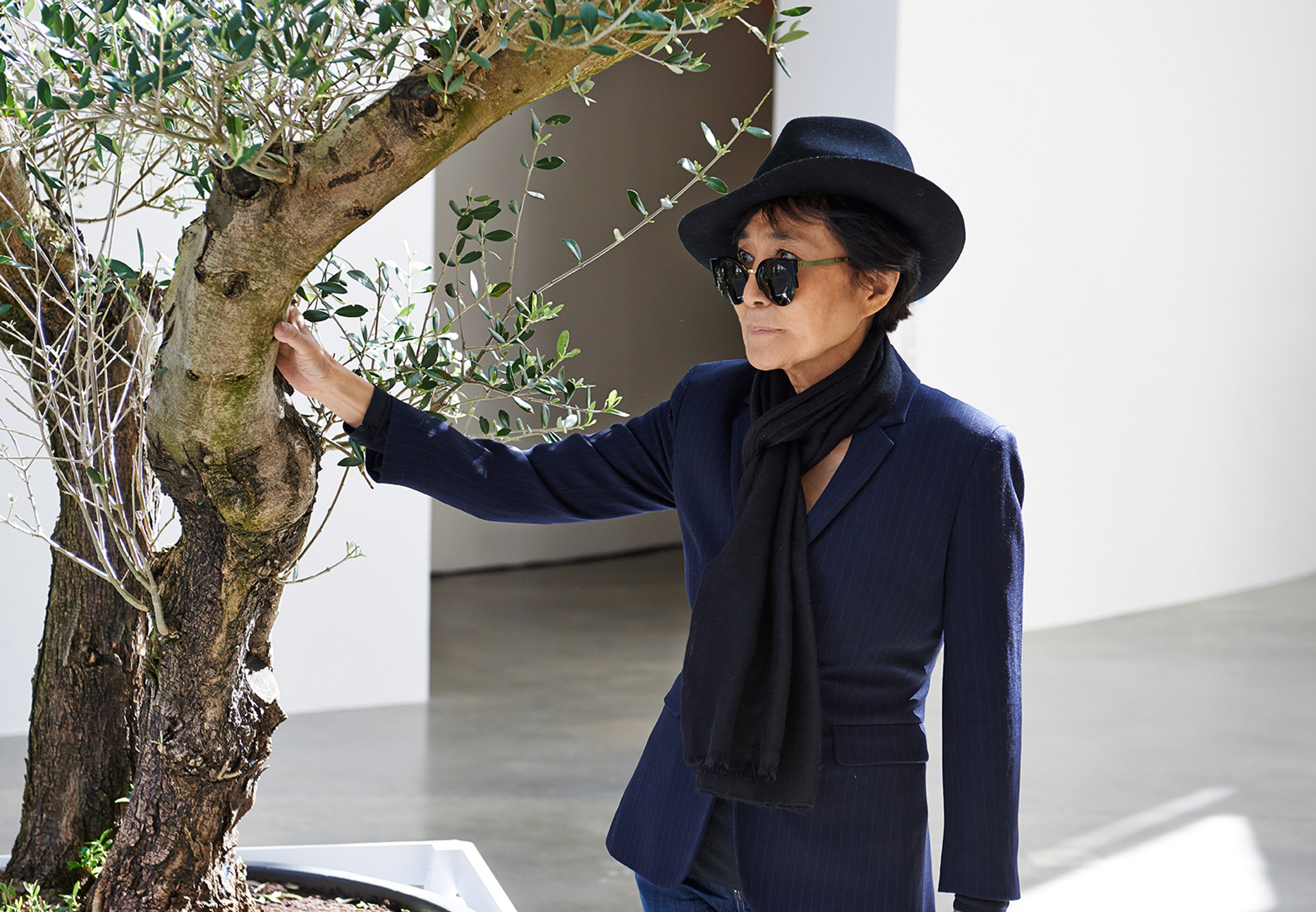 33
Yoko Ono is born in Tokyo on February 18, 1933. Yoko moves with her family, living in San Francisco, New York, and Tokyo. She receives classical musical instruction, primarily in piano and voice.
41
Yoko Ono returns to Japan in 1941 and spends several years there. She survives the devastating bombardment of Tokyo in March of 1945.
51
Yoko Ono is admitted to Gakushūin University as its first female student of philosophy. There, she is introduced to Existentialism and Marxism and other forms of philosophy, and becomes acquainted with the pacifist ideas. She leaves the university after two semesters and follows her family to New York, where she enrolls at Sarah Lawrence College, majoring in contemporary poetry and composition.
55
She withdraws from college. She meets the avant-garde composer Toshi Ichiyanagi and lives with him in Manhattan. She meets John Cage and gets in touch with Morton Feldman, Richard Maxfield, David Tudor, and Merce Cunningham. In 1959, Ono makes the first of many appearances in front of small audiences and begins to make a name for herself as an independent artist. With her composition Lighting Piece (1955) (first performed in 1961), Ono is one of the very first artists to create event scores.
60
Yoko Ono rents a loft on Chambers Street in New York where, with La Monte Young, she organizes events and concerts. Their guests include Marcel Duchamp, Peggy Guggenheim, and George Maciunas. In this context she presents her Instruction Paintings which are shown again at her first solo exhibition at Maciunas's AG Gallery in New York.
62
Yoko Ono returns to Japan and remains in Tokyo until 1964. She stages her first solo concert and exhibition, featuring a number of her Instructions for Paintings, at the Sogetsu Art Center. At the same venue, Ono appears in a performance of John Cage and performs other pieces with Cage and David Tudor.
63
Yoko Ono meets Anthony Cox. They get married and their daughter Kyoko Cox is born on August 3, 1963. During this period, Nam June Paik arrives in Tokyo and performs with Ono. In 1964 she performs Morning Piece, in which she offers past and future mornings for sale. She publishes the artist´s book Grapefruit containing a collection of her Instructions. Ono performs Cut Piece and Bag Piece, at the "Contemporary American Avant-Garde Music Concert: Insound and Instructure" in Kyoto. In the winter of 1964/65, Ono and Cox move to New York. There, Ono initiates a number of postcard events including Draw Circle Event.
65
The concert entitled "New Works of Yoko Ono" is presented at the Carnegie Recital Hall in New York. Ono takes part in a number of Fluxus events and performs Beat Piece for the first time in Perpetual Fluxfest presents Yoko Ono. A second major concert entitled "Fluxorchestra at Carnegie Recital Hall" features her Sky Piece for Jesus Christ. She stages her first "imaginary pieces" events or exhibitions that are merely announced and take place only in the minds of the audience.
66
Yoko Ono realizes Blue Room Event for in her own apartment and then in the Everson Museum, Syracuse and in the MoMA, New York. She participates in several performances at the Destruction in Art Symposium (DIAS) and presents a solo exhibition at Indica Gallery, London, where she meets for the first time John Lennon. In 1966/67, Ono makes the long version of Film No. 4. (Bottoms). The film, initially censored in Great Britain, premieres in 1967. Her Lion Wrapping Event, in which Ono wraps a large sculpture of a lion in cloth, takes place at Trafalgar Square. The Lisson Gallery opens her major solo exhibition Half-A-Wind Show.
68
In addition to concert appearances, Yoko Ono and John Lennon produce their first joint performance Acorn Event and perform earlier works by Ono, including Bag Piece. The first two of joint film productions, Two Virgins and Film No. 5 (Smile), premiere in Chicago and their first album, Unfinished Music No. 1: Two Virgins, is released.
69
Yoko Ono and John Lennon are married in Gibraltar on March 20. Their film Rape is presented for the first time that month. In place of a honeymoon and in support of world peace, they perform Bed-In for Peace at the Hilton Hotel in Amsterdam. During the presentation of the same performance at the Queen Elizabeth Hotel in Montreal, they record the song Give Peace a Chance. Large billboards and posters are set up in twelve cities around the world; they display the words War Is Over! (if you want it). In the Acorns for Peace action, they send acorns to ninety-six heads of state and international political figures. They make Peace-Phonecalls to various radio stations.
70
Yoko Ono makes her films Freedom and Fly. Apotheosis, Erection, and Imagine, which are produced in collaboration with Lennon, are shown at a number of film festivals. Yoko Ono presents the retrospective This is Not Here at the Everson Museum in Syracuse, New York. The exhibition, conceived in collaboration with Maciunas, features the first presentation of Water Event and AMAZE, as well as several Dispensers, from which visitors can insert coins and receive capsules filled with air, acorns or other things. For her "imaginary event" Museum of Modern (F)art, Ono holds an exhibition at the Museum of Modern Art. The exhibition is advertised, and a catalog is published.
72
Yoko Ono and John Lennon receive the Positive Image of Women Award presented by the National Organization of Women for their songs Woman is the Nigger of the World and Sisters, O Sisters. Ono's first straight pop album, the double LP Approximately Infinite Universe is released. In 1972 she exhibits at Documenta 5. Ono and Lennon´s son Sean Tara is born on October 9, 1975.
76
Yoko Ono, John Lennon, and their son take two extended trips to Japan. The couple withdraws progressively from public exposure. John Lennon is shot and killed on December 8, 1980.
81
The videos Walking on Thin Ice and Goodbye Sadness are released along with several singles and the LPs Season of Glass and It's Alright (I see Rainbows). Ono is awarded a Grammy for album of the year for the last LP she recorded with Lennon. Strawberry Fields, the memorial to Lennon, designed by Ono, is dedicated in New York's Central Park.
86
In 1989 her solo exhibition, Yoko Ono: Objects, Films, is presented at the Whitney Museum of American Art in New York. The show includes the premiere presentation of her new bronze sculptures. The exhibition entitled Yoko Ono: The Bronze Age is presented in several cities in the US and Europe. One of the curators is the artist and Fluxus expert Jon Hendricks, who would be involved in many of Ono's projects from then on.
90
The exhibition entitled Yoko Ono: In Facing is held at the Riverside Studios in 1990. She is represented at the Venice Biennale, at which Fluxus was a focal theme. A cinema retrospective, first presented at the American Federation of Arts in New York, embarks on a world tour. In 1992 The Onobox CD collection, that includes new recordings as well as reissues of her previous music, is released. Ono develops concepts for a number of public events, including the massive installation Yoko Ono: A Celebration of Being Human in Langenhagen, Germany. The spectacular projection event Yoko Ono: Lighting Piece is presented in an urban setting in Florence.
96
Her Rising album of 1995 is released as a remix. Yoko Ono tours the US and Europe with Sean Lennon's IMA band. She is one of the first artists to participate in internet-based exhibitions as the group show Internet 1996 World Exposition and the solo show Yoko Ono: One Woman Show, presented on the website of the Los Angeles Museum of Contemporary Art. She continues to participate in physical exhibitions, including Yoko Ono: Conceptual Photography at the Fotografisk Center in Copenhagen, Yoko Ono: En Trance – Ex It in Alicante and Valencia, Spain, and the retrospective Yoko Ono: Have You Seen a Horizon Lately?, with venues in Great Britain, Germany, Finland, and Israel.
00
YES Yoko Ono, the most extensive retrospective devoted to the artist to date, is shown at the Japan Society in New York in 2000 and subsequently presented at numerous venues in North America, Korea and Japan.
In 2003, Ono performs Cut Piece once again at the age of seventy in Paris. She participates in the Liverpool Biennial.
05
Yes, I'm a Witch, a remix album, is released in 2007. Her Imagine Peace Tower is inaugurated in Reykjavik. In 2008, the retrospective Yoko Ono: Between the Sky and My Head is presented at the Kunsthalle Bielefeld, Germany and at the Baltic Art Centre, Gateshead, Great Britain. In 2009 Ono is awarded the Golden Lion for lifetime achievement at the fifty-third Venice Biennale. Between My Head and the Sky, the first album since 1973 made by the Plastic Ono Band, which now includes Sean Lennon, is released.
10
For the first time in many years, Yoko Ono gathers former members of the Plastic Ono Band for a concert. In 2011/2012 she receives multiple honors for her life's work, including the Hiroshima Art Prize, the Oskar Kokoschka Prize, and the Lifetime Achievement Award at the Dublin Biennial. Her To the Light exhibition is presented at the Serpentine Gallery in London. In 2013–14 Yoko Ono. Half-A-Wind Show. A Retrospective in honor of her eightieth birthday is presented at the Schirn Kunsthalle Frankfurt, the Louisiana Museum in Humblebaek, Denmark, the Kunsthalle Krems in Austria and the Guggenheim Museum Bilbao, in Spain.