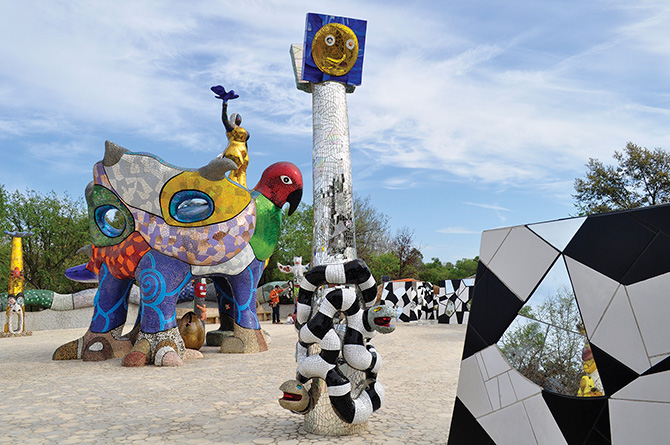 Niki de Saint Phalle social compromise
Several projects that she produced in these years supported people at risk of being socially excluded because of HIV/AIDS, including colorful and striking sculptures in the shape of condoms, painted with skulls and hearts or covered with fragmented mirrors. In these sculptures, the artist's view of life as fun and joyful is evident, even while attempting to deal with an issue as difficult and devastating as AIDS.

Additionally, Saint Phalle wrote and illustrated a book called AIDS: You Can't Catch It Holding Hands, published in 1987 to support AIDS prevention campaigns. The book starts with a letter to her son Philip. Saint Phalle was very fond of writing letters, filled with drawings and symbols, to friends and relatives.
In the book, animals and fantastical characters, the result of the restless mind of the artist, coexist with simple and concise messages like "AIDS is coming" or "Teenagers be careful at parties with drinks and drugs," written in simple, child-like lettering. These images and handwriting are a recurring theme in Saint Phalle's work. If you visit the didactic space of the exhibition you will find further information and copies of the AIDS book to peruse.

* Meanwhile you can click here to see the first pages of the book.

Queen Califia's Magical Circle,
Escondido, California.
©Niki Charitable Art Foundation, Santee, USA