Niki de Saint Phalle
02.27.2015 - 06.07.2015
The exhibition is organized by the Guggenheim Museum Bilbao and la Réunion des Musées Nationaux – Grand Palais with the participation of Niki Charitable Art Foundation.Niki de Saint Phalle (1930–2002) is one of the most renowned artists from the mid-twentieth century. Born Catherine Marie-Agnes Fal de Saint Phalle, she was known as Niki de Saint Phalle. Throughout her prolific career, Saint Phalle created a complex body of work in various mediums which was deeply embedded with socio-political issues. With themes ranging from joyful to profound to intellectual, the paradoxical nature of her work has yet to be fully explored. She was one of the first women to receive international acclaim and recognition during her lifetime, as well as to successfully create a public persona. Much like Warhol did, Saint Phalle was able to use the media to skillfully guide the reception of her work.
Without any formal art training, Niki de Saint Phalle took her inspiration from Gaudí, Dubuffet, and Pollock to invent, in the late 1950s, a singular world independent of any trend or art movement. Her entire career is sublimated by great themes and myths, which later articulated her entire oeuvre. The joyous, colorful side of her work is well known but its violence, commitment, and radical stands have been forgotten. And this is equally true of her audacious performances, the political and feminist content of her work, and her ambitious public sculptures.This retrospective, the first major exhibition devoted to Niki de Saint Phalle in twenty years, presents a multifaceted artist, at once a painter, assembly artist, sculptor, printmaker, performer, and experimental filmmaker, and takes a profoundly new look at her work. Over 200 works and archival documents, many unpublished, are set out in over 2,000 square meters, organized by chronology and theme, and punctuated by screens showing the artist talking about her work.
Niki de Saint Phalle
Long Live Love (Vive l'Amour), 1990
Felt-pen and gouache on Bristol paper
45 x 55 cm
Niki Charitable Art Foudation, Santee, CA; USA
© 2014, Niki Charitable Art Foundation, VEGAP, Bilbao
Photo: Ed Kessler
The Exhibition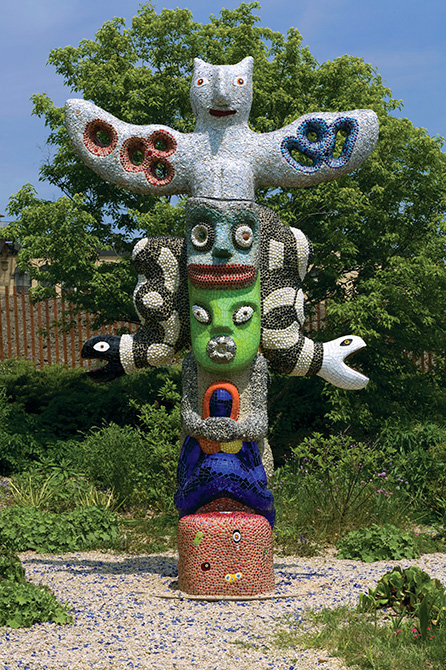 Cat Head Totem, 2000
Polyurethane, resin, metal base and frame, abalone shells, stones, and colored mirror fragments
335 × 213 × 140 cm
Niki Charitable Art Foundation, Santee, USA
© Niki Charitable Art Foundation, Santee, USA
Photo: © NCAF/Thomas Marlow. Exhibition view, Niki in the Garden, Garfield Park Conservatory, 2007
Artist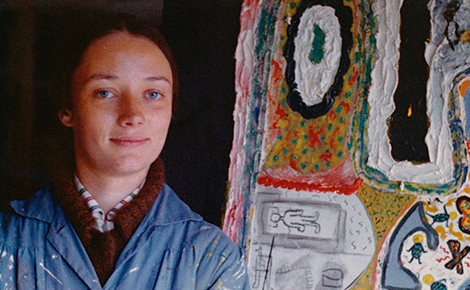 De Saint Phalle, Niki
30-40s 10.29.1930 Birth of Catherine Marie-Agnès Fal de Saint Phalle (called Niki) in Neuilly-sur-Seine, France. The family later settles in New York, where Saint Phalle attends the Convent School of the Sacred Heart. 1940 Starting in 1946 Saint...
Discover the artist
Did you
know that...?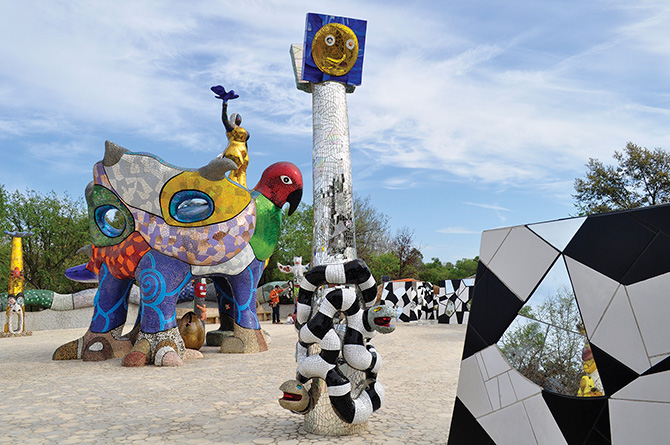 Niki de Saint Phalle social compromise
Several projects that she produced in these years supported people at risk of being socially excluded because of HIV/AIDS, including colorful and striking sculptures in the shape of condoms, painted with skulls and hearts or covered with fragmented mirrors.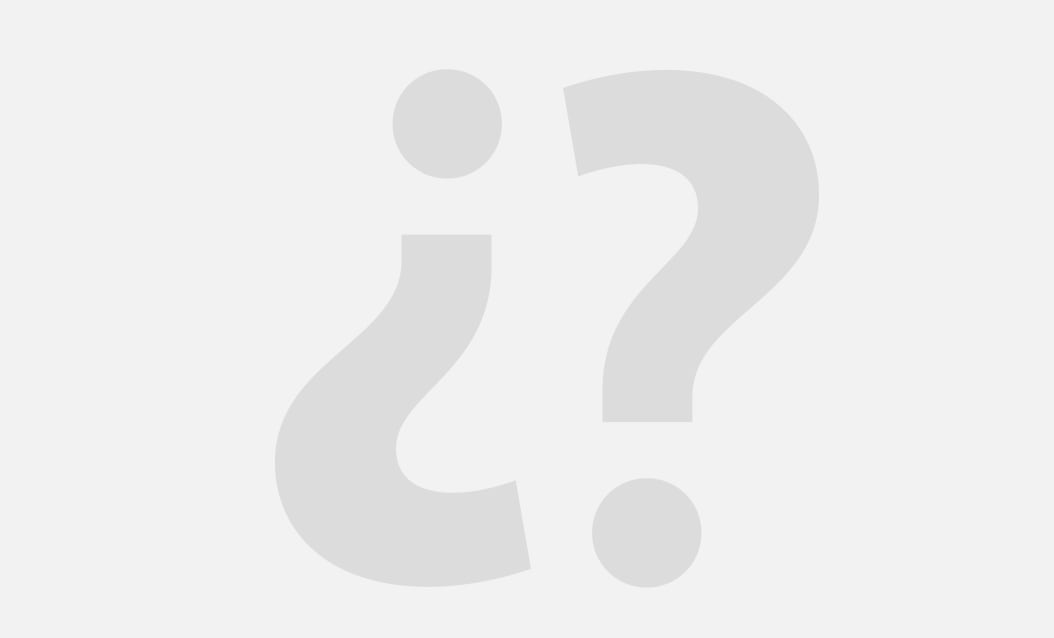 Niki de Saint Phalle public projects—The editions
Niki de Saint Phalle's public art can be found in city parks and plazas, but mostly they are in open spaces surrounded by nature. There you may find, among fountains, stairways, and slides, large sculptures–architectures created to be visited, even inhabited. In the words of the artist herself, "The general public is my public".