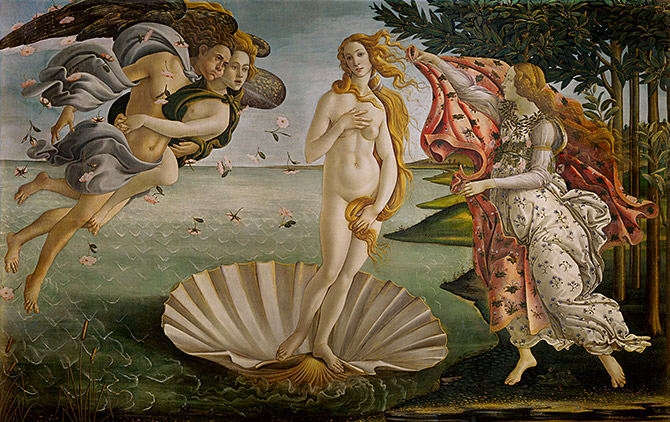 The Birth of Venus and ARTPOP
The Birth of Venus (1483–85) was painted by Sandro Botticelli, a master of the Italian Renaissance. The painting shows the figure of Venus, the Roman goddess of beauty, love and desire, rising from the ocean. Beauty and ideal proportions are presented in the human figures that resemble classic sculptures in Koons's series such as Antiquity, which he started in 2008, and Gazing Ball.
In addition to sculptures Koons has designed the album cover for pop star Lady Gaga´s newest album ARTPOP (2013). In the background of the cover image, Koons includes fragments of Botticelli´s The Birth of Venus, and the placement of the opened seashell gives the illusion of an alabaster Lady Gaga emerging from the sea, as if a goddess herself.
Koons photographed Lady Gaga in the theme of his Gazing Ball series (mostly on view in Gallery 105), in which the same blue metallic orb, originally inspired by lawn ornaments from the artist´s native Pennsylvania, appears against pristine plaster sculptures. By producing a monumental sculpture of the contemporary pop star, Koons´s work once again connects to past and present icons.
Botticelli, Sandro (1445-1510): Birth of Venus. Florence, Galleria 13 x 18 degli Uffizi
Tempera on canvas, 172.5 x 278.5 cm.© 2015
Photo Scala, Florence - courtesy of the Ministero Beni e Att. Culturali