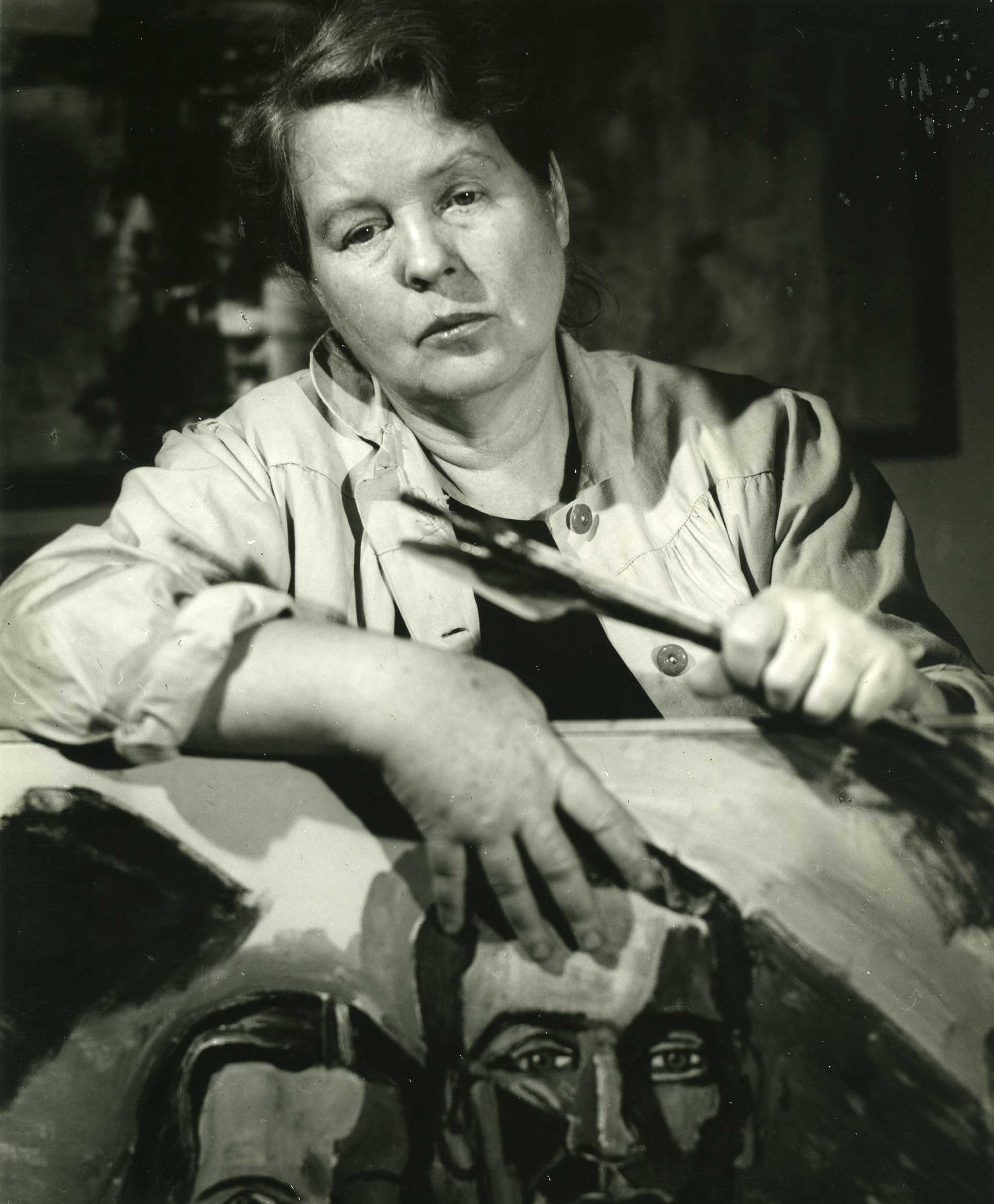 IN FOCUS
AGAINST THE TIDE
As part of the Didaktika project, the Museum designs didactic spaces, online contents, and special activities that complement each exhibition, providing tools and resources to help viewers gain an appreciation of the works on display.
With the title In Focus: Against the Tide, this educational space designed for the exhibition Alice Neel: People Come First offers additional information on the work of the American artist. Aside from the painting trends in vogue at the time, Neel documented the people who inhabited New York City between the 1930s and 1980s in an intense political and sociocultural context. Neel captured the energy and soul of her sitters, most of whom were "outsiders," although in her later years she also portrayed famous people from the New York scene.
Recurrent themes in her oeuvre, passion, dignity, inclusion, activism, or sexuality are explained in this space, which also features the film Alice Neel directed by Andrew Neel and produced by the Estate of the artist. The film, which features the participation of the artist herself and her sons Hartley and Richard Neel, contains references to New York City spanning over 40 years as well as documentation from Neel's personal archive.

PASSION
Of the different genres she cultivated, including cityscapes, domestic landscapes, and still lifes, Alice Neel's true passion as a painter was the portrait or "people's images," as she preferred to call this type of work.
Neel worked outside the creative trends that flourished in the USA in the second half of the 20th century, primarily Abstract Expressionism, Pop Art, Conceptual Art, and Fluxus.
She was a figurative painter, who portrayed a multiethnic, diverse and humble society of New York's margins, and of figures who were seldom painted by her contemporary artists.
DIGNITY
Alice Neel worked in an era shaken up by the Great Depression, the Second World War, and the Cold War.
Her portraits are psychological more than purely focused on the physical appearance of her sitters, who convey a sense of solitude and sadness, yet also dignity and struggle against adversity. She captures their perseverance despite it all.
INCLUSION
A staunch defender of minorities and "invisible" people, Neel focused on anonymous folks, immigrants, the working class, prostitutes, homosexuals and transgender people, as well as on artists, gallery owners and curators, regardless of their background or social status.
ACTIVISM
Although she was not always affiliated with the Communist Party, she often expressed sympathy with its ideals. In the 1930s, she began to participate in communist circles and painted several party leaders and affiliated intellectuals. The defense of civil rights, which reflects her steadfast concern with social justice in all spheres, can be clearly seen in her works as if they were historical paintings.
SEXUALITY
Couples, men, and especially women are part of a universe of painting where sexuality and nudity are shown naturally, without prejudice. Neel's work addresses taboo themes which had never before been seen in Western art, like birth, pregnancy, motherhood, eroticism and sexual desire, from a raw feminine perspective.
Alice Neel in her New York studio, circa 1960
Photo: Estate of Alice Neel
© The Estate of Alice Neel, Bilbao, 2021