Joana Vasconcelos. I'm Your Mirror
06.29.2018 - 11.11.2018
The Guggenheim Museum Bilbao presents the first anthological exhibition in Spain to be devoted to Joana Vasconcelos, without doubt the most internationally reputed Portuguese artist (although born in Paris in 1971) of her generation especially after her participation in the 2005 Venice Biennale and her major exhibition at the Palace of Versailles in 2010. Joana Vasconcelos. I'm Your Mirror, whose title is a tribute to Nico, the celebrated German vocalist who sang I'll Be Your Mirror with the New York band The Velvet Underground, is a retrospective featuring some thirty pieces produced between 1997 and the present day. Some of the selected worksaare among the best known of her career, such as Burka (2002) and The Bride (2001–05), while others are more recent or have been created specially for this occasion, like the monumental Egeria (2018), installed in the Atrium. Two giant sculptures, Pop Rooster (2016) and Solitaire (2018), have also been set up outside the Museum.
Vasconcelos's production contains references both to the popular culture of her country (appropriating the rooster of Barcelos, the heart of Viana do Castelo, and the ceramics of Bordalo Pinheiro) and to the most recent theoretical debates in contemporary art, especially those concerned with fostering viewer participation in the interpretation of artworks. The artist uses many materials from everyday life, such as household appliances, wall tiles, fabrics, medicines, urinals, pans, and plastic cutlery, exploiting the narrative and emotional charge they hold or release. Her sculptures, usually large-format works that sometimes have movement, sound, or lights are characterized by their chromatic richness and their exuberance. With an attractive sense of humor that shuns dogmatism, her work also explores issues of identity ranging from very intimate questions to universal sociopolitical themes linked to globalized postcolonial societies, such as migration or the exploitation of women.
I'll Be Your Mirror, 2018
Bronze and mirrors
356 x 682 x 537 cm
Edition of 7 + 1 AP
Collection of the artist
© Joana Vasconcelos, VEGAP, Bilbao, 2018.
The Exhibition
Pop Rooster (Pop Galo), 2016
Viúva Lamego hand painted tiles, LED, fibreglass, iron, power supply units, controllers, and sound system
Sound and light by Jonas Runa
900 x 372 x 682 cm
Collection of the artist Work produced with the support of Gallo Worldwide
© Joana Vasconcelos, VEGAP, Bilbao, 2018.
call Center, 2014–16
Analogue telephones, metallized and thermo-lacquered mild steel, sound system, and oscillators driven by microcontroller
Music: Call Center: Electroacustic Symphony for 168 Telephones, composed by Jonas Runa, 20'
210 x 80 x 299 cm
Tia Collection
© Joana Vasconcelos, VEGAP, Bilbao, 2018
Lilicoptère, 2012
Bell 47 helicopter, ostrich feathers, Swarovski crystals, gold leaf, industrial paint, dyed leather upholstery embossed with fine gold, Arraiolos rugs, walnut wood, woodgrain painting, and passementerie
300 x 274 x 1265 cm
Private collection
Work produced in collaboration with Fundação Ricardo do Espírito Santo Silva, Lisbon
© Joana Vasconcelos, VEGAP, Bilbao, 2018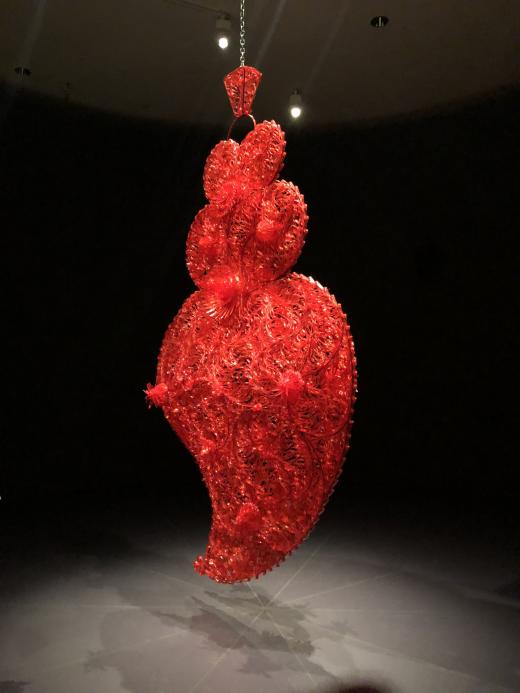 Red Independent Heart (Coração Independente Vermelho ), 2005
Translucent plastic cutlery, painted iron, metal chain, power supply unit, motor, and sound installation
371 x 220 x 75 cm
Songs performed by Amália Rodrigues: Estranha Forma de Vida [Strange Way of Life] (Alfredo Rodrigo Duarte/Amália Rodrigues), Maldição [Curse] (Joaquim Campos da Silva/Armando Vieira Pinto), Gaivota [Seagull] (Alain Oulman/Alexandre O'Neill). Authorized by IPLAY - Som e Imagem/(P) Valentim de Carvalho Museu Coleção Berardo, Lisbon
© Joana Vasconcelos, VEGAP, Bilbao, 2018.
Artist
Vasconcelos, Joana
Lives and works in Lisbon. She has exhibited regularly since the mid-1990s. Her work became known internationally after her participation in the 51st Venice Biennale in 2005, with the work A Noiva [The Bride] (2001-05). She was the first woman...
Did you
know that...?
DID YOU KNOW THAT...?
Joana Vasconcelos (b. 1971, Paris) is an artist committed to society, whose works invite reflection on current issues in a global context. In 2012 she set up the Joana Vasconcelos Foundation, whose mission is to manage her work and "support those who have chosen to pursue a career in art" while promoting art and cultural education.