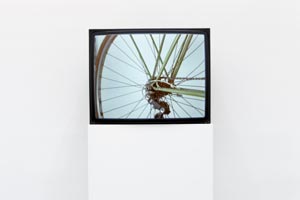 History
Iñaki Garmendia
Untitled Orbea (Orduña), 2007
"There is a historic present because there is a present tradition, because tradition is the substance of history, its sediment, as the revelation of Intrahistory, History's unconscious."[1] —Miguel de Unamuno
Iñaki Garmendia (b. 1972, Ordizia, Gipuzkoa, Spain), Erlea Maneros Zabala (b. 1977, Bilbao, Spain), and Xabier Salaberria (b. 1969, Donostia-San Sebastián, Spain) are interested in history—its recreation, deconstruction, and reinterpretation—as a means to approach their own age. They deconstruct historical facts by merging them with contemporary events, thus establishing new connections between past and present and providing personal interpretations.
Garmendia deals with social, cultural, and political matters, confronting the global world with local models. As Miguel de Unamuno (b. 1864, Bilbao, Spain; d.1936, Salamanca, Spain) did when he used the Intrahistory concept, Garmendia refers to history related to the everyday and the local to question what triggers evolution and change.[2] Untitled Orbea (Orduña) (2007) is a 45-minute-long record of a daily object: a green racing bicycle named Orduña, manufactured by the Basque company Orbea during the 1970s and 1980s. The film explores the characteristics of the object. The camera gets close and focuses on the object, examining its physical qualities and avoiding any narrative. However, a historical account, although not explicit, is present. This family company called Orbea was originally founded in 1847 in the Basque Country as a rifle gun maker, but before the Spanish Civil War (1936–39) shifted its business and became a bicycle manufacturer.[3]
In her work, Maneros Zabala deals with archive, memory, and interpretation of history, paying special attention to archival images and their context. She emphasizes the ideological strategies involved in the presentation of images, how they are framed, contextualized, and, therefore, experienced.[4] Untitled (September 8, 1894.La Ilustración Española y Americana) (2007/2013) is an installation based on an article published in the magazine La Ilustración Española y Americana in 1894. It reported a failed proposal of a large architectural structure designed by the Basque engineer Alberto de Palacio (b. 1856, Sare, France; d. 1939, Getxo, Bizkaia, Spain) to revitalize the city of Bilbao in 1894. Palacio proposed this monument to commemorate the Basque Fueros, a system of constitutional codes and local sovereignties abolished in 1876 to centralize Spain. The monument was designed to be an elaborated cast-iron and glass construction, 80 meters high, with an elevator up to the dome, and was to be placed in the middle of Bilbao as the city entered the modern age. Maneros Zabala reinterprets Palacio's idea by taking the image out from the archives and placing it on contemporary art galleries' walls.
A feature of Salaberria's work is the use of tools and strategies from design, architecture, and art history. A departure point of his work goes back to Weimar, where the school of Bauhaus was founded by architect Walter Gropius (b. 1883, Berlin, Germany; d.1969, Cambridge, Massachussetts, U.S.) in 1919. Bauhaus developed designs for objects and spaces that were to form part of a better future society, reflecting the revised principle of art and technology as a new unity.[5] Salaberria's pieces recall furniture used for public spaces as well as for media devices at home. His work relates to the contradictions of functionalism and social utopia in the recent history of design, architecture, and art.[6] Unconscious/Conscious (Inkontziente/kontziente) (2011) is inspired by Carlton, an experimental room divider designed by Italian architect and designer Ettore Sottsass (b. 1917, Innsbruck, Austria; d. 2007, Milan, Italy). In 1981, Sottsass explored a visual language of bright colors and patterns in a logical structural system. This room divider, wich can adopt different functions, is turned into a multipurpose and dynamic object. Therefore, it can be seen as an itinerant object that represents the consumer culture. Salaberria reinterprets Carlton's forms and the espace it generates, and as a result, he creates a three-dimensional sculptural object.
NOTES
1. Unamuno, Miguel de. La tradición eterna, Ensayos. Febrero 1895. En torno al casticismo. V Edición Espasa Calpe, 1961, p. 27.
2. "Metraje". Text by Peio Aguirre about Iñaki Garmendia's artwork. La Virreina Centre de la Imatge. 14.07-02.10. 2011. pp. 15–17.
3. Maneros Zabala, Erlea. Bricks to a house/Figures to a picture: North American Press Imaginary 2001–2004. May 6–June 19, 2011.
4. "Bauhaus 1919–1933: A chronology."
Preguntas
View: Garmendia, Untitled Orbea (Orduña) (2007)
At the museum, you can see the whole video; in class, you can watch part of the video at http://vimeo.com/38855454
What do you see in the video? Name the different parts of the object you can see.
This bicycle was made in the 1970s and 1980s. Research differences between past and present bikes.
The brand name of this bicycle is Orduña, a town in the Basque region of Bizkaia. Why do you think the Orbea Company chose this name for the bicycle? What type of person would have used this kind of bicycle?
During the filming, Garmendia gets very close to the bicycle. Observe some of the fragments of the bicycle. If they weren't parts of a bicycle, what other things could they be? Try to imagine new possibilities for the images that you see. In your opinion, why does Garmendia get that close to the bicycle?
Think about the way Garmendia approaches history. In your opinion, how can an everyday object tell about history? Think about examples related to your village or to your neighborhood and consider how they could be a part of history.
View: Maneros Zabala's Untitled (September 8, 1894. La Ilustración Española y Americana) (2007/2013)
Describe it. Search adjectives to define it. What does the structure remind you of?
This tower that Palacio designed and Maneros Zabala has selected commemorates Basque Fueros and was inspired by the Oak of Gernika, a tree that symbolizes the tradition and freedom of the Basque Country. Compare the Oak of Gernika with Palacio's monument and name differences and similarities.
Palacio wanted to make his monument with iron extracted from the mines of Bizkaia. Why did he want to fabricate the monument with this iron?
Think about symbols inherit in iron. What other materials would you use to build this monument? Why?
Maneros Zabala's work is a site-specific installation. She draws Palacio's design, taking it out from the archives and placing it on the wall of the gallery and therefore giving it a new meaning. Where would you place this monument? Why?
What new ideas could arise from Maneros Zabala's proposal?
View: Salaberria, Unconscious/Conscious (Inkontziente/kontziente) (2011)
The artist was inspired by the Carlton room divider by Ettore Sottsass. Look at Carlton models using Google images.
If you have to describe to a friend what a Carlton is and how it looks, how would you define it?
Observe and compare Salaberria's artwork and Sottsass's Carlton room divider. Describe the features of traditional wall shelving and contrast them with Sottsass's design and Salaberria's work.
How would you describe Salaberria's artwork? Is it closer to a sculpture or piece of furniture? Discuss.
In your opinion, how should furniture be? What could happen if furniture was not functional? Discuss if art and design are well-suited to each other. Search for information about Bauhaus and modernism and talk about their ideas. Discuss how modern design does or does not adapt to people's needs.