Jean-Michel Basquiat, 1984 Photograph by Lee Jaffe, Copyright, All Rights Reserved Courtesy of LW Archives
Basquiat, Jean-Michel
Brooklyn, New York, 1960 | New York, 1988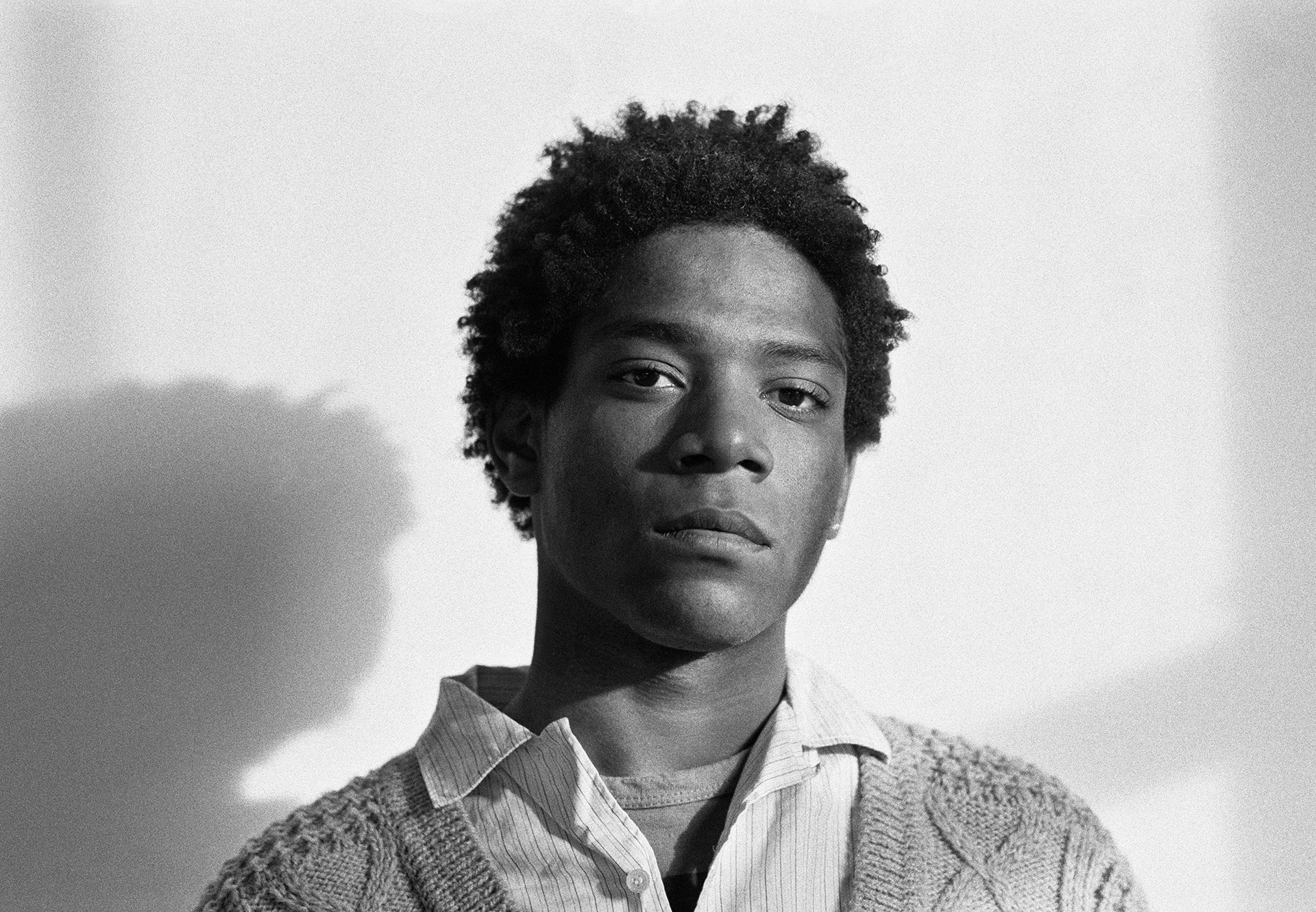 60
Born on December 22, the son of a Haitian father, Gérard, and a Puerto Rican mother, Matilde.
74
Moves with his family to Puerto Rico for two years for Gérard's work. 1976 Back in New York, enrolls at Edward R. Murrow High School in Brooklyn, moving to City-as-School High School, an alternative school that follows an experiential learning model, a few weeks later.
77
With graffiti artist Al Díaz, creates the fictitious artist SAMO (short for "same old shit"), signing this name to graffiti spray-painted on buildings in lower Manhattan that expresses hermetic and, at times, comical, political, religious, and philosophical ideas. Drops out of school. 1978 Leaves home. 1979 Forms the band Channel 9 with Michael Holman, Shannon Dawson, and Vincent Gallo.
80
Basquiat's work is shown for the first time, in a group exhibition organized by Collaborative Projects Incorporated (Colab) and the Fashion Gallery in an abandoned building on Forty-first Street and Seventh Avenue in Times Square; the show also includes work by David Hammons, Jenny Holzer, Kenny Scharf, and Kiki Smith.
81
Stars in the film Downtown 81, originally titled NewYork Beat Movie, directed by Edo Bertoglio. René Ricard writes an article about Basquiat, "The Radiant Child," for Artforum.
82
Has a solo exhibition at Galleria d'Arte Emilio Mazzoli in Modena, Italy. Basquiat's work is featured in Transavanguardia: Italia- America, at Galleria Civica del Comune di Modena in Modena, Italy, together with artists such as Sandro Chia, Francesco Clemente, Enzo Cucchi, David Deutsch, David Salle, and Julian Schnabel. Has his first solo exhibition in the United States, at Annina Nosei Gallery in New York. Has solo exhibitions at Galerie Bruno Bischofberger in Zurich, Marlborough Gallery in New York, and Gagosian Gallery in Los Angeles. Participates in Documenta 7 in Kassel, Germany. Meets Andy Warhol.
84
Creates a series of works with Warhol and Clemente. A selection of Basquiat's paintings from the previous three years is displayed at the Fruitmarket Gallery in Edinburgh and later at the Institute of Contemporary Arts in London and the Museum Boijmans Van Beuningen in Rotterdam.
85
Exhibits at Galerie Bruno Bischofberger in Zurich, Mary Boone Gallery in New York, and Akira Ikeda Gallery in Tokyo. Basquiat's photograph is featured on the cover of the New York Times Magazine, illustrating the article "New Art, New Money: The Marketing of an American Artist."
87
Exhibits at Galerie Daniel Templon in Paris. Warhol's death on February 22 profoundly affects Basquiat; he creates the work Gravestone in Warhol's memory.
88
Has solo exhibitions at Vrej Baghoomian Gallery in New York, Galerie Yvon Lambert in Paris, and Galerie Hans Mayer in Düsseldorf. The Kestnergesellschaft Hannover displays over sixty works by Basquiat. After a stay in Hawaii attempting to cure his drug addiction, Basquiat is found dead in his apartment in New York on August 12, apparently due to an overdose of a combination of drugs.