Koons, Jeff
York, Pennsylvania, 1955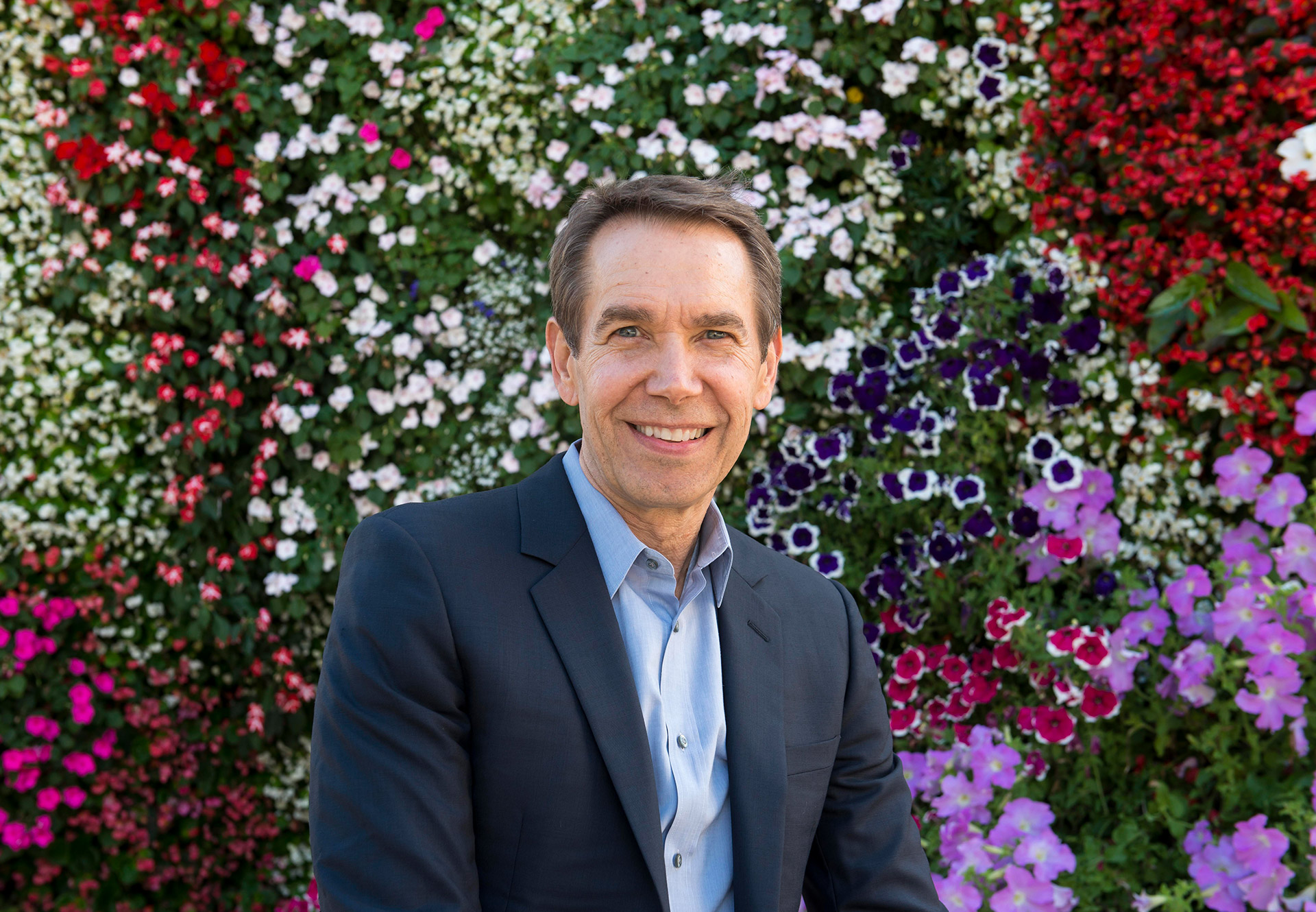 55
Born in York, Pennsylvania to Henry and Gloria Koons. His sister, Karen, is three years older. His father owned an interior decoration business. Koons learns from him his aesthetic sense.
60
His parents encourage his creative streak and sign him up for drawing lessons.
63
Koons paints copies of Old Masters, which his father exhibits in the windows of his interior decoration store and sells to his customers.
72
Koons studies at the Maryland Institute College of Art in Baltimore, where he becomes interested in Byzantine painting and American folk art. He paints Surrealist-inspired scenes and landscapes. After calling Salvador Dalí at the St. Regis Hotel, Koons spends a day with him in New York.
75
Studies at the School of Art Institute of Chicago, where Koons is taught by artists Jim Nutt and Ed Paschke; he becomes close friends with Paschke.
76
ReceiveshisBachelorofArtsfromMICA.MovestoNewYork,wherehemixeswiththe downtown Manhattan music scene (Patti Smith, Talking Heads).
77
Artists David Salle and Julian Schnabel introduce Koons to gallery owner Mary Boone, who takes an interest in his work. In his apartment on East 4th Street, he creates sculptures with inflatables and mirrors.
Works at the Membership Desk at the Museum of Modern Art (MoMA) recruiting new members and sponsors.
78
Begins his Inflatables series and the following year the Pre-New.
80
His first exhibition, The New, is exhibited in the window of The New Museum of Contemporary Art on Fourteenth Street.
On display are three sculptures of vacuum cleaners affixed to fluorescent lights with a light box featuring the title of the series and show.
85
Begins his Equilibrium series, showing the realized works at his first solo gallery exhibition in New York, at International with Monument, and at Feature Gallery in Chicago. This series features his work Two Ball 50/50 Tank in which two basketballs are suspended in equilibrium, the technical challenges of which he achieved by consulting with Nobel Prize physicist Dr. Richard P. Feynman.
86
Works from Koons's Luxury and Degradation series are exhibited in his second solo exhibition at International with Monument in New York, which explore class and social mobility. Immediately afterwards he creates his next series, Statuary, which includes his iconic stainless steel sculpture, Rabbit.
Koons exhibits with a group of Neo-Geo artists at Ileana Sonnabend's gallery, showing his famous Rabbit for the first time. Sonnabend Gallery represents Koons for over 20 years (with short break in mid 1990s).
87
The Whitney Museum
of American Art in New York includes One Ball Total Equilibrium in their Biennial.
The Saatchi Collection in London presents the work of a number of young American artists in an exhibition entitled New York Art Now. Rabbit is chosen to illustrate the cover of the exhibition catalogue. At the invitation of curator Kasper König, Koons creates the stainless steel sculpture Kiepenkerl for the Skulptur Projekte in Munster, Germany.
88
His next series, Banality, including the sculpture Michael Jackson and Bubbles, is exhibited at Ileana Sonnabend Gallery in New York, Donald Young Gallery in Chicago, and Galerie Max Hetzler in Cologne simultaneously. Koons announced the shows by starring himself in an advertising campaign that ran in four art magazines. The Museum of Contemporary Art in Chicago presents an exhibition of his work.
89
Exhibits at the Rotterdamse Kunststiftung.
For the occasion of the Image of the World exhibition held at the Whitney Museum of American Art, Koons creates a billboard advertisement for an imagined film, starring himself and adult film star and Italian parliamentarian Ilona Staller (also known as Cicciolina). The image is displayed on Broadway in New York. Although the film was never created, this project launched his next series, Made in Heaven.
90
Participates in the XLIV Biennale di Venezia, where he shows the first paintings and a sculpture from his Made in Heaven series.
91
The complete Made in Heaven series, including paintings and sculptures made of porcelain, wood and glass are exhibited at Ileana Sonnabend Gallery in New York and Galerie Max Hetzler in Cologne.
Marries Ilona Staller in Budapest.
92
The San Francisco Museum of Modern Art and the Stedelijk Museum in Amsterdam hold a retrospective exhibition of Koons's work. During the Documenta Koons installs Puppy, a 40-foot- high topiary sculpture in the form of a West Highland terrier, in front of Arolsen Castle in Hesse, Germany.
Publishes The Jeff Koons Handbook.
93
Begins the Celebration series, inspired by the milestones and festivities of a year's cycle and created by large-scale production methods.
Koons and Staller divorce in 1994. The legal battle to obtain custody of his son has a profound effect on him.
97
First solo exhibition in Paris at Galerie Jérôme de Noirmont.
Puppy is acquired by the Guggenheim Museum Bilbao and is permanently installed outside of the museum on the occasion of its inauguration.
99
Exhibits at Sonnabend Gallery in New York and the Deste Foundation Centre for Contemporary Art in Athens.
Production delays of the Celebration series prompt Koons to begin his series Easyfun, which incorporates paintings and reflective wall sculptures. The new works are shown at the Sonnabend Gallery.
00
Begins the series Easyfun-Ethereal. Paintings from the series are exhibited at the Deutsche Guggenheim in Berlin.
Installs the topiary sculpture Split-Rocker at the Palais des Papes in Avignon, France. Another version of Puppy is temporarily installed at Rockefeller Center in New York.
Receives the BZ-Kulturpreis from the Berliner Zeitung in Berlin.
01
Exhibits at the Kunsthaus Bregenz, Austria, and Gagosian Gallery in Los Angeles. Works from the Easyfun-Ethereal series are exhibited at the Guggenheim Museum Bilbao and the following year at the Solomon R. Guggenheim Museum in New York. Jean-Jacques Aillagon, President of the Centre Pompidou in Paris, awards Koons the Legion of Honor at the instigation of President Jacques Chirac.
02
Begins his Popeye series, marking his return to readymades and inflatable objects.
The Kunsthaus Bielefeld, Germany, organizes a show of Koons's photographic and graphic work. Participates in the XXV Bienal de São Paulo, where he shows works from the Easyfun-Etherealseries.
Receives the Skowhegan Medal for Sculpture from the Skowhegan School of Painting and Sculpture in Maine. Receives an honorary doctorate of fine arts from the Corcoran College of Art and Design in Washington, D.C.
Koons marries Justine Wheeler.
03
Exhibits in an Italian museum for the first time, at the Museo Archeologico Nazionale di Napoli in Naples.
Koons's work is featured in From Jasper Johns to Jeff Koons: Four Decades of Art from the Broad Collections at the Guggenheim Museum Bilbao. Unveiling of the first completed Popeyepaintings and sculptures in a solo show at Sonnabend Gallery in New York.
04
Exhibits at Galerie Max Hetzler in Berlin. Retrospective exhibition at the Astrup Fearnley Museet for Moderne Kunst in Oslo, which travels to the Helsinki City Art Museum in Finland.
Begins the Hulk Elvis series.
05
Nominated to the American Academy of Arts and Sciences. His Celebration sculpture Moon, is shown at the Palais de Tokyo in Paris in its exhibition entitled Translation.
For his 50th birthday, wife Justine and friend Jeffrey Deitch throw Koons a surprise party at Deitch's gallery.
06
Koons's work is shown alongside Antonio Canova's in the exhibition Canova and Koons: Classical Subversion at Deutsche Guggenheim in Berlin. Balloon Dog is installed on the Grand Canal in Venice to mark the launch of the Pinault Collection at the Palazzo Grassi.
His work Balloon Flower (Red), is unveiled at 7 World Trade Center.
07
President Jacques Chirac promotes Koons to Officier de l'Ordre National de la Légion d'Honneur in Paris.
Gagosian Gallery in London presents two exhibitions of the artist's work simultaneously: Jeff Koons: Popeye and Jeff Koons: Hulk Elvis. Koons's work is featured in the group exhibition Guggenheim Collection: 1940s to Now at the National Gallery of Victoria in Melbourne.
The Koons Family International Law and Policy Institute is developed to combat global issues of child abduction and exploitation.
08
The Museum of Contemporary Art, Chicago, presents an exhibition devoted to the artist's work. Balloon Dog (Yellow)(1994–2000), Coloring Book (1997–2005), and Sacred Heart (Red/Gold) (1994–2007) are the subject of an exhibition on the rooftop of the Metropolitan Museum of Art in New York and the Neue Nationalgalerie in Berlin exhibits works from his Celebration series. Château de Versailles opened its doors to a living artist for the first time with Jeff Koons: Versailles, where a selection of his works was presented within the Grand Apartments.
Begins the Antiquity series.
09
Koons's work is featured in the show Four-4 at the Black Cube Gallery in Barcelona and in The Unexpected: Van Picasso tot Penck, van Appel tot Koons at the Stedelijk Museum in Amsterdam. London's Serpentine Gallery presents Koons's Popeye series, and Artist Rooms, a collection of contemporary art jointly owned by Tate and the National Galleries of Scotland, tours until 2011. Koons receives the Governor's Awards for the Arts (from the Pennsylvania Council on the Arts), where he is given the Distinguished Arts Award.
10
Koons is made an honorary member of the Royal Academy of Arts in London.
His work is exhibited at the Gagosian Gallery in New York and Galerie Jérôme de Noirmont in Paris.
The nonprofit organization RxArt, with support from Kiehl's, installs Koons's work at the Advocate Hope Children's Hospital in Oak Lawn, Illinois.
The 17th BMW Art Car created by Koons competes at Le Mans, France.
11
Receives the Voice of Art Award from the F·E·G·S Health and Human Services System organization, and the Artist Icon Award in the Arts from the Bruce Museum, Greenwich, Connecticut.
The Scottish National Gallery of Modern Art in Edinburgh inaugurates ARTIST ROOMS Jeff Koons.
12
Has exhibitions at the Gagosian Gallery in Beverly Hills and Almine Rech Gallery in Brussels. First solo show in a Swiss Museum at the Fondation Beyeler in Basel.
Jeff Koons: The Painter opens at the Schirn Kunsthalle and at the same time Jeff Koons: The Sculptor at the Liebieghaus Skulpturensammlung, both in Frankfurt.
U.S. Secretary of State Hilary Rodham Clinton honors Koons with the Medal of Arts for his outstanding commitment to the Art in Embassies Program and international and cultural
exchange.
13
Koons's work is presented at Almine Rech gallery in Brussels, Belgium. Summer exhibitions include simultaneous shows in New York with new sculptures and paintings at Gagosian Gallery and David Zwirner presents for the first time, the Gazing Ball series.
14
A major retrospective opens at the Whitney Museum of American Art in New York. It later travels to the Centre national d'art et de culture Georges Pompidou in Paris.
15
Norwich Castle Museums & Art Gallery in Norfolk opens Jeff Koons ARTIST ROOMS. Jeff Koons: A Retrospective opens at the Guggenheim Museum Bilbao in June.
Gagosian West 21st Street in New York presents the series Gazing Ball Paintings.
Works by Koons are on display at the Naturhistorischen Museum in Vienna, the Palazzo Vecchio and Piazza della Signoria in Florence, and Österreichische Galerie Belvedere in Vienna.
16
A major exhibition devoted to Koons is organized by Newport Street Gallery in London.
Almine Rech Gallery in London exhibits the series Gazing Ball Paintings.
Ballerina can be seen at the Museo de Arte Latinoamericano de Buenos Aires (MALBA).
17
Made an Honorary Member of University of Oxford's Edgar Wind Society for Outstanding Contribution to Visual Culture in Oxford, UK.
Gagosian Beverly Hills opens show with recent work by the American artist.
18
Awarded at the Hirshhorn Museum and Sculpture Garden Gala, held in Washington, D.C.
Perugino Madonna and Child with Four Saints, a work from the Gazing Ball series, is selected for the show Masterpieces, held at the Nieuwe Kerk in Amsterdam (The Netherlands).
Gagosian West 24th Street in New York shows the series Easyfun-Ethereal, including loans from the Solomon R. Guggenheim Museum Collection.
Jeff Koons: Works from the Astrup Fearnley Collection is held at Astrup Fearnley Museet in Oslo.
Gagosian Madison Avenue in New York presents recent work by Koons.
19
An exhibition featuring Koons's iconic pieces is staged at the Ashmolean Museum of Art and Archaeology in Oxford, UK.