David Hockney: A Bigger Picture
05.15.2012 - 09.30.2012
Organized by the Royal Academy of Arts, London, in collaboration with the Guggenheim Museum Bilbao and the Museum Ludwig, Cologne, David Hockney: A Bigger Picture is the first major exhibition held in Spain to celebrate the crucial role landscape plays in the career of this artist, considered the most important living British painter.
Bright landscapes inspired by his native county of Yorkshire form the core of this exhibition which, with Iberdrola's sponsorship, brings together on the Museum's second floor nearly 190 works—oil paintings, charcoals, iPad drawings, sketchbooks and digital videos—most of which have been created in the past eight years. This exhibition offers a unique vision into Hockney's creative world and demonstrates his enormous capacity to represent nature using different techniques, as well as revealing his attachment to the landscape of his youth.
Curators: Edith Devaney, Curator of Contemporary Projects at the Royal Academy of Arts, London, Marco Livingstone, Independent Curator
The Exhibition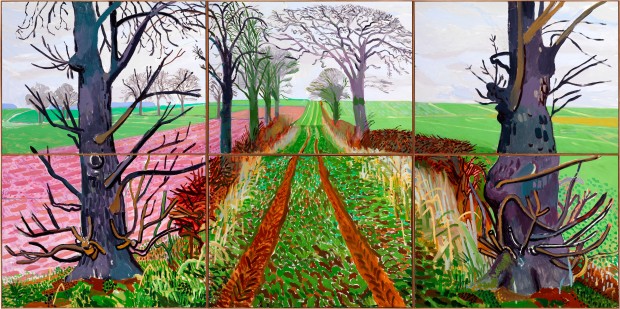 David Hockney
A Closer Winter Tunnel, February–March, 2006
Oil on six canvases
182.9 x 365.8 cm (each 91.4 x 121.9 cm)
Art Gallery of New South Wales, Sydney
Purchased with funds provided by Geoff and Vicki Ainsworth, the Florence and William Crosby Bequest and the Art Gallery of New South Wales Foundation, 2007
© David Hockney
Photo credit: Richard Schmidt
Artist
Hockney, David
Born in Bradford in 1937, David Hockney attended the Bradford School of Art before entering the Royal College of Art, where he remained between 1959 and 1962. His classmates included Peter Blake and R. B. Kitaj.