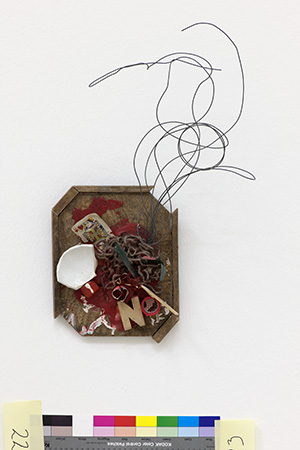 Collaboration
"Painting calmed the chaos that was agitating my soul. It was a way of taming those dragons which have always appeared in my work." (1)
Niki de Saint Phalle Queen of Hearts, ca. 1960–61
Wood and various objects on wood, 61 x 14 x 17
Sprengel Museum, Hanover, inv. SH 47,2001, Gift of the artist, 2000
Introduction
In the early 1950s, after a nervous breakdown, Niki de Saint Phalle (b. 1930, Neuilly-sur-Seine, France; d. 2002, La Jolla, California) began making assemblages, three-dimensional compositions made from pieces of tiles, pebbles, leaves, and found materials, mixed with paint. In her artwork Saint Phalle found an energy that helped transform her emotional difficulties into creative energy. (2) In 1956, she met Jean Tinguely (b. 1925, Fribourg, Switzerland; d. 1991, Bern, Switzerland), a Swiss artist known for his kinetic mechanical sculptures, whom she married in 1971. Together they established a personal and professional union that gave rise to collaborations on many projects, both small and colossal.
Saint Phalle and Tinguely created their first collaborative works in the late 1950s. For her first sculpture, in 1958, Saint Phalle asked Tinguely to create an iron armature, which she later covered with plaster.(3) By 1961 she had made Queen of Hearts and another small series of assemblages in which Tinguely intervened by adding bent wires.(4) They started a "four hands" game-like process to create an art piece. First Saint Phalle would prepare, glue, and paint a mass of everyday objects, and then Tinguely would add a series of wires protruding from the piece.(5) The wires, emerging from the center of the piece, project the assemblage toward the viewer. The artists intended for the wires to be touched by the spectator, so they might recognize their fragile mobility.(6)
Recognition for such inventive assemblages was achieved when Saint Phalle participated in the Art of Assemblage exhibition at the Museum of Modern Art, New York, in 1961.(7)
1. Niki de Saint Phalle, Harry and me. The family years, 1930–1960 (Zurich: Bentelli, 2006), p. 52.
2. Pierre Descargues, Niki de Saint Phalle, and Carla Schulz-Hoffmann, Niki de Saint Phalle (California: Prestel, 2008), p. 10.
4. Bloum Cardenas, Ulrich Krempel, and Andres Pardey, Niki de Saint-Phalle & Jean Tinguely: l'art et l'amour, exh. cat. (Las Palmas, Spain: Centro Atlántico de Arte Moderno CAAM; Hanover: Sprengel Museum; and Basel: Museum Tinguely, 2007), p. 34.
5. Niki & Jean, Aiding and Abetting. Niki de Saint Phalle, exh. cat. (Bilbao: Museo Guggenheim Bilbao and Madrid: La Fábrica, 2015), pp. 268–71.
6. Cardenas et al., p. 34.
7. Tate Liverpool, Niki de Saint Phalle: Room 1 www.tate.org.uk/whats-on/tate-liverpool/exhibition/niki-de-saint-phalle/niki-de-saint-phalle-room-guide/niki-de
Preguntas
Show: Queen of Hearts (ca. 1960–61)
Carefully describe this work. Imagine and explain, step-by-step, how Niki de Saint Phalle and Jean Tinguely might have built it.
Saint Phalle often used objects from her everyday life as part of her assemblages. Does Queen of Hearts remind you of anything you have seen before? Which parts of it can you recognize? Which parts are unfamiliar? Which parts seem to be least altered by the artist, and which parts have been changed the most?
Saint Phalle found scrap materials in the studio she shared with Tinguely in an artists' colony in Impasse Ronsin, Paris.(8) Art critic Barbara Rose said that their studio "resembled nothing more than a gypsy encampment. . . . There were enormous trash cans outside filled with garbage, which they apparently disposed of [by] burning. . . . Inside, there was 'stuff'—all kinds of stuff that may at any moment be appropriated as material.(9) " What do you think about Rose's comment? Have you ever heard the expression "One person's trash is another person's treasure"? What do you think about this phrase? Do you have something that you own and treasure that someone else might see as useless? Look at the photographs of their studio listed in the resource section and discuss your opinion about the space.
Saint Phalle and Tinguely worked together on many different projects. Ask your students to look up images of Tinguely's assemblages from 1960–69, the same decade as Saint Phalle's artwork, in Tinguely's Museum (http://www.tinguely.ch/en/museum_sammlung/sammlung.1960-1969.html). Compare them. What is similar or different between the two artists' work?
In Saint Phalle's Queen of Hearts Tinguely added the wires, which are intended to be touched by the spectator. Imagine how it would feel to touch this piece.
8. Niki Charitable Art Foundation, "Niki de Saint Phalle: Life & Work 1955–1961," www.nikidesaintphalle.org
9. Simon Groom, Niki de Saint Phalle (London: Tate Publishing, 2008), p. 78.