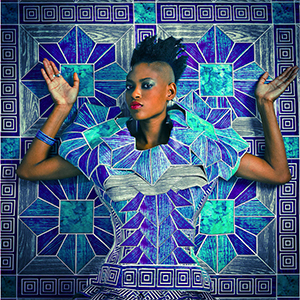 I and we
Omar Victor Diop
Mame (from The Studio of Vanities), 2014
Inkjet print on Harman By Hahnemühle paper, 93 x 93 cm
Courtesy Magnin-A Gallery, Paris
© Omar Victor Diop,
"These are the fresh faces of the continent's urban culture. They are black, arabs, caucasian, asian ... it doesn't matter. They are creative and ambitious, but most importantly, they dedicate their everyday lives to making their dreams a reality. In this series, the objective is to portray a generation which endeavours to showcase the African urban universe and its blossoming art production and exchanges." —Omar Victor Diop(1)
INTRODUCTION

As a boy, Omar Victor Diop (b. 1980, Dakar, Senegal) developed an interest in photography and design as a medium to capture the diversity of modern African societies and lifestyles. In 2010, he started experimenting with street photography and the quick success of his first project, Fashion 2112, the future of beauty, encouraged him to end a career in corporate communications and devote himself full-time to photography.(2)
Diop's inspiration as an artist comes from the range of cultures in his hometown, where he still lives. He said about Senegal: "It is probably the most open country in Africa. Growing up ... we would watch Michael Jackson, and local start [sic], and [listen to] Arabic music. This [influenced] me a lot in the way I see the world."(3)
A self-taught photographer, Diop believes his lack of formal training gives him more freedom to build his vision.(4) His works include fine art, fashion, advertising, and portraiture. He enjoys mixing photography with other forms of art, such as costume design, styling, and creative writing.(5) Diop says that his work emerges from the fashion and design of the past and present to imagine something more anchored in the future.(6)
In his series The Studio of Vanities, Diop portrays a young generation of cultural creators across Africa, from fashion designers to chefs, DJs, and bloggers. He aims to delve into the lesser-known narratives of African heritage, history, and culture that drive his ongoing, internal dialogue of his identity as an artist and person.(7) The objective of The Studio of Vanities is to go beyond the aesthetic depiction of a beautiful youth, instead showcasing the many talented people who are expanding creative exchanges. By doing so, Diop hopes to project a different image of his country.
To draw attention to the blossoming art production and culture scene in Dakar, Senegal, Diop aims to take at least a hundred portraits for the Vanities series.(8) For this series, he carefully chooses backgrounds, patterns, clothing, and props to strengthen the subject's personality and cultural references. But he defines the images during the portraiture process, ensuring that decisions regarding pose, background, and props are made together with the subject. This collaboration allows Diop to come closer to the essence of the portrayed individual, and thereby do justice to the multiplicity and energy of Dakar's contemporary cultural scene.(9)
1. http://www.omarviktor.com/#!copy-of-the-studio-of-vanities/c128k
9. http://makingafrica.net/2015/04/featured-projectomar-victor-diop-the-studio-of-vanities/