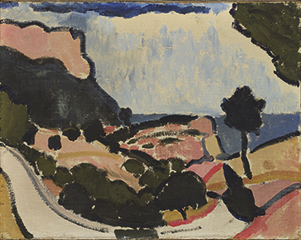 Landscape near Cassis (Paysage aux environs de Cassis), 1907
André Derain
Landscape near Cassis (Paysage aux environs de Cassis), 1907
Oil on canvas
33 x 41 cm
Hermann und Margrit Rupf-Stiftung, Kunstmuseum Bern
© André Derain, VEGAP, Bilbao, 2016.
"Fauvism was our ordeal by fire. . . It was the era of photography. This may have influenced us and played a part in our reaction against anything resembling a snapshot of life. No matter how far we moved away from things, it was never far enough. Colors became charges of dynamite." André Derain, 1967 [1]
André Derain (Chatou, 1880–Garches, 1954) was a young engineering student when he began to attend painting classes with Eugène Carrière in 1898.  In Carrière's studio, he met the painters Henri Matisse (Le Cateau, 1869–Nice, 1954) and Maurice de Vlaminck (Paris, 1876–Rueil-la-Gadelière, 1958), who became good friends and travelling companions.
During the summer of 1905, Derain travelled with Matisse to Collioure (southern France), where the artist began to paint, generating striking contrasts with saturated colors and illuminating his landscapes with bright light. That same year, his works were exhibited in Paris's Autumn Salon. In his criticism of this show, Louis Vauxcelles used the word fauves (wild beasts) to descriptively refer to the group of artists that included Derain, Matisse and Vlaminck. After that, the style of these artists was known as Fauvism [2].
Derain spent the following summers in southern France. The French Riviera attracted the Fauvist painters because of its bright light, which helped them capture the brilliance of the colors [3]. During this period, the blue of the Mediterranean Sea and sky began to be a regular feature in Derain's paintings [4]. He applied the paint directly from the tube, which conferred enormous physical density, and he painstakingly chose the colors bearing in mind the intensity of the light and color of the place he was depicting [5].
The artist painted this landscape, where the soft, rolling hills of the landscape were hinted at with thick lines delimiting large, flat colored surfaces, in the summer of 1907 in Cassis. This work is halfway between Fauvism and Cubism. Even though the stark color contrasts and thick black outlines still fall within Fauvism, one of whose top exponents had been Derain himself, now his color palette, which was limited to nuanced earth tones, along with the dense web of stylized natural elements on a smooth surface, show a Cubist feel [6].
That same year, the collector Hermann Rupf (1880–1962) visited Derain's studio in the company of Daniel-Henry Kahnweiler (1884–1979), an art dealer and close friend of Rupf. On this visit, Rupf purchased the work Landscape near Cassis, marking the start of his collection. Fascinated by Derain's oeuvre, Rupf later decided to purchase 10 more of the artist's works.
Preguntas
Look at the work. Take some time to analyze and describe all of its details. Where do you imagine this landscape is located? What time of day do you think it is? What does it make you think?
Imagine that you could enter the painting. How would you feel? What sounds, smells and senses would you perceive? Would you like to be there? Why? Where do you imagine Derain was when he painted this canvas?
Now pay attention to the colors. How would you describe them? What mood do they convey? How do you think this painting is different from other landscape paintings you have seen before? Make a list of all the elements you see in this painting (such as: trees, hills, the sky, the sea, etc.). What elements draw your attention? Why? How are they related to each other
Until the late 19th century, artists primarily painted in their studios following the rules of the art academies. To paint this work in 1907, Derain worked outdoors, painting directly from nature. What are the advantages and disadvantages of both ways of working? Which would you prefer as an artist: to paint in your studio or to paint directly in nature? Why?
Go on the Internet and look for current pictures of Cassis; compare them with the 1907 work Landscape near Cassis. How are they different? Are there any aspects that seem similar to you? If Derain painted Cassis today, how do you think he would do it? What elements would he highlight? How would the picture change? What do you think he would add to or subtract from the picture?