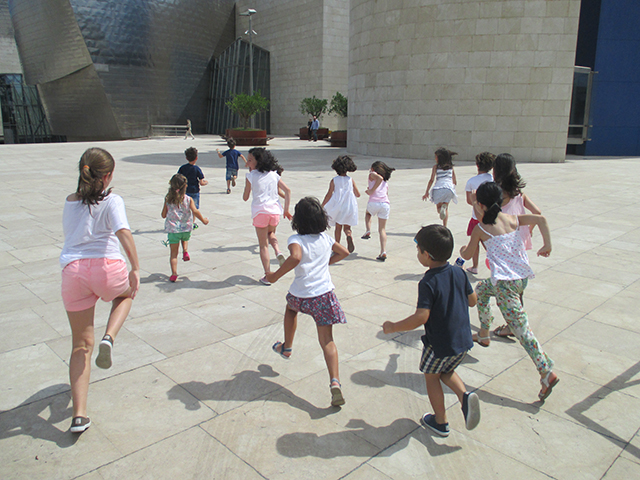 Family Tour
Come to the Guggenheim Museum Bilbao with your family! We have prepared lots of activities and materials for kids, so that you can explore the Museum together. Remember that you can enjoy but you cannot touch art, and that it is better if you hold your kids' hands. Thank you!
The Museum building
1st floor, Atrium
There is a lot to see in the Museum's Atrium. The materials used to cover the galleries on the outside can give you an idea of their shapes inside. Can you spot the differences between the galleries clad in titanium and those covered in limestone?
Permanent and Site-specific Works
Permanent and Site-specific Works
Plaza, terrace
Some of the works in the Collection are permanently on display either inside or outside Frank Gehry's building. They include a few site-specific installations designed by contemporary artists especially for the places where they stand.
Puppy, a monumental West Highland White Terrier pup covered in flowering plants, welcomes visitors to the Museum. Have you ever thought about how this giant living sculpture by Jeff Koons is watered? An efficient, sustainable irrigation system is used for Puppy, based on a mix of technologies, bringing as much water as each plant needs—no more, no less.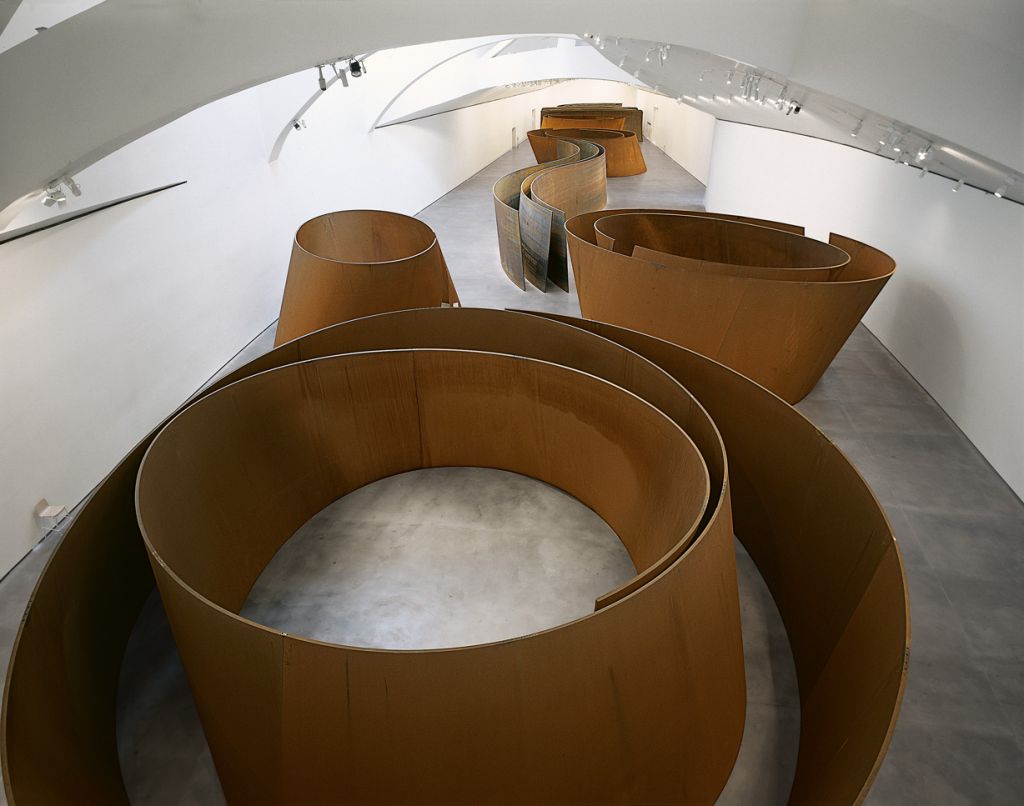 The Exhibitions
1st and 3rd floors
The Museum's exhibitions give you a lot of opportunities to learn about the new forms of creation and understand works of art. Walk around The Matter of Time, Richard Serra's installation, exploring the sculptures and looking at their morphing shapes. After your exploration, climb up to the balcony overlooking the installation for a broader view. You will be astonished!
Richard Serra
The Matter of Time , 1994–2005
Weathering Steel
Dimensions variable
Guggenheim Bilbao Museoa
Restrooms/Baby Changing Facilities
Restrooms/Baby Changing Facilities
1st floor, basement
You will find restrooms on every level in the Museum and baby changing facilities on the 1st floor and the basement.
Other services
1st floor, Coatroom
At the Museum cloakroom you will find strollers and baby backpacks to carry your kids around more comfortably.
Guggenheim Bilbao Bar and Restaurants
Guggenheim Bilbao Bar and Restaurants
Bar and Restaurants
The Bar Guggenheim Bilbao serves snacks, pintxos, pastries, and beverages, plus a menu of the day. In addition, the Museum affords two world-class culinary experiences, at the Nerua Guggenheim Bilbao, an haute cuisine restaurant, and the Bistro Guggenheim Bilbao, a restaurant wrapped in a more informal atmosphere. The availability of this service depends on the specifics of the health situation related to COVID-19.
Picasso Sculptor. Matter and Body
Picasso Sculptor. Matter and Body
In Picasso Sculptor. Matter and Body, you will find a number of sculptures in which Pablo Picasso gives free rein to his imagination, using a variety of materials and mediums.
Picasso used, for instance, plaster, creating a variety of textures on it. He also reused materials such as broomsticks, wicker baskets, vases, strainers, or mugs, giving them a new life as part of human- or animal-shaped assemblages. In addition, he made hundreds of sculptures by cutting and folding paper into a myriad of shapes, and then painting on them facial features or bodies. Some of these paper sculptures then had their metal sheet versions, as in Head of a Woman, presented in gallery 208. This sculpture reminds us of Picasso's Cubist paintings, where the artist showed several viewpoints at once. Where do you think this woman is looking at? Is it just one woman or are there more than one?
Pablo Picasso
Head of a Woman, Mougins, late 1962
Cut, folded, and polychromed sheet metal
and iron wire, 32 × 24 × 16 cm
Musée national Picasso-Paris, Dation Pablo Picasso, 1979
© Sucesión Pablo Picasso, VEGAP, Madrid, 2023
Photo: © RMN-Grand Palais (Musée national Picasso-Paris)/Adrien Didierjean/Mathieu Rabeau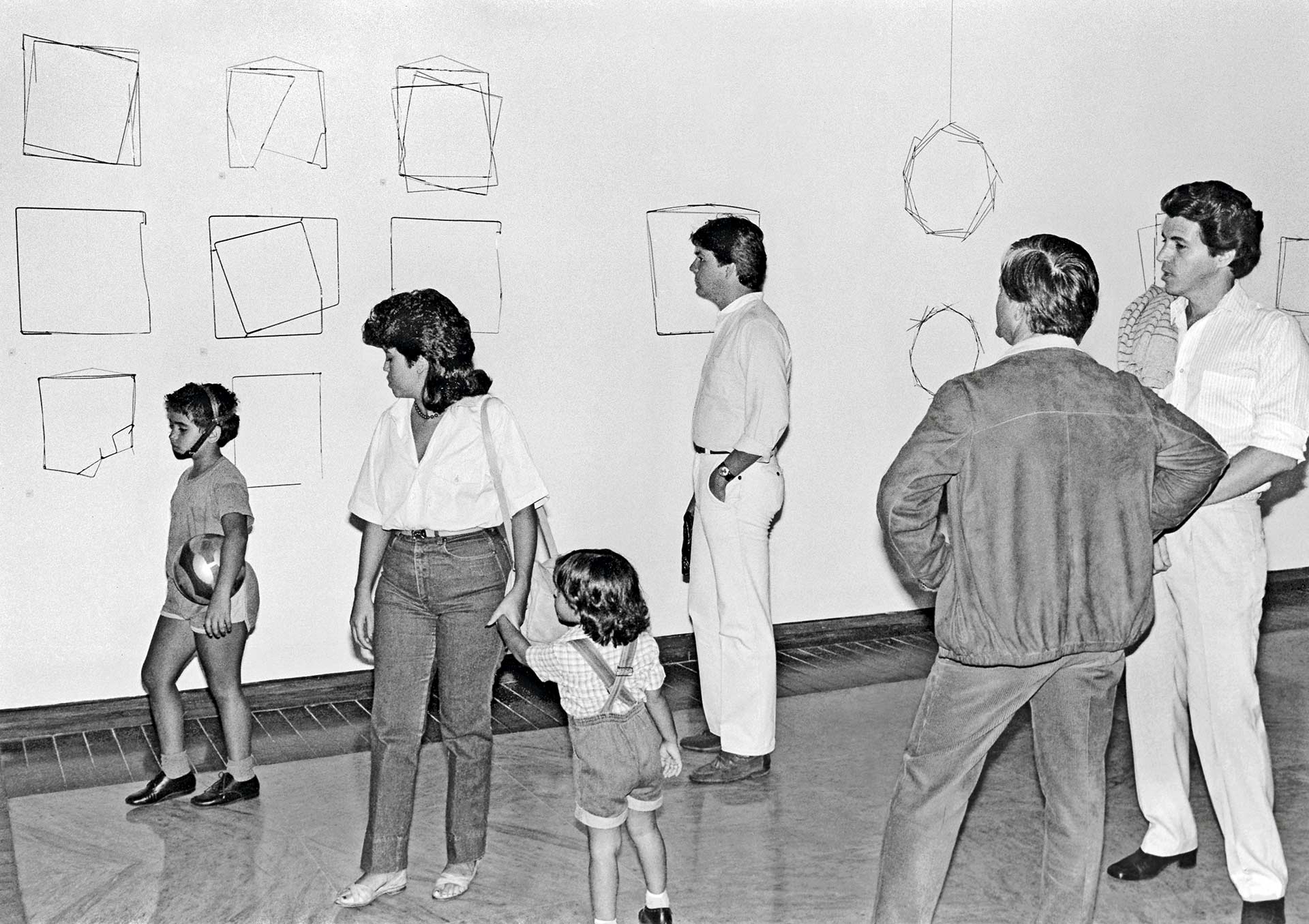 Gego: Measuring Infinity
Gallery 105
At the exhibition Gego: Measuring Infinity, you will find the amazing sculptures of Gertrud Louise Goldschmidt, known as Gego.
Gego was born in Germany in 1912 and studied to become an architect and an engineer. At the outbreak of World War II, she was forced to leave the country, moving to Venezuela. At first, she worked as an architect, nourishing her interest in landscape.
After an early period of figurative painting, Gego began to explore abstraction in sculpture, using lines as her pivotal element. Using different materials, like wire, her sculptures are lightweight, transparent geometric figures. However, you will still be able to identify landscape features such as tree in the works shown in the exhibition.
In 1976, Gego began a series of small works known as Drawings without Paper. How can an artist make a drawing without using paper and pencil? Come to gallery 105 and find out!
Opening of Gego: Drawings without Paper, Museum of Fine Arts, Caracas, 1984
Photo by Peter Hönig
©Gego Foundation