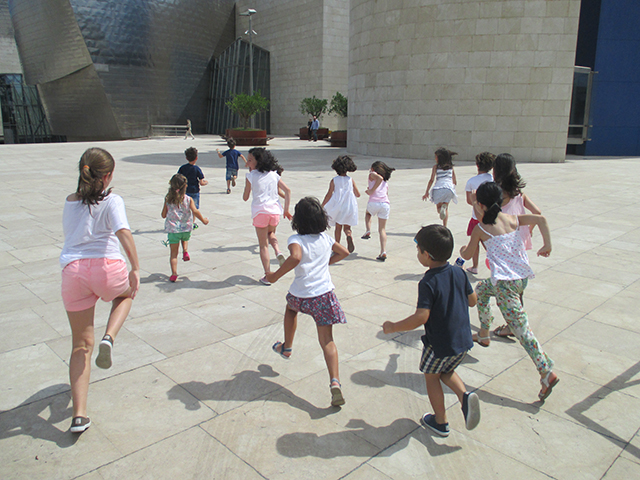 Family Tour
Come to the Guggenheim Museum Bilbao with your family! We have prepared lots of activities and materials for kids, so that you can explore the Museum together. Remember that you can enjoy but you cannot touch art, and that it is better if you hold your kids' hands. Thank you!
The Museum building
1st floor, Atrium
There is a lot to see in the Museum's Atrium. The materials used to cover the galleries on the outside can give you an idea of their shapes inside. Can you spot the differences between the galleries clad in titanium and those covered in limestone?
Permanent and Site-specific Works
Permanent and Site-specific Works
Plaza, terrace
Some of the works in the Collection are permanently on display either inside or outside Frank Gehry's building. They include a few site-specific installations designed by contemporary artists especially for the places where they stand.
Puppy, a monumental West Highland White Terrier pup covered in flowering plants, welcomes visitors to the Museum. Have you ever thought about how this giant living sculpture by Jeff Koons is watered? An efficient, sustainable irrigation system is used for Puppy, based on a mix of technologies, bringing as much water as each plant needs—no more, no less.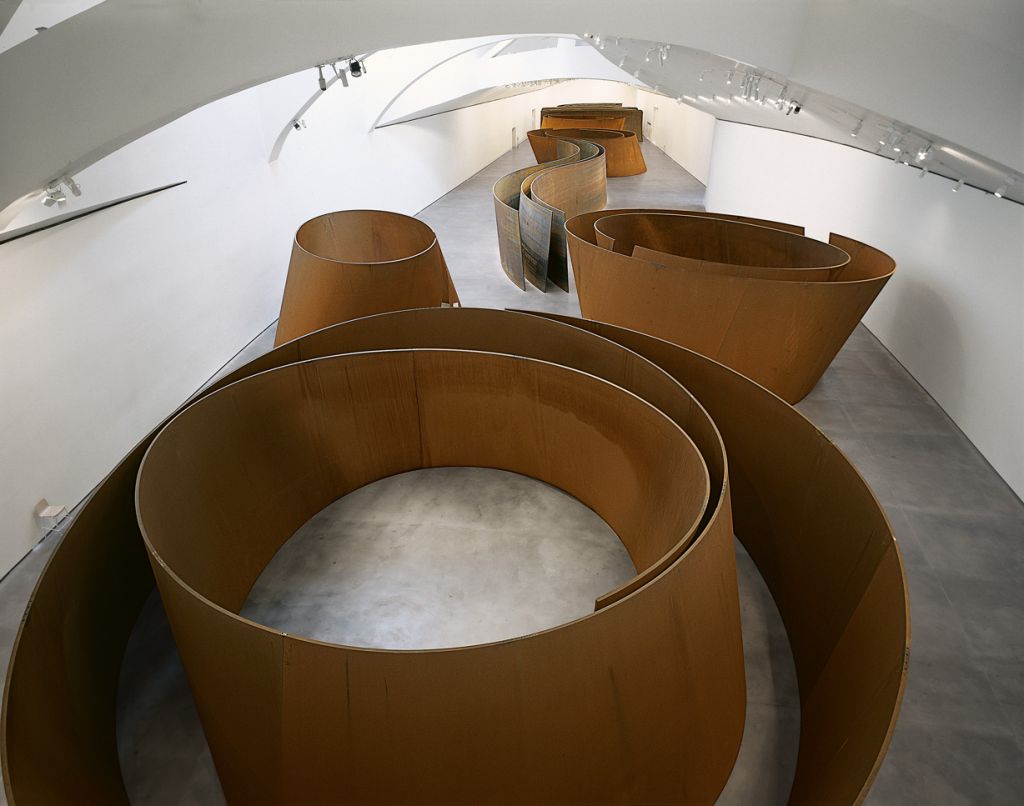 The Exhibitions
1st and 3rd floors
The Museum's exhibitions give you a lot of opportunities to learn about the new forms of creation and understand works of art. Walk around The Matter of Time, Richard Serra's installation, exploring the sculptures and looking at their morphing shapes. After your exploration, climb up to the balcony overlooking the installation for a broader view. You will be astonished!
Richard Serra
The Matter of Time , 1994–2005
Weathering Steel
Dimensions variable
Guggenheim Bilbao Museoa
Joan Miró. Absolute Reality. Paris, 1920–1945
Joan Miró. Absolute Reality. Paris, 1920–1945
1st floor, gallery 105
In this exhibition, you can explore part of the universe of Catalan artist Joan Miró and his poetic approach to reality. Based on imagination, Miró painted to transform reality. At first sight, his floating shapes against vibrant-colored backgrounds may seem weird, but on closer examination, they become landscapes containing birds, stars, or human characters.
Take, for instance, The Grasshopper. Where is the protagonist? As you can see, there are many mysterious elements in this painting, including the artist's signature. The letters in Miró's name are scattered across the canvas. Let's see if you can find them!
Joan Miró

Landscape (The Hare) [Paysage (Le Lièvre)], 1927

Oil on canvas

129.6 × 194.6 cm

Solomon R. Guggenheim Museum, New York

57.1459

© Successió Miró, 2023
Restrooms/Baby Changing Facilities
Restrooms/Baby Changing Facilities
1st floor, basement
You will find restrooms on every level in the Museum and baby changing facilities on the 1st floor and the basement.
Other services
1st floor, Coatroom
At the Museum cloakroom you will find strollers and baby backpacks to carry your kids around more comfortably.
Guggenheim Bilbao Bar and Restaurants
Guggenheim Bilbao Bar and Restaurants
Bar and Restaurants
The Bar Guggenheim Bilbao serves snacks, pintxos, pastries, and beverages, plus a menu of the day. In addition, the Museum affords two world-class culinary experiences, at the Nerua Guggenheim Bilbao, an haute cuisine restaurant, and the Bistro Guggenheim Bilbao, a restaurant wrapped in a more informal atmosphere. The availability of this service depends on the specifics of the health situation related to COVID-19.