Temporary exhibitions
40–60 min
The Guggenheim Museum Bilbao has a dynamic program of temporary exhibitions of modern and contemporary art. They offer an understanding of the foundations of modern art and a broad view of international art in a historical context.
The Otolith Group. O Horizon
Film & Video
O Horizon, the film installation by The Otolith Group—a collective formed by Kodwo Eshun (1968) and Anjalika Sagar (1966)—takes us to Visva-Bharati campus in West Bengal, India.
Visva-Bharati is a public university founded by Nobel laureate Rabindranath Tagore, which takes an environmental, multidisciplinary approach to learning, centered on contact with nature, the connection with the transcendental, and art. O Horizon invites us to think about the importance of preserving both nature and culture.
Jean Dubuffet: Ardent Celebration
1st floor, gallery 105
A reflection of the artist's innovative spirit, the works of Jean Dubuffet are the result of experiments with unorthodox methods and materials: sand, enamel, plaster, asphalt, cardboard, aluminum foil, foam rubber, etc., used to make surfaces with a patent material quality.
Throughout his life, Dubuffet challenged the canon and the rules of art, inviting the viewer to rethink beauty and to celebrate even the world's most trivial things.
Motion. Autos, Art, Architecture
Motion. Autos, Art, Architecture is an exhibition of cars and their evolution as icons of technical innovation into real works of art.
The exhibition begins in Gallery 202 with the origins of the automobile and then moves up to the second floor, where visitors will find popular car models and iconic designs – and even a few gems of engineering.
In the galleries, the cars are accompanied by artworks, photos, and drawings that illustrate the impact of the automobile on art, architecture, and design.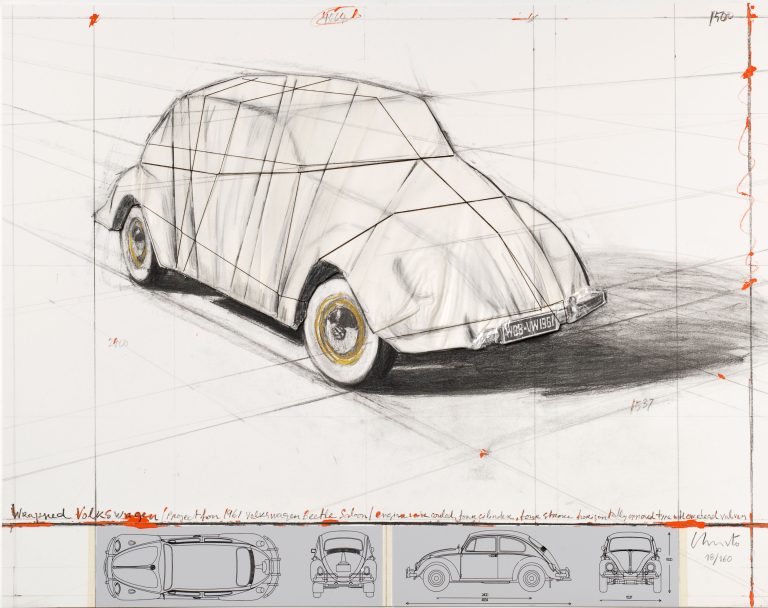 Serra/Seurat. Drawings
3rd floor, galleries 305, 306, and 307
This exhibition presents drawings by Georges Seurat and Richard Serra, two artists who are widely recognized for other artistic practices—painting and sculpture, respectively. However, both of them explored drawing as a medium—in abstract works in the case of Serra and in representational pieces in the case of Seurat.
Their drawings highlight the importance they attached to materials and tools in their work processes—from Michallet paper and Conté crayon in the works of Seurat to the kozo paper and oil sticks used by Serra.