Temporary exhibitions
40–60 min
The Guggenheim Museum Bilbao has a dynamic program of temporary exhibitions of modern and contemporary art. They offer an understanding of the foundations of modern art and a broad view of international art in a historical context. The arrows on the floor show the one-way itinerary you should follow. Remember to keep a safe distance from the works (1 meter) and other visitors (2 meters).
Film & Video
1st floor, Film & Video gallery
The Film & Video gallery is dedicated to video art and motion pictures. It is currently hosting an exhibition by South African artist William Kentridge, open until fall (dates to be confirmed). A key figure of contemporary film and video installation, Kentridge works across a variety of media and disciplines–he is a draftsman, filmmaker, performer, animator, and stage designer.
In this installation, Kentridge uses nine screens to evoke film pioneer Georges Méliès, offer a dreamlike self-portrait, and represent the artist's studio as a microcosm. When looking at 7 Fragments for Georges Méliès (2003), Day for Night (2003), and Journey to the Moon (2003, with original music by Philip Miller), you will feel you are in a movie theater.
William Kentridge
7 Fragments for Georges Méliès and Day for Night, 2003
Eight-channel HD video installation. Black and white, silent.
Collection Fundació Sorigué, Lleida
© William Kentridge, 2003
Image courtesy of Lia Rumma Gallery Milan/Naples
Richard Artschwager
1st floor, gallery 105
This exhibition, curated by Germano Celant and open until August 23rd (dates to be confirmed), analyzes Richard Artschwager's creative path from his early works from the 1950s to the 2010s. In his work, Artschwager shows furniture and utilitarian objects, and he uses newly invented industrial materials, like Formica or Celotex, and aluminum.
Beyond categories and movements, and halfway between sculpture and painting, Artschwager's work is monumental and humorous. The exhibition includes pieces from his series of Pianos, Structures and Exclamation Points (2008–12).
Richard Artschwager
Door }, 1983-84
Acrylic on wood, glass
Neues Museum Nürnberg
© Estate of Richard Artschwager, VEGAP, Bilbao, 2020
Photo: Annette Kradisch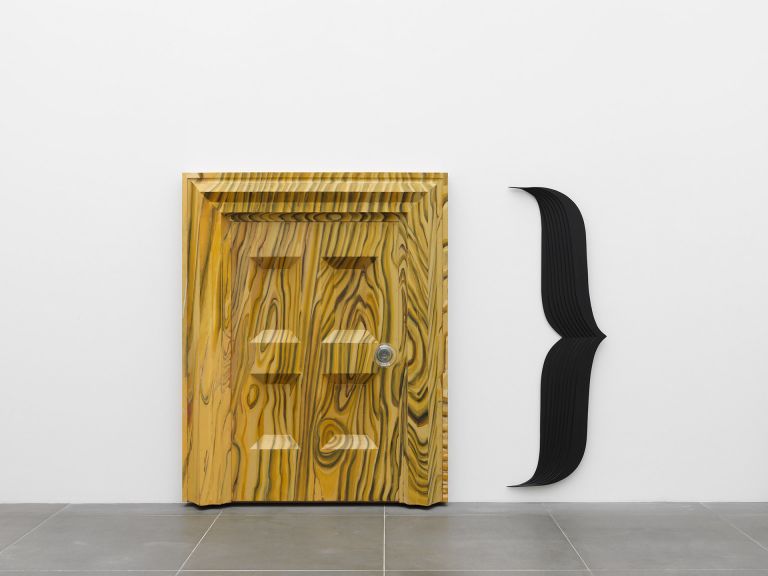 Olafur Eliasson
2nd floor
On the second floor, you can visit the exhibition Olafur Eliasson: In real life, open until fall (dates to be confirmed). Danish-Icelandic artist Olafur Eliasson is interested in individual perception, movement, bodily awareness, and feelings. The exhibition shows about 30 works created between 1990 and 2020, including sculptures, photos, paintings, and installations. Among them are Moss Wall (1994) and Waterfall (2020), installed in the Museum exterior.
Olafur Eliasson
Your uncertain shadow (colour), 2010
HMI lamps (green, orange, blue, magenta), glass, aluminium, transformers
Thyssen-Bornemisza Art Contemporary Collection, Vienna
© 2010 Olafur Eliasson
Lygia Clark. Painting as an Experimental Field, 1948-1958
3rd floor, galleries 305, 306, and 307
Galleries 305, 306, and 307 on the 3rd floor are holding the exhibition Lygia Clark, Painting as an Experimental Field, 1948–1958, showing the works produced by Brazilian artist Lygia Clark between 1948 and 1958, in Brazil and Paris, in chronological order. The exhibition, open until fall (dates to be confirmed), begins in gallery 305, containing works that are still figurative, and ends in gallery 307, where the works on display are purely abstract.
A self-taught artist, Clark is considered to be a pioneer of art therapy. While she was a professor at Sorbonne University in Paris, she did research into sensory, participatory experiences and shared them with her students and the general public. This proved to be essential to her development as an artist and her focus on the relationship between art and self-knowledge in connection with both the mind and the body. For more information, go to the educational space designed for this exhibition.
Lygia Clark
The Violoncellist (O Violoncelista), 1951
Oil on canvas, 105.5 x 81 cm
Private Collection
© Courtesy of "The World of Lygia Clark" Cultural Association