Express Tour
If you do not have much time, choose the main artistic and architectural features today at the Museum to make the most of your visit.
Atrium
1st floor, Atrium
Climb your way up to the third floor. The balcony opposite gallery 304 affords breathtaking views of the Atrium–the beating heart of Frank Gehry's architectural design.
Offering a different perspective on the works of Jenny Holzer, El Anatsui, Sol LeWitt, and Lucio Fontana, among others, it also gives an insight into the interesting dialogue between art and architecture within the building.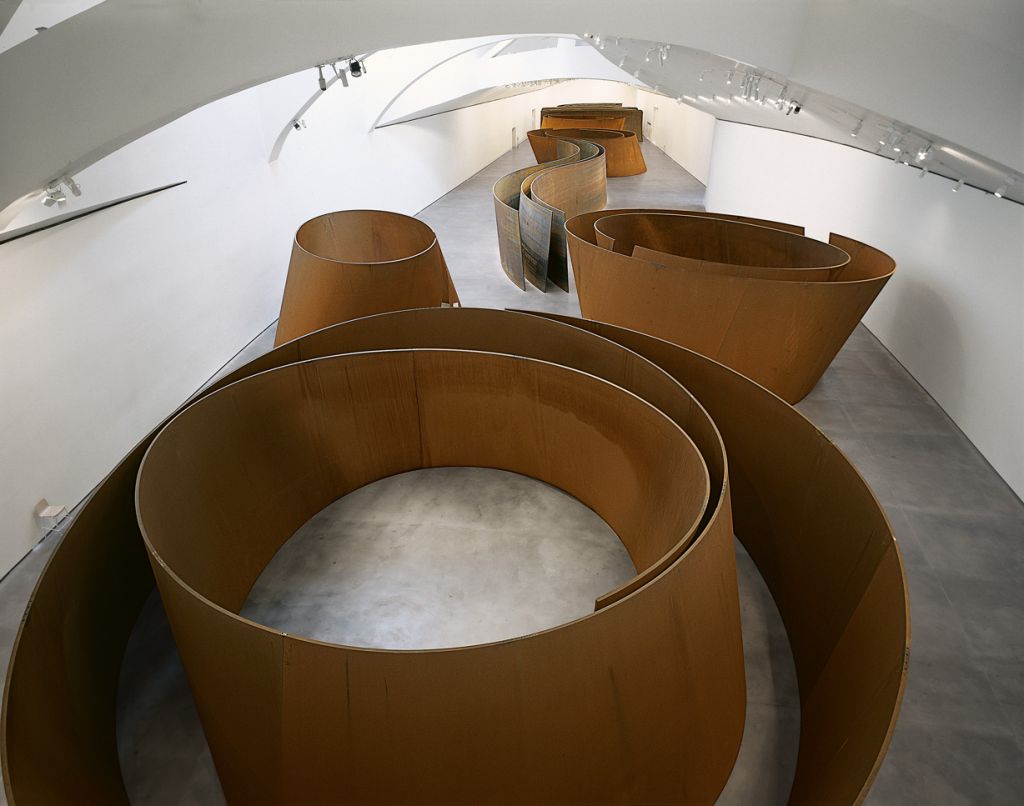 The Matter of Time
Balcony, 2nd floor
Go up to the second floor of the Museum and take a look from the balcony opposite gallery 204. You will get a panoramic view of the eight monumental sculptures that make The Matter of Time (1994–2005), a permanent installation by Richard Serra. The sculptures posed a huge challenge in terms of both manufacturing and installation, as they were impossibly heavy and yet quite fragile, as they were made of towering weathering steel sheets. It took state-of-the-art technology to make them.
Richard Serra
The Matter of Time , 1994–2005
Weathering Steel
Dimensions variable
Guggenheim Bilbao Museoa
Yayoi Kusama from 1945 to now

Yayoi Kusama from 1945 to now
The exhibition Yayoi Kusama: from 1945 to today, located in rooms 105 and 103, offers a complete overview of the extensive career of this Japanese artist, born in 1929, who is still active today. You can explore her first infinite all-over paintings, her innovative soft sculptures, her performance pieces, immersive installations, daring fashion designs, and iconic pumpkins.
Organised chronologically and thematically, this exhibition presents Kusama's unique vision of the world, as a pioneer in facets such as the creation of her own fashion line, the promotion and intelligent use of media to disseminate her art, her work as an advocate for women in the field of art and social activism in turbulent times. Her vast creative universe serves as a refuge to heal body and spirit. As a complement to the exhibition, in Gallery 301 on the third floor of the Museum you can visit one of her Infinity Mirror Rooms and immerse yourself fully in her world.
Yayoi Kusama
Transmigration, 2011
Acrylic on canvas, four panels
194 × 521.2 cm in total
Collection of Ota Fine Arts.
© YAYOI KUSAMA