Visit the Guggenheim Museum Bilbao with your family! With our wide range of activities and special materials for kids, you will enjoy your day at the Museum.
The Museum building
1st floor, Atrium
There is a lot to see in the Museum's Atrium. What materials can you identify? The materials used to cover the galleries on the outside can give you an idea of their shapes inside. Can you spot the differences between the galleries covered with titanium panels and those in limestone?
Site-specific and permanent works
Plaza, terrace
In addition to the permanent collection, the Museum features site-specific works, that is, works of art designed by contemporary artists for specific spaces both inside and outside Frank Gehry's building.
Among them we can mention installations that now you see, now you do not, like Fujiko Nakaya's F.O.G. and Yves Klein's Fire Fountain; airy balloons that are in fact too heavy to lift, like Jeff Koons's Tulips; and a giant spider with a puzzling name: Maman (Mother). Over time, they have all become icons of the Guggenheim Museum Bilbao Collection.
Yves Klein
Fire Fountain , 1961
Fire
Site-specific dimensions
Guggenheim Bilbao Museoa
Exhibitions
1st and 3rd floors
The Museum's exhibitions give you a lot of opportunities to learn about the new forms of creation and understand works of art. Walk around The Matter of Time, Richard Serra's installation, exploring the sculptures and looking at their morphing shapes. After your exploration, climb up to the balcony overlooking the installation for a broad view. You will be astonished!
Richard Serra
The Matter of Time , 1994–2005
Weathering Steel
Dimensions variable
Guggenheim Bilbao Museoa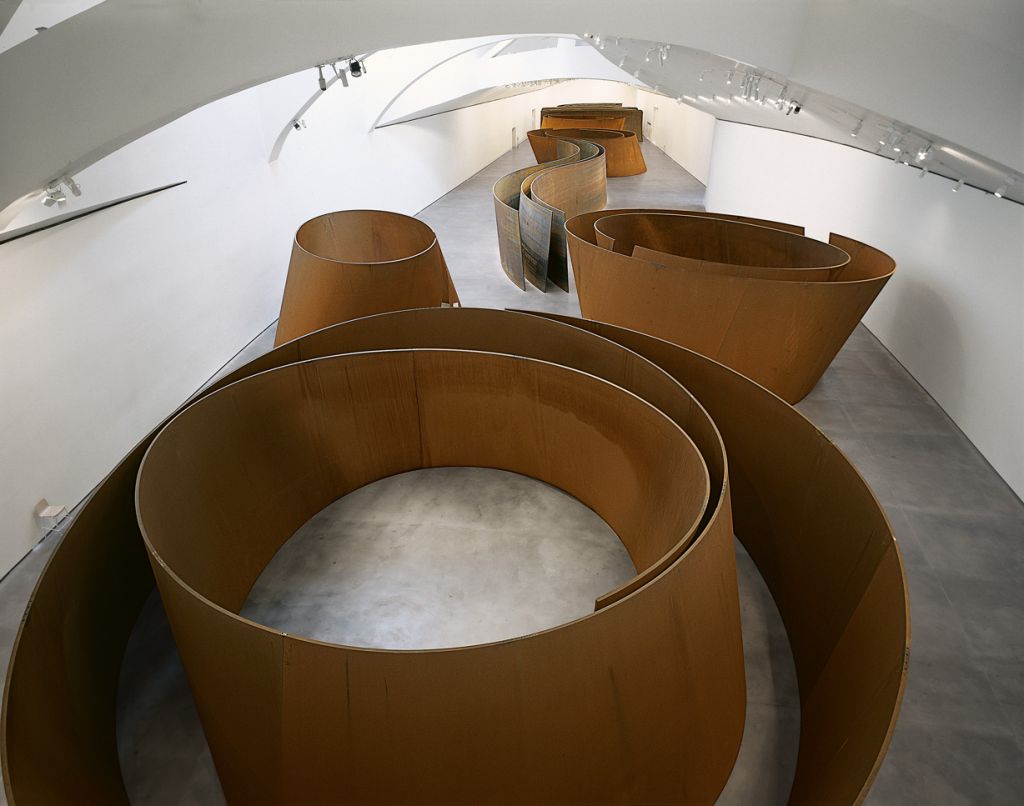 Jean Dubuffet: Ardent Celebration
Gallery 105
The works of Jean Dubuffet show ordinary, everyday objects – doors, walls, etc. – and people. But for a painting to be perfect, Dubuffet wanted it to have a surface that evoked ordinariness and day-to-day life. To achieve this, he used the most unusual materials.
In Substance of Stars, the artist chose materials that conveyed the shine of the stars in dark space. Have you ever thought about what stars are made of? Try to guess what materials Dubuffet used in this painting without reading the caption!
Jean Dubuffet
Substance of Stars (Substance d'astre), December 1959
Aluminum foil and oil paint on Masonite
150 x 195 cm
Solomon R. Guggenheim Museum, New York 74.2078
© Jean Dubuffet, VEGAP, Bilbao, 2022
Motion. Autos, Art, Architecture
The automobile was invented in the late nineteenth century. As a means of transport, it soon replaced horse-drawn carriages, as it was faster and cleaner. It soon became a symbol of modernity, finding its way into the works of a great many artists.
Under the heading "Visionaries", Gallery 209 shows the General Motors Firebird – a range of cars resembling spacecraft. One of them has its exterior bodywork made entirely of a material that is closely associated with the Guggenheim Museum Bilbao. Do you know what material we are talking about?
Andy Warhol
Benz Patent Motor Car (1886), 1986
Silkscreen, acrylic on canvas
153 x 128 cm
Acquired 1986
Mercedes-Benz Art Collection, Stuttgart / Berlin
© 2022, The Andy Warhol Foundation for the Visual Arts, Inc./VEGAP
Photograph: Uwe Seyl, Stuttgart
Serra/Seurat. Drawings
After visiting such a dynamic exhibition as Motion, you can climb up to the third floor and slow down with Serra/Seurat. Drawings, where you will discover that there is much more to drawing than just sketching lines.
We tend to associate an artist's skills with realistic representations. Richard Serra and Georges Seurat, however, chose their paper stocks and tools carefully for the most amazing results. Come and take a look: Your perception of drawings will not be the same after this exhibition!
Georges Seurat
Reclining Man (Study for "Bathers at Asnières") [L'homme Couché (Étude pour "une Baignade, Asnières")], 1883-84
Conté crayon on paper
24.5 x 31.5 cm
Fondation Beyeler, Riehen/Basel, Sammlung Beyeler
Photo: Peter Schibli
Educational tools and services
1st floor, Information Desk
The Museum offers educational tools and services available online to families and kids, like the SNACKS map or the audio guides for children, which you can download on your mobile device for free. You can try the audio guide for The Matter of Time, among others.
Restrooms and baby changing facilities
1st floor, basement
You will find restrooms on every level in the Museum and baby changing facilities on the 1st floor and the basement.
Other services
1st floor, Coatroom
At the Museum cloakroom you will find strollers and baby backpacks to carry your kids around more comfortably.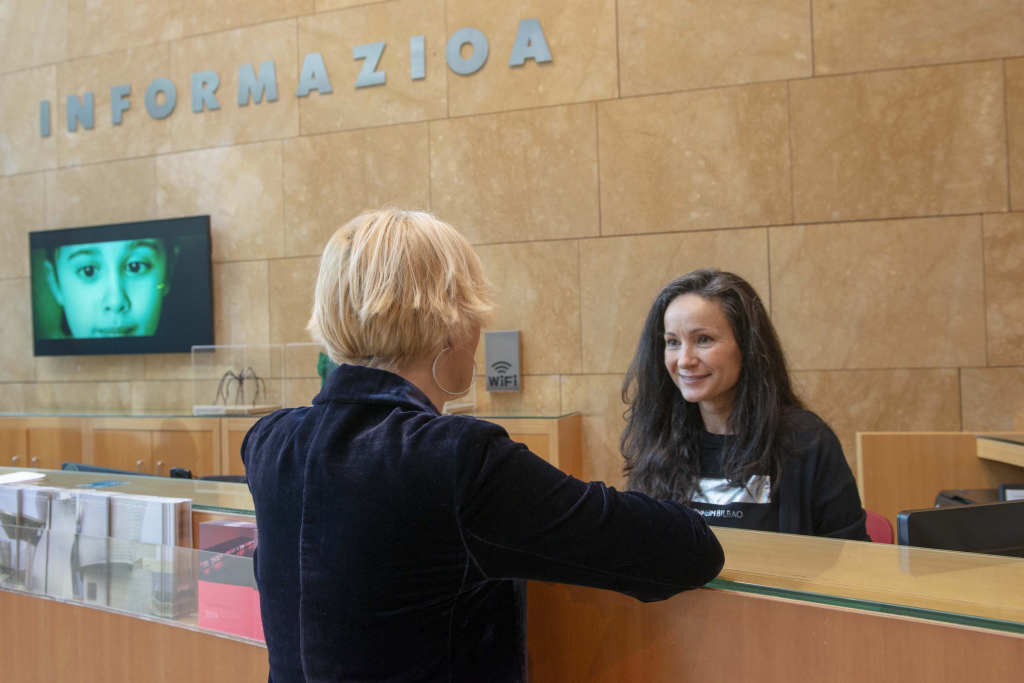 Guggenheim Bilbao Bar and Restaurants
Bar and Restaurants
The Bar Guggenheim Bilbao serves snacks, pintxos, pastries, and beverages, plus a menu of the day. In addition, the Museum affords two world-class culinary experiences, at the Nerua Guggenheim Bilbao, an haute cuisine restaurant, and the Bistro Guggenheim Bilbao, a restaurant wrapped in a more informal atmosphere. The availability of this service depends on the specifics of the health situation related to COVID-19.