Guide
No brochures or magazine copies are being distributed at the moment.
The Guggenheim Museum Bilbao magazine contains information about the Permanent Collection and temporary exhibitions. It also includes general information about the Museum and the Community program for Corporate Members, Museum Members and Followers.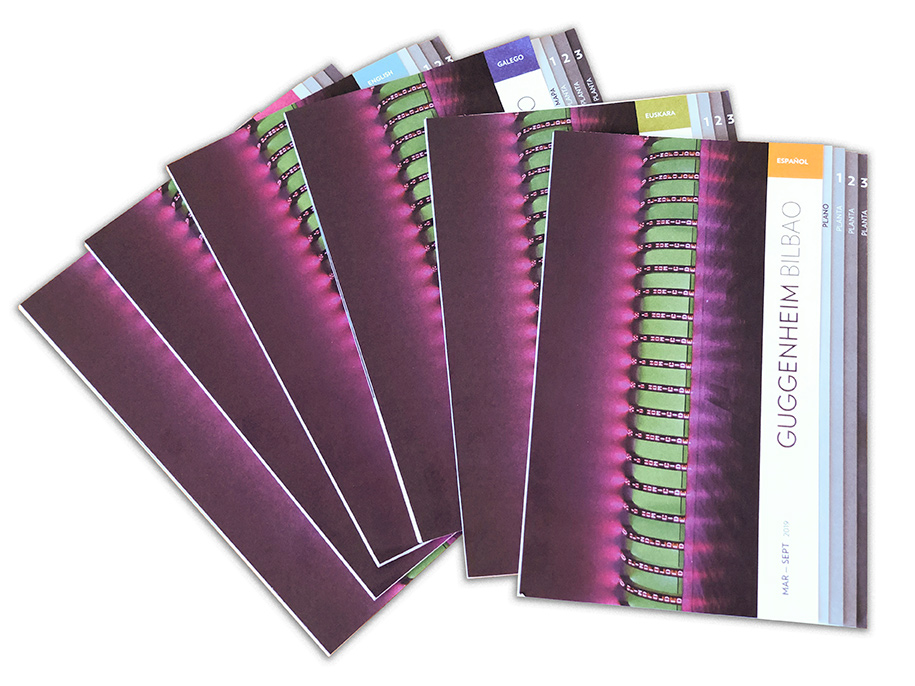 Leaflets
No brochures or magazine copies are being distributed at the moment.
General information on the Museum, the most outstanding features of the building, the art program for the year, and updated contents and activities in leaflets published in several languages: Basque, Spanish, English, French, German, Italy, Catalan, and Galician.
Available at the admission desk and the information Desk, both located in the Museum Hall.
Plasma Screens
Located over the admission desk, these screens show the exhibitions on view at the Museum plus a selection of activities to enjoy on the day, useful information, such as opening hours or admission fees, and a choice of services: Café, Store/Bookstore, or restaurants.
Information in Spanish, Basque, English, and French.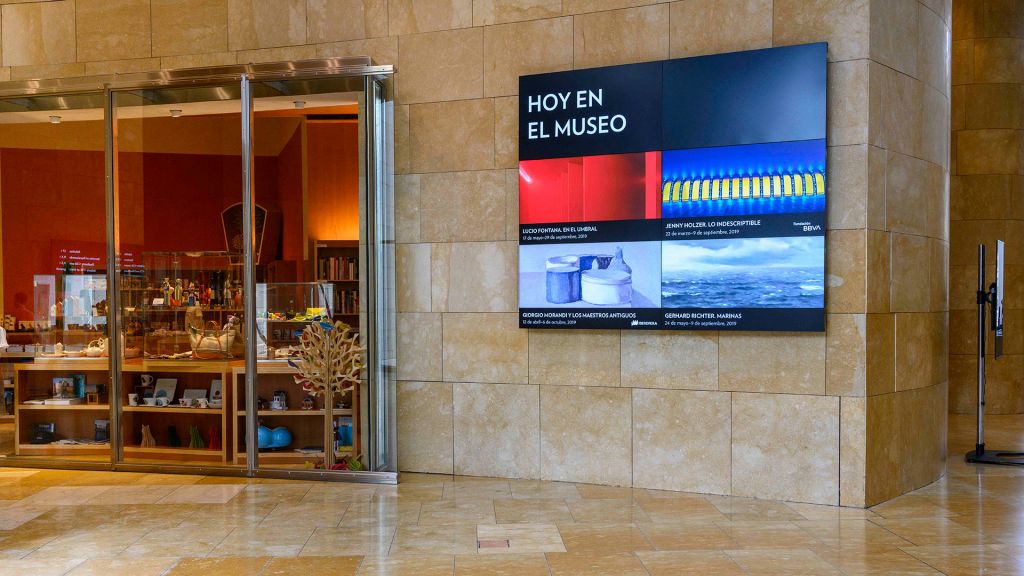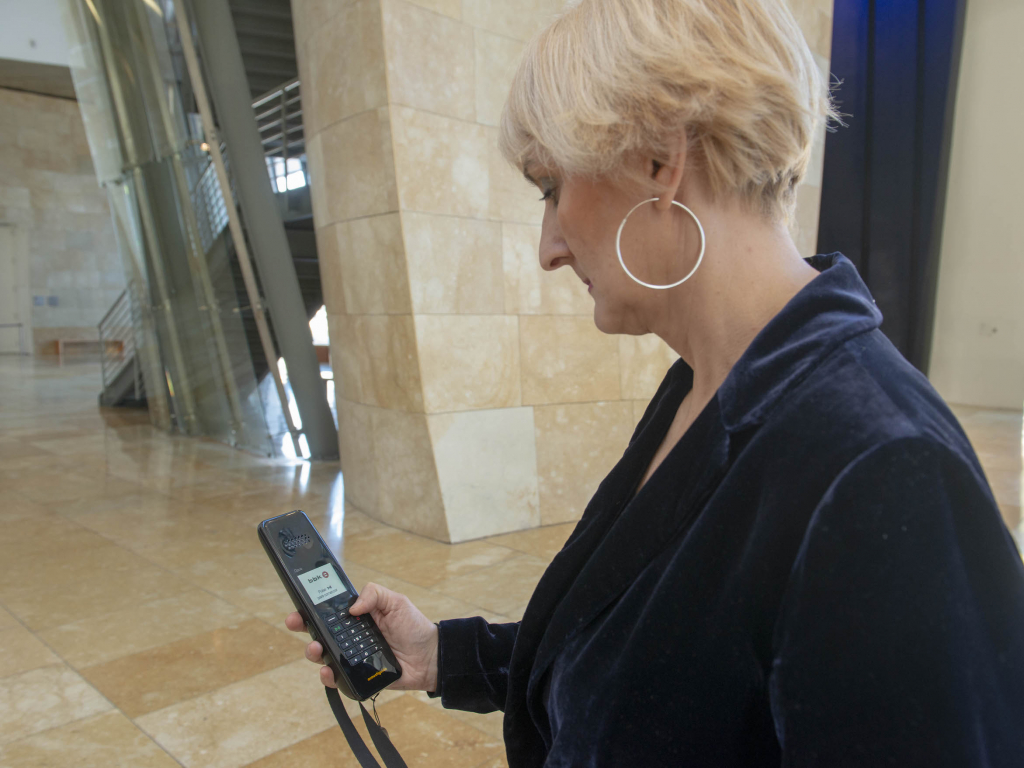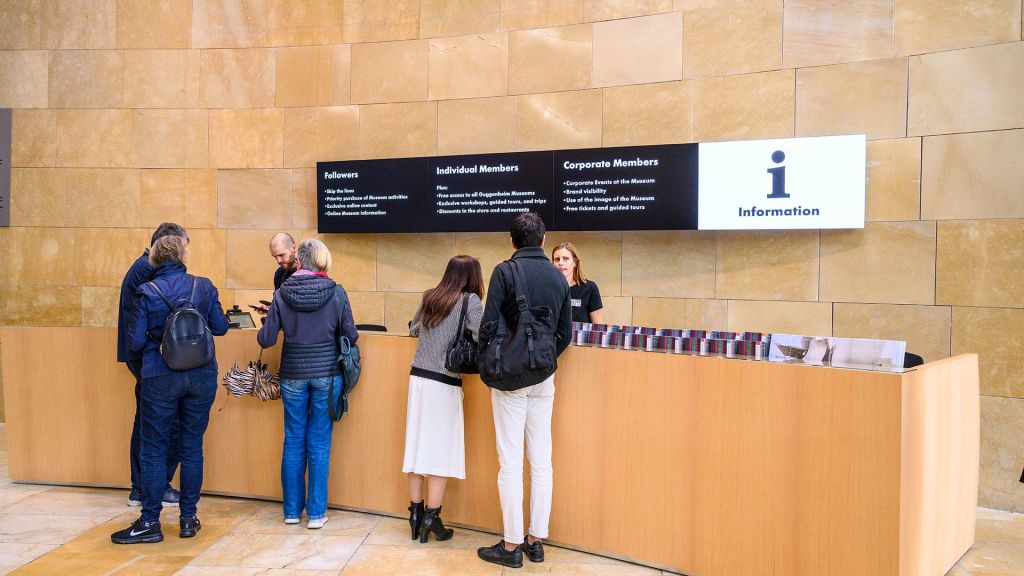 Educational spaces
The educational areas designed in conjunction with virtually every new exhibition are an essential part of the Museum's art program.
They are designed to complement the exhibits and bring them to life through a variety of educational tools, such as panels, interactive software, audiovisuals, audio clips, illustrations, images, and reading rooms. The focus of each educational space varies.
Content may have a social, political, economic, artistic, or architectural perspective, and may contain interactive materials for groups or individual learning experiences. All of the spaces are fully accessible for the enjoyment of all Museum visitors. The spaces are always integrated within the itinerary of the exhibition and are designed jointly by the Museum's Curatorial, Education and Interpretation staff in conjunction with the curator of each exhibit.
The Museum website offers an adapted version of the materials created specifically for these spaces.
Plans
Available on all three floors of the building, including the Atrium and the Hall, floor plans show the location of the galleries, exhibition recommended itineraries, the location of elevators and stairs, or additional services such as coatroom, restaurants, admission desk, or information desk.
Floor plans are also featured in the Guggenheim Bilbao guide.
Artwork labels
Each work of art is accompanied by a succinct information label in three languages: Basque, Spanish, and English.
The works of art exhibited outside the Museum, as well as Jenny Holzer's Installation for Bilbao and Richard Serra's The Matter of Time have QRs linked to additional information on these pieces available on the Museum's website.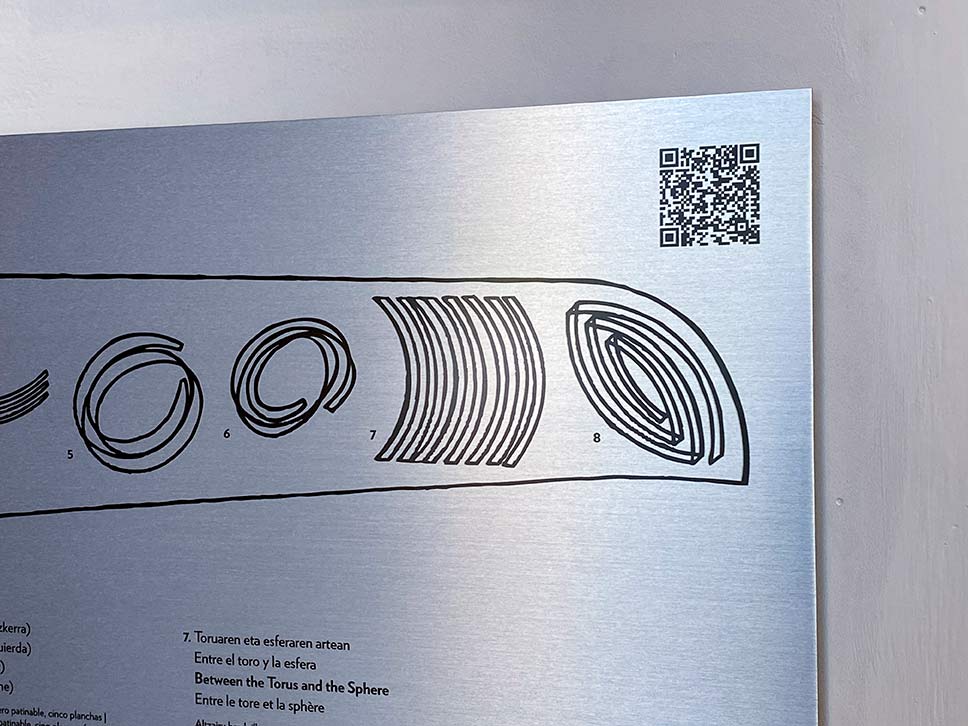 Walltexts
Exhibition walltexts explain the artistic concept underlying each show and contextualize the works by highlighting their key points. In addition, adjacent didactic spaces offer visitors tools and resources that provide a broad, multi-disciplinary complement to the visit.
All texts appear in Basque, Spanish, and English.