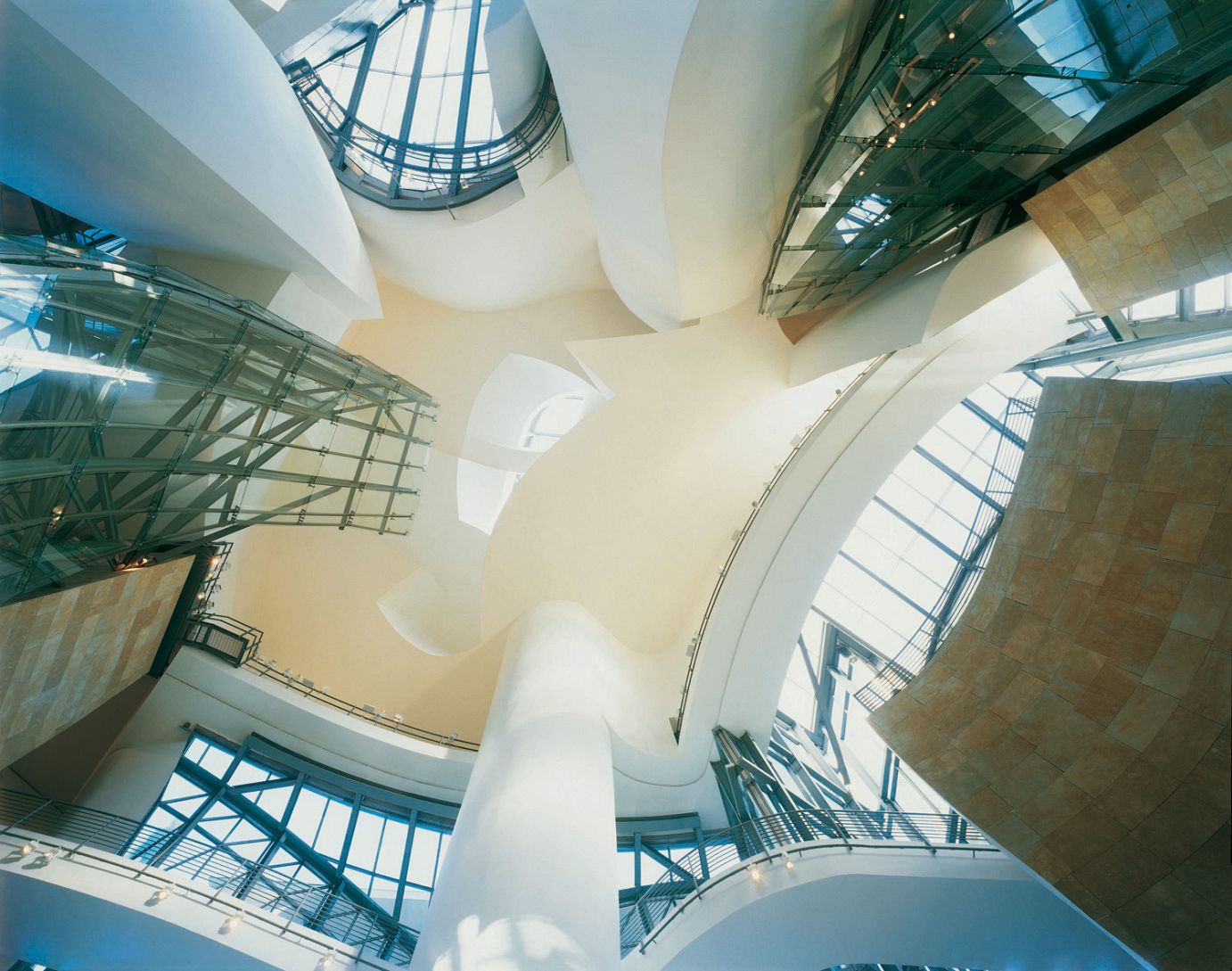 A day in the museum
Have an unforgettable experience at the Guggenheim Museum Bilbao, visiting the exhibitions and taking a look at the building's stuning architectural features.
Explore the educational areas in each exhibition, where you will find a variety of tools including texts and reading sections, interactive software, videos, audio files, images, illustrations, and graphic resources. They will make your experience much more rewarding!
* Scan the QR codes in the galleries to get the audio guides on your mobile phone for a most enjoyable tour.
Zero
Lobby
We suggest you start your tour of the Museum at ZERO, an immersive experience with a powerful visual language and an amazing design.
Located in the lobby, ZERO welcomes all visitors with a sensory approach to the history of the Museum and its environs, to the Frank Gehry–designed building, and to the Museum Collection.
Atrium
1st floor, Atrium
The Atrium is the beating heart of the building, connecting the interior to the exterior. The walkways pumping visitors into or out of it offer new standpoints to observe the artwork on view.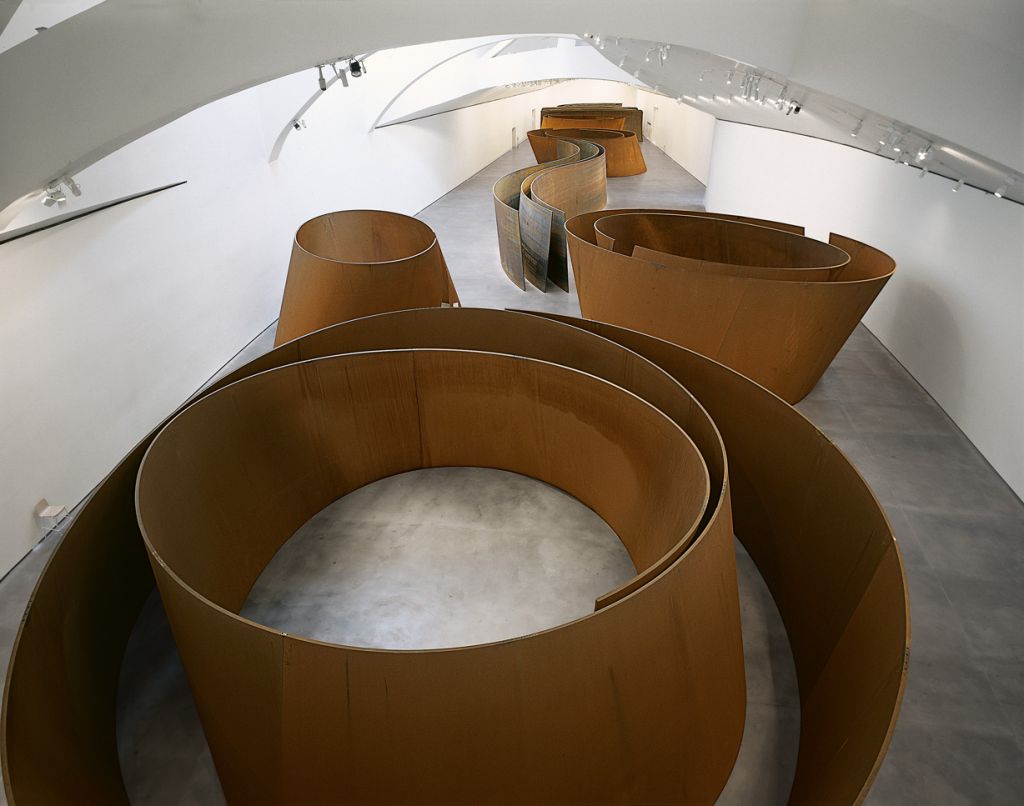 The Matter of Time
1st floor, gallery 104
You can experience and activate time and space by wondering about The Matter of Time, an installation by Richard Serra (1994-2005).
Originally designed for gallery 104, this series of seven monumental sculptures posed a huge challenge in terms of both manufacturing and installation. The sculptures were impossibly heavy and yet quite fragile, being made of towering weathering steel sheets. It took state-of-the-art technology to make them.
At the far end of the gallery, there is an educational area where you can find scale models of the works on display and a video showing how they were installed, among other resources. Make sure not to miss it!
Richard Serra
The Matter of Time , 1994–2005
Weathering Steel
Dimensions variable
Guggenheim Bilbao Museoa
Site-specific Works (Museum interior)
Site-specific Works (Museum interior)
1st floor, Atrium
Standing in dialogue with the interior and the exterior of the building designed by Frank Gehry, site-specific works by contemporary artists make a significant part of the Guggenheim Museum Bilbao Collection.
In gallery 101, by the Atrium, take a look at Jenny Holzer's Installation for Bilbao (1997).
Jenny Holzer
Installation for Bilbao , 1997
Electronic LED sign
Site-specific dimensions
Guggenheim Bilbao Museoa
Bar Guggenheim Bilbao
Plaza
If you need a break or a snack, go to the Bar Guggenheim Bilbao, next to the Bistró, in the Museum plaza.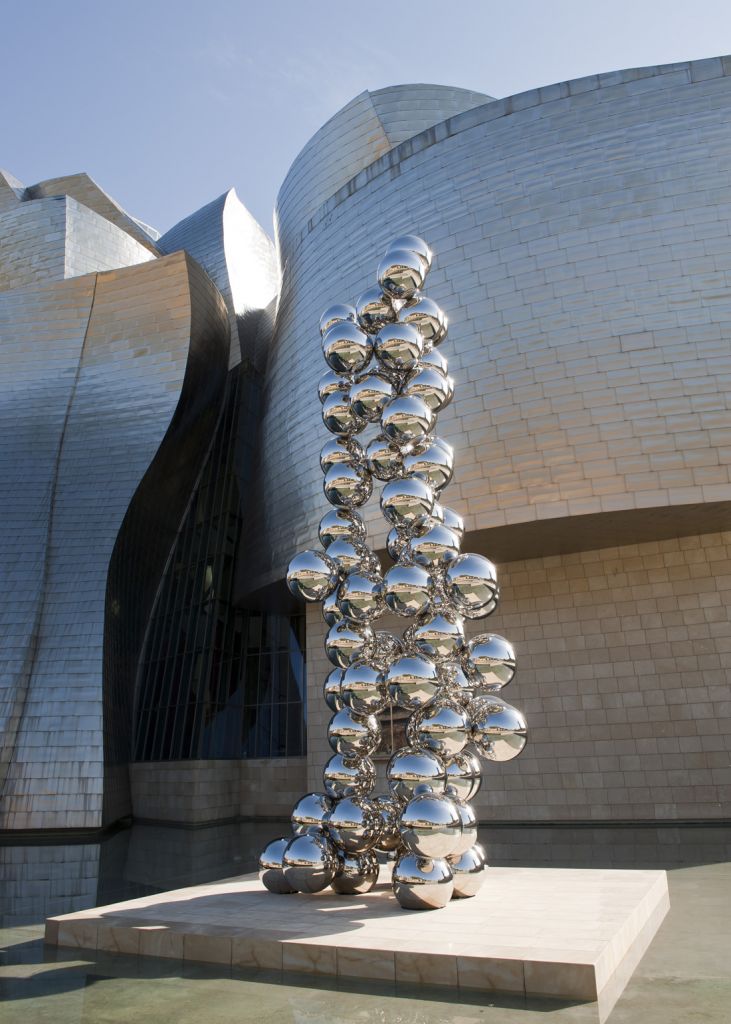 Museum Exterior
1st floor, terrace
From the riverfront terrace you can see how the Museum is seamlessly integrated into the surrounding cityscape in terms of materials (glass, titanium, limestone) and how it connects with the surrounding buildings and structures.
The pond pays tribute to the Nervión estuary and its fundamental role in the development of the city of Bilbao. It also makes the perfect setting for artwork by Anish Kapoor and Yves Klein.
Going out from the Atrium, walk into the terrace and discover the works by Eduardo Chillida and also by Louise Bourgeois. You can also take a look at the pieces by Fujiko Nakaya, Daniel Buren, and Yves Klein, also installed outside, which are operated to become active at regular intervals.
Anish Kapoor
Tall Tree & The Eye , 2009
Stainless steel and carbon steel
1297 x 442 x 440 cm
Guggenheim Bilbao Museoa
Works from the Guggenheim Museum Bilbao Collection
Works from the Guggenheim Museum Bilbao Collection
3rd floor
The third floor houses Works from the Guggenheim Museum Bilbao Collection, a journey through some of the leading art movements in the second half of the 20th century and the early years of the 21st, including works by renowned artists like Cristina Iglesias, Sol LeWitt, or Mark Rothko belonging to the Museum Collection.
The galleries on this floor had their skylights reopened for this exhibition, thus going back to their original designs.
Joan Miró. Absolute Reality. Paris, 1920–1945
Joan Miró. Absolute Reality. Paris, 1920–1945
Gallery 105
The exhibition Joan Miró. Absolute Reality. Paris, 1920–1945 focuses on a key period in Joan Miró's long career.
Upon his arrival in Paris in 1920, Miró began to develop his own personal language. His stripped outlines and bright colors, under the influence of the Parisian avant-garde–Fauvism, Dadaism, Surrealism–coexisted with the landscapes of Catalonia, the place where he was born.
Between 1920 and 1945, Miró set out to "kill painting"–a phrase by which he meant breaking away from tradition. With this goal in mind, he experimented with a variety of mediums and techniques–assemblage, lithography, ceramics, etc., as shown in Personage I (1945). He would try many others throughout his career.
Joan Miró
Landscape (The Hare) [Paysage (Le Lièvre)], 1927
Oil on canvas
129.6 × 194.6 cm
Solomon R. Guggenheim Museum, New York
57.1459
© Successió Miró, 2023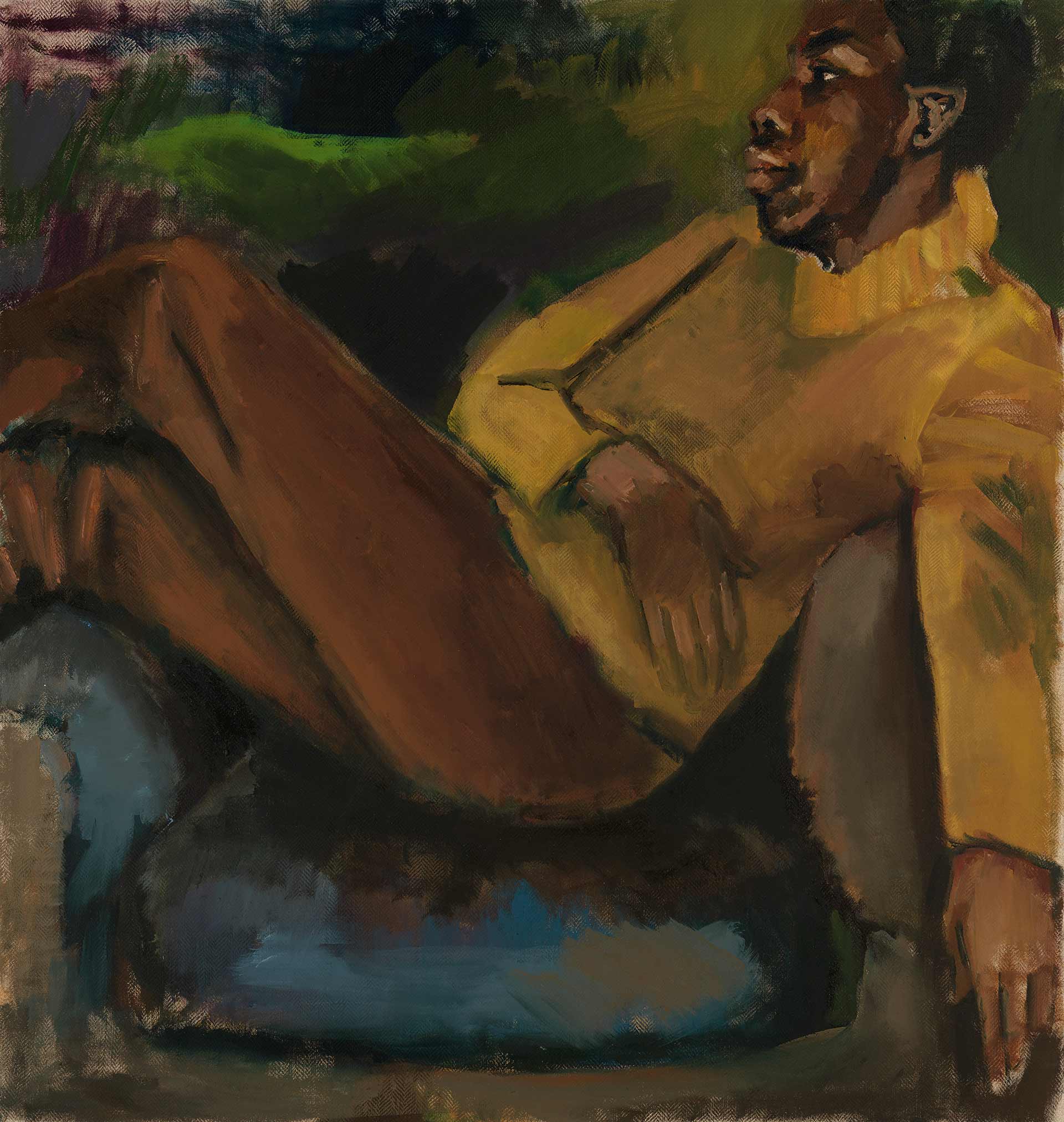 Lynette Yiadom Boakye
2nd floor, galleries 202,203 204 and 208
In the exhibition Lynette Yiadom-Boakye. No Twilight Too Mighty, you will find recent works (2020-2023) by British artist Lynette Yiadom-Boakye (b.1977), including oil paintings, charcoal drawings, and chalk portraits in shades of brown.
Yiadom-Boakye's portraits show fictional characters based on features, gestures, and postures inspired by magazines, films, or everyday life. Lynette is also a writer. In her own words, she writes about the things she can't paint. In the DIDAKTIKA reading area (gallery 201), you can read a short story the artist wrote for the exhibition catalog.
Lynette Yiadom-Boakye
Divine Repose, 2021
Oil on linen
90 x 85 x 3.6 cm
Courtesy of the artist, Corvi-Mora, London, and Jack Shainman Gallery, New York
Oskar Kokoschka. A Rebel from Vienna
Oskar Kokoschka. A Rebel from Vienna
Galleries: 205, 206, 207, 209
The retrospective exhibition Oskar Kokoschka. A Rebel from Vienna follows the most important moments in the life of Austrian artist Oskar Kokoschka (b. 1886; d. 1980), exploring his multi-faceted personality as an observer, a rebel, a painter, a "degenerate artist", a humanist, a socially-engaged citizen, etc.
In the early 20th century, Kokoschka's radical portraits, which revealed the sitter's inner psychology, shocked Viennese society. His landscapes, on the other hand, show him as a restless traveler: Europe, North Africa, the Middle East… A key figure of Expressionism, Kokoschka used hard brushstrokes, laden with paint, and vibrant colors through the late 1970s and his work influenced artists of the younger generations, such as Georg Baselitz, Jean-Michel Basquiat, Alexandre Diop, and others.
Oskar Kokoschka
The Power of Music (Die Macht der Musik), 1918
Oil on canvas
104.5 x 154.3 cm
Van Abbemuseum Collection, Eindhoven
© Oskar Kokoschka Foundation, 2023, VEGAP, Bilbao
Restaurants
Restaurants
The Museum affords two spaces with different culinary experiences: Nerua Guggenheim Bilbao, an haute cuisine restaurant, and the Bistró Guggenheim Bilbao, a restaurant wrapped in a more informal atmosphere.
Store-Bookstore
1st floor
The Museum Store/Bookstore offers a wide range of items, including design objects, exhibition catalogues, books, and all kinds of gifts. Discounts available for Museum Members. You can also buy from home visiting our online Store.